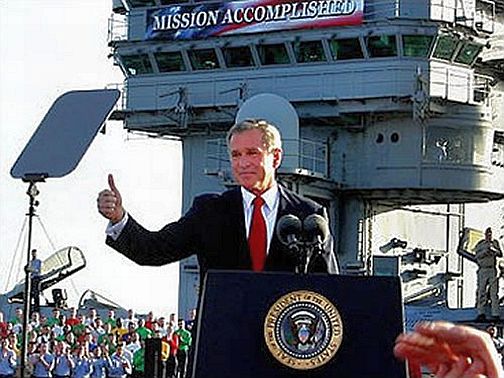 On Sunday, it will be eight years since George Bush stood on an aircraft carrier and proudly declared "Mission Accomplished." Bush – to put it in the nicest way possible – was being an idiot, because the Iraq war continues to rage on, 4,000 U.S. casualties (not to mention thousands of Iraqi deaths) later.
But Bush wasn't the only one to join in the stupidity. The media was quick to jump on the bandwagon too. On the Huffington Post today, Greg Mitchell, a contributor to The Nation, explains how virtually every major media outlet jumped at the chance to announce that the Iraq war was over, and that the United States prevailed.
There was Chris Matthews, who got weird with this quote:
Women like a guy who's president. Check it out. The women like this war. I think we like having a hero as our president. It's simple.
Then Brian Williams told us all how "beautiful" the event was and USA Today ran a column titled "Relax, Celebrate Victory." But perhaps no reaction was as ridiculous as the Op-Ed by Maureen Dowd, who took Top Gun references to an all time high: