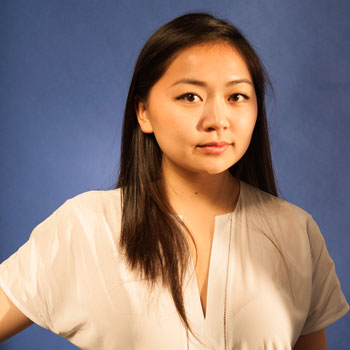 Getting your foot in the door and climbing the ladder in media can be a challenge: The industry is always changing, career paths can be ambiguous and social media never sleeps.
To help you find your way, we're talking to media pros with a few years under their belts. Our Advice From the Pros series gives you real-world insights and advice you can apply to your job search, job interview, and—when you land that next gig—your new job, too.
Then when you're ready, check out our job board.
Yuliya Kim is a production artist at Adweek.com, a position she's held for a year. That means she's responsible for creating and finding art for every new article that comes her way. The job is a combination of technical and artistic skills, and requires an understanding of Facebook, Twitter and the other social media platforms Adweek uses. Originally from Uzbekistan, Kim graduated from the University of Missouri with a journalism degree, and now calls New York City home.
So how'd she get her current job, and how's she getting ready for the next stage of her career? Read on. (And look for her on Twitter, LinkedIn and Instagram.)
What was your first job? And your first job in your chosen career?
My first job was as a photo intern for a wedding photographer. It was the summer before my senior year of high school, and I thought it was vital to get some hands-on experience. I got the job after asking my photography teacher if she knew anybody that needed assistance.
My first job in my chosen career was during my junior year of college—a communications intern position at a financial services company. I'd had multiple internships previously, but this particular job really launched my graphic design career.
I asked if my colleagues could use help with a startup branch I was interested in and found out they needed a rebrand. They trusted me with their designs, and I ended up creating a new logo and look and feel for the brand.
How did you get your current job?
I started out as an editorial intern and worked under the Web team with responsibilities ranging from art to social media. One of my classmates who met David Griner, the managing editor of Adweek.com, knew the magazine was looking for a graphic designer who had social media experience.
I sent him my resume and a quick description of my experience. Immediately he called and offered me the job after a brief interview. Then after proving myself worthy of a full-time offer, I made the smooth transition from intern to production artist.
Is this where you always thought you'd end up?
I never thought I would be working at a magazine, but I'm happy to be getting this experience. I've worked on many different projects, from app development to assisting with social media accounts for major brands.
What have you learned so far in this role?
I learned very quickly that not every company trusts you with so much responsibility. For me, as a very young professional, this is absolutely the most valuable aspect of a job because it gives you the most room for growth.
What about your job gets you excited to jump out of bed every morning? What makes you want to hide under the sheets?
It's funny, the thing that makes me want to jump out of bed is also the thing that makes me want to hide under the sheets.
Having a project such as designing an infographic from scratch is daunting yet exciting. While I'm thrilled at working on projects like this, the pressure of making it the best it can be is equally terrifying!
What's your favorite thing about working at your company?
I love my team! I am very fortunate to work with very talented and personable people. I also really enjoy the opportunities and the freedom we have to initiate our own projects.
How do you stay on top of trends in your field?
Social media is a blessing when it comes to following trends. I follow a lot of graphic design accounts on Twitter as well as content producers that are like our site. I follow, read and analyze the way they present art, and take note of their successes and mistakes.
What leaders or companies in your field do you follow on Twitter?
Accounts I like include: @WIRED, @designtaxi, @nytimes, @FastCompany, @VICE, @broadly and @RGA.
What are you reading and watching right now?
Currently I'm reading Infinite Jest; Guns, Germs, and Steel; and The New Yorker weekly. As for shows, I just finished "Unbreakable Kimmy Schmidt," I'm watching "The Office" reruns, and I'm anxiously waiting for the next "Orange Is the New Black" and "Black Mirror" seasons.
What's the biggest misconception people have about your role?
I think more than having misconceptions about my role, people just don't really know what I do. Since the job of a production artist encompasses so much, oftentimes people don't know what our expertise is. Being a production artist requires you to be a jack of all trades.
What skills should you have when applying for a design job?
Be flexible with skills. You have to dabble in a lot of different things, from design to social to many other fields of interest. People will seek your opinion on what's best beyond just the art world. Do your research and be prepared for a project that you may not be familiar with.
What advice would you give someone looking to break into this field?
Watch design tutorials so you feel comfortable enough to perform at least the basic duties, but also make sure to stay active in the social media realm. Go to design conferences and Meetups, and practice on your own. This will definitely help you stand out and find your own artist's voice.
What tips do you have for those seeking mentorships?
Don't be afraid to ask questions! Beyond that, always have your work at the ready—whether it's your website, a mobile version of your portfolio or having your business card on hand. People are more willing to help you when they know more about you.
Check out our job board for openings in graphic design, digital media and advertising.