Account Manager, Meredith Digital
Posted: 6/26/2013 | Expires: 7/26/2013
Location: Chicago
Function:
Specialty:
Level:
Duration: Full Time
Salary Description:
The Account Manager acts as an internal sales representative responsible for the active creation and management of all advertising programs and associated revenue pre- and post-sale. This includes media plan creation, campaign implementation, optimization, reporting, program retention and renewal, and ensuring prompt and proper resolution of advertiser business issues.

Education:
· 4-year degree required; marketing or business degree preferred. Additional digital marketing or sales experience may substitute for education on a year-for-year basis

Experience:
· Minimum 2 years of marketing, sales and/or account management experience; including one year of digital advertising experience. Project management experience a plus.
· Possess excellent organizational, interpersonal, and influential written and verbal communication skills. Ability to quickly form relationships usually by telephone or email.
· Ability to collaborate cross-functionally; ability to exercise judgment and flexibility in balancing program requirements, milestones, and keeping people and projects moving on schedule.
· High attention to detail. Strong analytical, quantitative and strategic problem solving. Excellent grammar, spelling and proofreading skills.
· Positive and confident disposition when responding to frequent deadlines for multiple customers (internal and external).
· High degree of proficiency in MS Office products. Ability to use databases. Excellent working knowledge of Excel, Word, PowerPoint, Outlook and the Internet.
· Demonstrated ability to quickly build positive team relationships.
· Be able to think strategically and act tactically. Willing to roll up your sleeves and do what needs to be done.
· Uphold and evangelize Meredith core culture values and the Meredith brand values in every day responsibilities.http://track.tmpservice.com/ApplyClick.aspx?id=1851462-2015-3196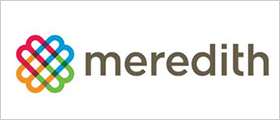 Our cornerstone is knowledge of the home, family, food and lifestyle markets. From that, we have built businesses that serve well-defined audiences, deliver the messages of advertisers, and extend our brand franchises and expertise to related markets.