Supervising Producer
Posted: 10/11/2017 | Expires: 11/10/2017
Location: New York City, New York (US) Function: Production Specialty: Data & Analysis, Producer, Project Management Level: Experienced (Non-Manager) Duration: Full Time Salary Description: Competitive
Thrillist is seeking a wildly creative, talented, experienced, and ambitious Supervising Producer to work directly for the Head of Video. You'll be charged with guiding a talented and growing of team of Producers, including Senior, whose main concern is telling stories that move our audience of eaters, drinkers, viewers, travelers and doers. Oversight of several Thrillist franchises covering everything from the best restaurant to eat at in Detroit to the best thing to cook on a summer weekend, how to book your next weekend away, and what's the best watch while you doze off. Food, Drink, and Having Fun are core to everything we do -- we strive to have all the answers about where to eat, where to drink, what to stream, and what to do around the world. More often than not, this involves pizza in some way. We want to help you have more fun (and pizza) wherever you are. If you make a meaningful contribution toward understanding more of what people truly care about and how they live, and do that through informed videos cutting to the heart of what people really love ... well, this could be the place. That's our ideal candidate.
Responsibilities:
Supervise the senior producers of several franchises to ensure all videos we create are in line with the Thrillist tone, style, and best practices
Obsess over the narrative in all of our content - tell our story, we want more
Work with all of our producers, editors, and writers to pitch great stories, and turn good ideas into great video
Be hellbent on making sure all our videos are just damn good and accurate
Ideate original, engaging stories that cut to the heart of what is relevant, delicious, and fun in people's lives. Inspire and encourage others to do the same
Work with Branded, Sales, Development, Audience Development, in addition to the Editorial department to expose our brand to the world
Assume ownership in projects with the Development & Sales teams and keep eyes the bottom line but always the brand first. This is a senior position with senior problems
Possess a strong comfort addressing senior staff across departments when necessary
Manage your team's time and ensure everything is runs smooth and efficiently. Assign tasks and deadlines as needed to drive this
Impress upon the team the importance of coming in on time and under budget
Work directly with the Head of Video and Editorial Director to set the team's strategies, and produce the most interesting and impactful content possible
Work with the Head of Video on staffing, budgets, efficiencies, operations, etc.
Use reporting tools (such as Google Analytics, Chartbeat, Facebook Analytics, and custom dashboards) to analyze traffic and SEO data to inform strategy and decision making
Manage personnel decision on the team(s) you're responsible for, including time-off requests, performance reviews, leading the hiring process, and recommending termination in the event a team member isn't meeting the company's goals
Qualifications:
Deep understanding of the Thrillist brand and lifestyle
3-5 years experience production experience at a large scale in digital media publisher or similar
Exceptional communication and creative thinking skills; strong organizational skills as well: you'll be managing many projects and deadlines simultaneously
Legit regard for the value of management
Passionate knowledge of the national food/drink/entertainment/travel scene that never even comes close to snobbery
Experience as an on-the-ground producer who can grew into a pot of knowledge gold who will make both our videos and producers better
Familiarity with rights and clearances for obtaining third-party footage
Openness to constructive criticism
Experience recruiting and managing a large stable of freelance producers, editors, writers, and shooters
Group Nine Media is the partnership of four mission-driven, category-leading brands covering food, drink & travel (Thrillist), news & entertainment (NowThis), animals (The Dodo) and science, tech & exploration (Seeker). We're one of the world's largest digital-first media companies, boasting over 4 billion video views every month, while providing consumers 360-degree experiences across web, social, VR and live events. At Group Nine Media, we care about the content our brands create, and if you're a talented passionate individual who does too, let's talk.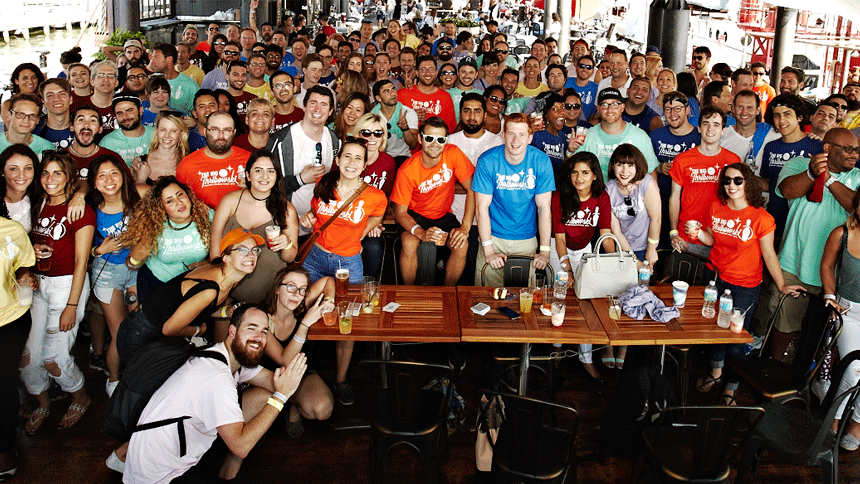 Thrillist means fun. We're eaters, drinkers, travelers, and doers. We serve the curious and believe that new experiences are what drive the richest lives. We bring our passion, expertise, and taste to bear on the things that are truly worth your time and money. Life is for living, and that's why we're here. Today will be great.