Freelance Technology Writer
Posted: 6/22/2018 | Expires: 7/22/2018
Location: Working from home
Function: Writing & Editing
Specialty: Writer
Level: Experienced (Non-Manager)
Duration: Contract, Freelance
Salary Description: Competitive per-article rates
Do you love writing about technology? Do you enjoy helping people learn things and solve problems? Are you the person everyone comes to for help in understanding how something works in a language they understand? If so, we need to talk.
Lifewire, one of the largest tech sites on the web, is looking for a number of experienced freelance technology writers who share our passion for creating content that leaves readers feeling educated, empowered, and understood. We're looking for writers who think of themselves more as technology educators than journalists.
The audience we reach is not that of a tech enthusiast. No breaking news, insider jargon, or snarky pieces here. Technology is super important to our readers because of how it makes their lives better, not because they obsess over the technology itself. Our writers take pride in understanding this audience and knowing how to speak to them.
Must have:
3+ years demonstrable experience writing about consumer-facing technology
Strong research skills
Experience writing for a web-based publication
Very high comfort level and demonstrable experience writing straightforward, practical, and instructional-style advice on technology
Ability to write on a breadth of technology topics, across popular platforms and devices
Ability to work on multiple simultaneous projects and meeting staggered deadlines
Willingness to work closely with an Assignment Editor and Copy Editor
Terrific skills in screenshot-taking and finding great images for your content
Experience with a WordPress-style CMS
A working Google Account and familiarity with Google Sheets
Nice to have:
Experience working as a remote freelancer
Experience working with an Assignment Editor and Copy Editor
Demonstrable experience documenting processes
Demonstrable experience creating curriculum or other educational content
Experience creating animated GIFs or custom imagery
Active social media following
As mentioned, we're primarily looking for technology generalists with experience across the gamut of modern technology, but if your focus is one of the following specialty areas, and you can show us examples of your work, written for an audience like Lifewire's, we'd still love to chat:
Wearable tutorials (Wear OS, WatchOS, Fitbit, etc.)
Antivirus, security, and online safety concepts and tutorials
Windows, Android, and Apple troubleshooting guides
DSLR and mobile photography troubleshooting guides and tutorials
Home theater concepts and tutorials (bonus points for brand-specific specialties)
Android tutorials, especially Samsung
Chrome OS/Chromebook tutorials and troubleshooting guides
Smart home, connected home, and iOT tutorials and concepts
Office software tutorials, especially spreadsheets
HTML/CSS concepts and tutorials
VR/AR/MR concepts, tutorials, and app round-ups
Machine learning and AI concepts
Linux tutorials
General technology concepts
In case it isn't clear yet, we're not your normal news-oriented tech site. We're very instruction-driven and our goal is always to help and educate. Just because you know technology and can also write does not necessarily mean you can write great instruction-based content about technology. You need to identify as much as an educator as you do a writer!
IMPORTANT: To be considered, you must fill out this form, below, and submit your resume through the application system. https://docs.google.com/forms/d/e/1FAIpQLSfstXlZ5GVpNYSbL9L8X5WKAKDJO97JYIyqcmH7HsdSKW3gNg/viewform
Our freelancer contracts last for up to one year and may be renewed. We require a minimum number of pieces to be submitted per month, a number we individualize with each of our writers based on their abilities and our needs. Most pieces are between 500 and 1500 words. We offer competitive per-article rates.

For more than 20 years, Dotdash brands have been helping people find answers, solve problems, and get inspired. We are one of the top-20 largest content publishers on the Internet according to comScore, a leading Internet measurement company, and reach...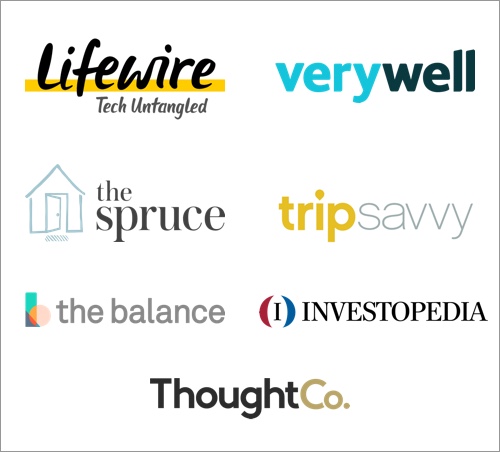 Work With Us