Vice President, Global Publisher - Rotten Tomatoes
Posted: 9/4/2019

Location: Beverly Hills, California
Function: Marketing & Communications
Specialty: Digital Marketing, Web Production
Level: Manager (Supervisor)
Duration: Full Time
Salary Description: competitive


We are seeking a Global Publisher to oversee all aspects of harnessing our unique data, to create a best in class publishing platform that leverages unique brand attributes to deliver new business models. (This would encompass publishing, editorial, video, curation and everything related to our publishing platform). Reporting to the SVP, Head of Content and Creative, you will be the key member of the leadership team that makes decisions to set the Rotten Tomatoes roadmap and overall strategy to ultimately deliver our mission: to accelerate Rotten Tomatoes as a next generation entertainment discovery product, platform & brand.

The ideal candidate should have extensive multi-platform publishing experience working collaboratively across key functions (i.e. product, merchandising, finance, business development, technology, product and digital production) to craft strategic and operational decisions through superb analytical and visionary thinking. This is a highly visible role within our company and within the entertainment industry at large. You will also participate in business reviews and strategy sessions with our executive leadership team and offer proprietary insight into relevant customer behavior that is highly valued by both internal and external stakeholders including partners, advertisers, and consumer groups.

JOB RESPONSIBILITIES:
You will combine creative thinking, command of analytical methods, and a sophisticated understanding of our business to:


Structure and execute operational and strategic initiatives by gathering and synthesizing relevant data, leading analyses with the support of multiple departments (Marketing, BI, Content, Product etc.) and present final recommendations that will drive long-term growth for Rotten Tomatoes.
Leverage our Rotten Tomatoes product, content, and marketing teams to ensure the stability and reliability of the data sources and business processes they draw on, which includes:
Contemporizing our platform and publishing needs.
Delivering strategic forecasts on long-term business needs.
Accuracy of reporting, analytical soundness, and timely delivery of work product.
Prioritize roadmap based on strategic importance, maintenance and ongoing improvement of financial and business performance metrics, and team members' individual development against current responsibilities and career objectives.
Work closely with finance and accounting to understand impact of initiatives to P&L and forecasts.
Review historical performance to produce strategic recommendations and roadmap delivery.
Stay abreast of and share industry, competitor, and consumer behavior trends that can impact Rotten Tomatoes.


• 10+ years of relevant experience (i.e. managing large diverse team with high profile initiatives) and a demonstrated record of accomplishment.
• Experience leading a team including coaching, teaching, and mentoring, in tune with dynamic team culture.
• Experience in digital media, retail, advertising and customer experience businesses.
• Extensive experience evaluating consumer behavior, research and trends – building case to activate into new business, products & services.
• Deep understanding of and experience with advanced data mining techniques and the use of analytical methods to understand consumer behavior.
• Experience leading a business unit or a P&L within a business

• Degree in applicable fields: business, economics, statistics, journalism, creative marketing or data science.
• Deep understanding of and experience with supporting large-scale business partnerships, both international and domestic.
• Advanced leadership, business and operational skills.
• The ability to work independently or with cross-functional teams.
• Experience handling multiple challenging priorities and driving projects to timely completion.
• Highly experienced at structuring ambiguous problems, leading analytical work streams, applying sound business discernment.
• Communication and presentation skills to effectively deliver complex, data-driven insights to senior business leaders.
• Strong strategic and creative thinking.

At Fandango, we love movies. From showtimes and ticketing, to engaging content and innovations in movie going- we strive to deliver the perfect movie going experience—anytime, anywhere. And to be the go-to destination for moviegoers, we think it's all about collaboration. Anyone can build a website or app, but it takes a special group across many disciplines to create an experience that can live across multiple platforms and connected devices. Thanks to an exceptional team, we're working hard to make Fandango a little bit better every day. Our 30 million (and growing!) online and mobile monthly visitors can now buy movie tickets at over 25,000 screens nationwide and stay for exclusive trailers, our award-winning original video series, movie reviews, celebrity interviews and more. So, if you're looking to inspire, be inspired and work at the intersection of entertainment and technology look no further than Fandango. Visit Fandango.com/careers for a behind-the-scenes look at Fandango and follow us on LinkedIn for the latest news and updates. Fandango is an NBCUniversal Company.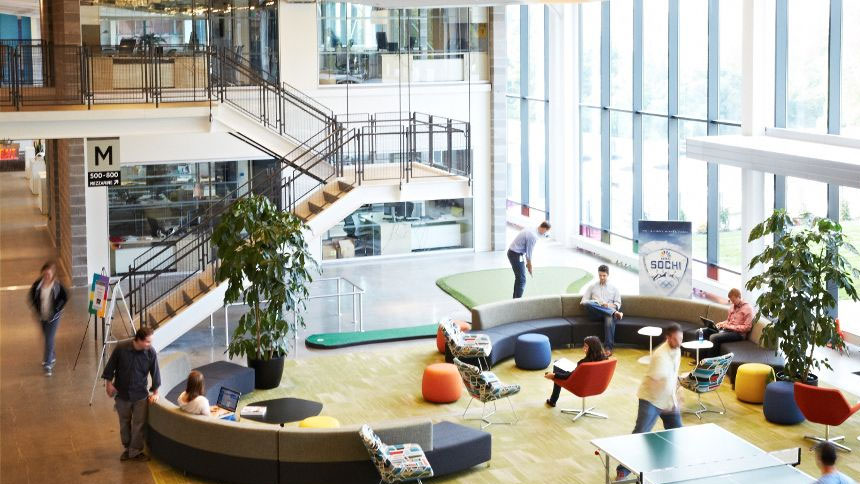 We are one of the world's leading media and entertainment companies in the development, production, and marketing of entertainment, news and information to a global audience.