Fotógrafos de Localización Independientes
Posted: 9/12/2019 | Expires: 10/12/2019
Location: San Juan, Puerto Rico; Cancun, Mexico
Function: Creative & Design
Specialty: Photo
Level: Experienced (Non-Manager)
Duration: Freelance
Salary Description: $40/location
Fotógrafos de Localización Independientes
¡TripSavvy.com esta buscando fotógrafos de viajes para fotografiar en ciudades de todo el mundo!
Sobre sus Contribuciones:
Tendrás que sacar entre 4 y 12 categorías de fotos, centrándose en temas como Museos, "Cosas que Hacer," Aeropuertos, Restaurantes, Hoteles, etc. Estamos buscando asegurar entre 5 y 150 fotos hermosas, creativas, y originales; de alta calidad, para publicación en nuestro sitio web. Después de ser seleccionado, trabajaremos con usted para crear una lista de posibilidades fotográficas mas detallada de cada localización. También proporcionaremos dirección fotográfica en términos de estilo. Ofrecemos (US) $40 por ubicación.
Acerca de Ti:
Responda las siguientes preguntas en una, adjunta, carta de presentación para ser considerado:
1. ¿Cuál es su configuración de fotografía típico?
2. ¿Cuáles ciudades y puntos turísticos tienes acceso?
3. Por favor, incluya el dirección web de su cartera electrónica.
4. Capacidad hablar en Inglés (no es necessario pero es preferido).
Sobre Nosotros:
Durante más de 20 años, las marcas Dotdash han estado ayudando a las personas a encontrar respuestas, resolver problemas y inspirarse. Somos uno de los 20 principales editores de contenido en la Internet según comScore, una empresa líder en medición de Internet, y llegamos a mas de 30% de la población de los Estados Unidos cada mes. Nuestras marcas colativamente han ganado más de 20 premios de la industria solo en el último año y, más recientemente, Dotdash fue nombrada Editora del Año por Digiday, una publicación líder de la industria. Nuestras marcas incluyen Verywell, The Spruce, The Balance, Investopedia, Lifewire, TripSavvy, Byrdie, MyDomaine, Brides y ThoughtCo.
Favor tener en cuenta los reclutadores fraudulentos que ofrecen oportunidades en Dotdash. Tenga en cuenta que cualquier correspondencia con un miembro del equipo de reclutamiento de Dotdash procederá de una cuenta @dotdash.com o de una notificación de notifications@jobvite.com perteneciendo a un reclutador de Dotdash. Si está en conversaciones para una oportunidad de trabajo y desea confirmar su validez, comuníquese directamente con security@dotdash.com.
Dotdash abraza la inclusión y valora nuestra comunidad diversa. Estamos comprometiendo a construir un equipo basado en calificaciones, méritos y necesidades comerciales. Estamos

For more than 20 years, Dotdash brands have been helping people find answers, solve problems, and get inspired. We are one of the top-20 largest content publishers on the Internet according to comScore, a leading Internet measurement company, and reach...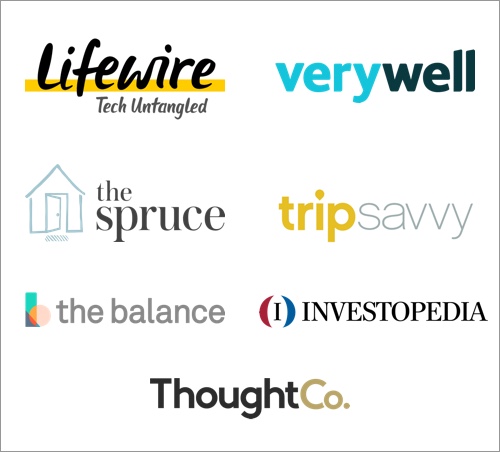 Work With Us
Apply for Fotógrafos de Localización Independientes
Already uploaded your resume? Sign in to apply instantly