Temporary Broadcast Network Engineer
Posted: 9/13/2019 | Expires: 10/13/2019
Location: Beaverton, Oregon
Function: Production
Specialty: Operations, Project Management, Television & Film
Level: Experienced (Non-Manager)
Duration: Full Time
Salary Description: competitive
KPTV-KPDX, a Meredith owned duopoly,l is recruiting for a Broadcast Network Engineer. The Broadcast Network Engineer installs, supports, and maintains information systems functions in a broadcast television environment, related directly to on-air broadcast operations. Information systems include, but are not limited to Windows, Linux, Macintosh and other operating systems, network and broadcast video servers, end-user desktop and laptops, telecommunication systems, news editing and automation, printers, custom applications and related-user accounts.
Essential Job Functions:
40% Troubleshoots and repairs hardware and software issues in studio and remote production equipment, RF systems and equipment, Windows and other operating systems, network and broadcast video servers, end-user desktop and laptops, telecommunication systems, news editing and automation.
20% Lead or participate in system implementation(s) and upgrades, including creating and maintaining documentation and related diagrams using applications such as VISIO or VidCad.
20% Performs preventative maintenance as appropriate on station equipment, transmitters and RF equipment.
10% Provides technical support to remote broadcasts
5% Develops and updates technical job skills. Provides training on new systems.
5% Other duties as assigned.
Minimum Qualifications and Requirements:
Education: Bachelor's degree in Information Systems Management, Broadcast Engineering or related field, or equivalent training and/or experience
2+ years experience as a broadcast engineer
RF systems experience a plus
Experiencing troubleshooting methodologies that apply to networked Server/PC environment and standalone workstations.
Windows operating system experience including Window NT 4.0/2000/XP in a corporate network environment. Max OS X support helpful.
Previous project management experience preferred.
Specific Knowledge, Skills and Abilities:
Solid understanding of RF Systems including VF, UHF, Television Transmitters, Microwave Studio to transmitter/transmitter to studio links.
Solid understanding of ATSC encoding systems.
Solid understanding of TCP/IP networking related to PC function and communication with e-mail and software applications in Ethernet-based networks.
Basic knowledge of electronics troubleshooting and repair.
Good decision-making skills.
Ability to manage multiple projects simultaneously and meet deadlines.
Excellent communication skills are essential to understand users' requirements and provide training on new systems.
Ability to communicate with non-technical personnel to resolve equipment issues.
Ability to work in a team-oriented environment.
Ability to prioritize and make frequent changes to work plans without loss of efficiency or composure.
KPTV-KPDX, a Meredith owned duopoly is located in Beaverton, Oregon. Meredith Corporation (NYSE: MDP; www.meredith.com) has been committed to service journalism for 117 years. Today, Meredith uses multiple distribution platforms - including broadcast television, print, digital, mobile and video - to provide consumers with content they desire and to deliver the messages of its advertising and marketing partners.
Meredith's Local Media Group includes 17 owned or operated television stations reaching 11 percent of U.S. households. Meredith's portfolio is concentrated in large, fast-growing markets, with seven stations in the nation's Top 25 - including Atlanta, Phoenix, St. Louis and Portland - and 13 in Top 50 markets. Meredith's stations produce 700 hours of local news and entertainment content each week, and operate leading local digital destinations.

Meredith Corporation is an Equal Opportunity Employer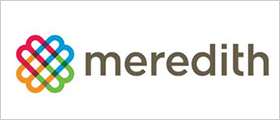 Our cornerstone is knowledge of the home, family, food and lifestyle markets. From that, we have built businesses that serve well-defined audiences, deliver the messages of advertisers, and extend our brand franchises and expertise to related markets.