Marketing & Training Coordinator
Posted: 10/7/2019 | Expires: 11/6/2019
Location: Stamford, Connecticut
Function: Sales & Business Development
Specialty: Operations
Level: Experienced (Non-Manager)
Duration: Full Time
Salary Description: competitive
The Marketing & Training Coordinator position lies within the Marketing, Training & Development department of MNI Targeted Media. This person will provide strategic marketing support to the Marketing department, with a focus on supporting the newly developed MNI Learning, Development and Training platform. II. Essential Job FunctionsWeight % Accountabilities, Actions and Expected Measurable Results75%
Work across internal departments to manage the everyday execution of the Learning, Development, and Training platform with a focus on project management, scheduling, and internal communications.

Project manage all elements of the continually evolving platform, not limited to: training manuals, pre-recorded and Live training sessions
Maintain and update the Learning, Development, and Training manual
Update and distribute a monthly Learning, Development, and Training Newsletter highlighting new curriculum additions and upcoming Live training sessions
Coordinate with training hosts to secure training materials and ensure compliance with MNI brand standards
Responsible for the upload and management of all materials across training platforms including the MNI Intranet
Work with Director and VP, Integrated Marketing to develop evolving curriculum
Traffic training modules to key personnel for review and approval
Serve as the Learning, Development, and Training point-of-contact
Manage expectations back with the Director, Product Marketing, to prioritize workflow
Outreach to prospective vendors, technology partners or internal Meredith counterparts as needed
25%
Provide support in creating and updating national and/or customer-focused sales materials for use by our sales account executives
Conduct research using our syndicated research tools and industry resources
Produce category-relevant blogs and Thought Leadership pieces as needed
Update monthly marketing job tracker reports
Support general marketing functions including event planning, sales mailings, and material updates
All other duties as assigned.
100% III. Minimum Qualifications and Job Requirements | All must be met to be considered.Education:A Bachelor's Degree with a concentration in marketing is strongly preferred (and/or equivalent, relevant work experience). Experience:1+ years' experience in media or marketing. Project management experience is a plus. Specific Knowledge, Skills and Abilities:
Strong organizational skills and enjoy following a process or trailblazing a new one
Strong critical thinking and analytical problem-solving skills
Self-starter who can work independently, adapt quickly to different situations, and is strong at project management.
Exceptional presentation and communication skills.
Time management, business acumen and a strong work ethic are a must.
Solid computer skills using Excel, Word, PowerPoint, Salesforce; knowledge of Nielsen, ComScore and GfK a plus.
Creative, compelling and persuasive communication style
Must be able to multi-task and work under strict deadlines
% Travel Required (Approximate): >10% (approximate)MNI Targeted Media, an advertising and marketing division of Meredith Corporation, is a new breed of data-centric advertising firm that prides itself on innovative digital strategies. MNI streamlines media buying, creative messaging and analysis to generate scalable cross-platform advertising campaigns that make an impression. We believe in the power of innovation and are driven to know more and do more every day. Think you'd be a good fit for the team? Visit us at mni.com.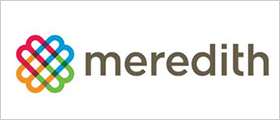 Our cornerstone is knowledge of the home, family, food and lifestyle markets. From that, we have built businesses that serve well-defined audiences, deliver the messages of advertisers, and extend our brand franchises and expertise to related markets.