Fotografi Professionisti
Posted: 10/31/2019 | Expires: 11/30/2019
Location: Roma, Italia
Function: Creative & Design
Specialty: Creative, Photo
Level: Experienced (Non-Manager)
Duration: Freelance
Salary Description: $50/location
TripSavvy.com cerca fotografi professionisti per collaborazioni freelance.
E' richiesta la produzione di contenuti fotografici relativi a 4-12 differenti categorie; gli scatti dovranno avere come oggetto musei, attività' quotidiane, aeroporti, ristoranti, hotels etc…
I differenti incarichi verranno assegnati con l'obiettivo di realizzare dai 5 ai 150 contenuti fotografici di assoluta creatività e autentica qualità' estetica per la pubblicazione su TripSavvy.com.
Il fotografo selezionato ricevera' una lista dettagliata degli scatti da effettuare per ogni location. Verra' inoltre fornita la direzione della fotografia per quanto riguarda lo stile e la creatività' da seguire. L'offerta economica é di 50 dollari americani per location.
Per partecipare alla selezione, si prega di rispondere all seguenti domande e di allegare il curriculum vitae ed una lettera di presentazione.
1 - Che tipo di attrezzature utilizzi nella produzione di set fotografici?
2 - Quali sono le citta'/localita' turistiche alla quale hai accesso per la produzione dei contenuti?
3 - E' richiesto il link al sito web/portfolio fotografico.
Rispondi in Inglese, per favore!
Chi Siamo
Per più' di vent'anni Dotdash attraverso i suoi brand ha fornito risposte, risolto problemi e ispirato i suoi utenti online. Definita da comScore una tra le 20 realtà' più' prestigiose nella creazione di contenuti web, e' leader nell' ambito dell'informazione online negli Stati Uniti, raggiungendo ogni mese il 30% della popolazione americana. Nell'ultimo anno con i suoi brand ha collezionato piú di 20 prestigiosi premi e riconoscimenti nel settore dell'editoria digitale. Più' recentemente Dotdash é stata nominata da Digiday, leader di spicco nella pubblicazione online, gruppo editoriale dell'anno.
I nostri brand sono: Verywell, The Spruce, The Balance, Investopedia, Lifewire, TripSavvy, Byrdie, MyDomaine, Brides and ThoughtCo and Liquor.com.

For more than 20 years, Dotdash brands have been helping people find answers, solve problems, and get inspired. We are one of the top-20 largest content publishers on the Internet according to comScore, a leading Internet measurement company, and reach...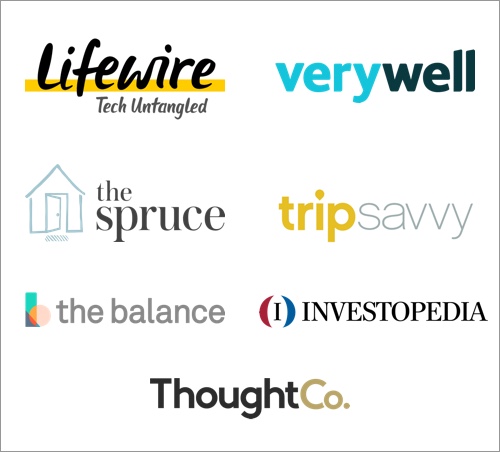 Work With Us