Editor, Liquor.com
Posted: 11/6/2019 | Expires: 12/6/2019
Location: New York City, New York
Function: Writing & Editing
Specialty: Editor / Editorial
Level: Experienced (Non-Manager)
Duration: Full Time
Salary Description: Competitive annual salary plus health, dental, 401k and unlimited vacation
About Your Role
Dotdash is seeking an Editor to join the Liquor.com team. We are looking for a digitally savvy content creator with a passion for all things cocktails, spirits, bars and bartenders, who is excited to grow one of the largest cocktail sites on the web and make it even better.
The role also demands a general understanding of the ways and contexts in which people drink that's a world away from the buzziest speakeasy. The ideal candidate will have an interest in the broader lifestyle around drinking: fashion, sports, design, food, etc. In short, no matter if the content is highbrow or low, nerdy or mainstream, we are seeking someone who likes booze and the good life and wants to help tell smart, fun, accurate, engaging stories about it.
Above all else, the candidate should be a stickler for precision, accuracy and timeliness. This role demands a commitment to getting the job done well and on-schedule—no matter the obstacle. The editor will join a fun, spirited team and create inspiring, beautiful and reliable digital products and promote our best content across our Instagram, Facebook and Pinterest pages to help increase traffic and foster brand engagement.
About Your Contributions
Pitch, assign and edit new content from freelance writers and recipe developers.
Generate new content franchises to support brand goals and drive user engagement.
Work with photo and video editors to support production of photo and video shoots for the website and social platforms.
Write and produce new content in-house as needed.
Curate and promote our best content via email newsletters, across site landing pages and through content partnerships.
Create compelling original content for Instagram to help expand the reach of the brands and establish the brands as active, engaged communities.
Build relationships with influencers and accounts with both large and small followings; facilitate content swaps, takeovers and other promotional efforts.
Conceptualize and execute branded programs across social media platforms.
Work with team on ad-hoc projects with the goal of improving content quality.
Identify trends and opportunities in the drinks space. Support the editorial director in differentiating our verticals from others in the marketplace.
Represent Liquor.com and serve as a brand ambassador at events, press previews and more.
About You
Proactive, flexible team player with a sense of humor and entrepreneurial energy, able to roll with the punches and take ownership in a fluid and fast-moving environment.
Passionate about all things drinks—cocktails, spirits, bars and bartenders (and 'gramming it all)—and loves to share your knowledge with the world. Up to date with industry trends but also able to identify topics of interest to a wide audience.
Strong understanding of SEO.
A solid network of industry connections.
5+ years experience editing digital content for web, email and social channels. Knowledgeable with content management systems and web analytics tools.
Expert-level proficiency with writing, editing and curation of content on social networks such as Instagram, Pinterest, Facebook, Tumblr, Flipboard and any emerging social platforms.
Detail-oriented and deadline focused with solid copy editing skills.
Strong copywriter, capable of writing engaging, lively headlines and blurbs.
Undergraduate degree, preferably in journalism or communications.
Prior developing cocktail recipes and working as a bartender a plus.
About Us
For more than 20 years, Dotdash brands have been helping people find answers, solve problems, and get inspired. We are one of the top-20 largest content publishers on the Internet according to comScore, a leading Internet measurement company, and reach more than 30% of the U.S. population every month. Our brands collectively have won more than 20 industry awards in the last year alone and, most recently, Dotdash was named Publisher of the Year by Digiday, a leading industry publication. Our brands include Verywell, The Spruce, The Balance, Investopedia, Lifewire, TripSavvy, Byrdie, MyDomaine, Brides, Liquor.com, and ThoughtCo.
Please be aware of fraudulent recruiters offering opportunities at Dotdash. Note that any correspondence with a member of the Dotdash recruiting team will come from a @dotdash.com or a notification@jobvite.com account belonging to a Dotdash Recruiter. If you are in conversations for a job opportunity and wish to confirm its validity, please reach out directly to security@dotdash.com.
Dotdash embraces inclusivity and values our diverse community. We are committed to building a team based on qualifications, merit and business need. We are proud to be an equal opportunity employer and do not discriminate on the basis of race, religion, color, national origin, gender, sexual orientation, age, marital status, veteran status, or disability status.

For more than 20 years, Dotdash brands have been helping people find answers, solve problems, and get inspired. We are one of the top-20 largest content publishers on the Internet according to comScore, a leading Internet measurement company, and reach...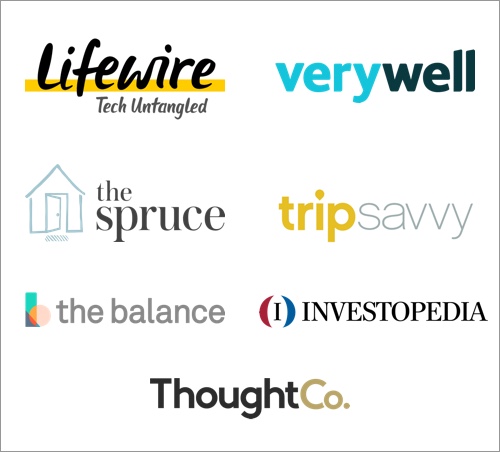 Work With Us