Freelance Technology Review Board Member, Lifewire
Posted: 11/15/2019 | Expires: 12/15/2019
Location: Working from home
Function: Operations & Strategy
Specialty: Proofreading, Research, Writer
Level: Experienced (Non-Manager)
Duration: Freelance
Salary Description: $50/hour
Lifewire, one of the largest and fastest growing tech sites on the web, is seeking a part-time, freelance remote Technology Review Board Member (TRBM).
As a TRBM, you will rely on your experience, certifications/education, and original research to review and provide specific feedback on our instructional and editorial content on Lifewire.com in an effort to ensure it meets our strict criteria.
If you are appropriately certified and/or experienced, love technology, can work quickly and efficiently, and are obsessed with educating consumers about technology, then you might be the person we're looking for!
Rate: $50 per hour
About the Role:

Review content based on your categories of provable expertise, per our criteria.
Communicate to the Editorial Team the specific updates required, if any, for content to meet our criteria and/or execute on those updates within your abilities
Provide proof of pertinent, current certification(s) and/or experience
Provide an extensive bio, with headshot, that will live on Lifewire.com
Ability to commit to a minimum of 10 hours per week

About You

Appropriately certified and/or experienced (see below)
Excellent research and organization skills
Excellent written communication skills
Detail oriented and goal-focused
Experience working remotely
Access to a wide variety of devices/platforms
Experience working in a CMS and/or workflow tools is a plus, but not required
Demonstrable online writing experience a plus, but not required
Live and eligible to work in the US
About Your Qualifications:
We're after TRBMs that are qualified to review a wide range of technology areas and topics. Specifically, we're looking for candidates with one or more of the following certifications (current or willing to renew) and/or experience:

CompTIA A+
Apple Certified Mac/iOS Technician (ACMT, ACiT)
Microsoft Office Specialist (MOS)
Social Media Certification

Udemy Social Media Marketing
Hootsuite Academy Social Marketing
Facebook Certified
Online University Social Media Certifications (Byron, etc)
5+ years demonstrable electronics retail experience
5+ years demonstrable game journalism/reviewer experience
Must be authorized to work in the U.S.
About Us:
Lifewire teaches you how to best use your screens and gadgets, have fun with technology, fix what isn't working, and buy the best gear for your life. We're here with straightforward, practical advice to help you live better with technology. With 20,000 pieces of content written by dozens of expert technology writers, Lifewire helps 30 million users each month get the most out of modern technology. Lifewire is a Dotdash brand and a Top 10 tech site.
For more than 20 years, Dotdash brands have been helping people find answers, solve problems, and get inspired. We are one of the top-20 largest content publishers on the internet according to comScore, a leading internet measurement company, and reach more than 30% of the U.S. population every month. Our brands collectively have won more than 20 industry awards in the last year alone and, most recently, Dotdash was named Publisher of the Year by Digiday, a leading industry publication. Our brands include Verywell, The Spruce, The Balance, Investopedia, Lifewire, Byrdie, MyDomaine, TripSavvy, Brides, Liquor.com, and ThoughtCo.
Dotdash embraces inclusivity and values our diverse community. We are committed to building a team based on qualifications, merit and business need. We are proud to be an equal opportunity employer and do not discriminate on the basis of race, religion, color, national origin, gender, sexual orientation, age, marital status, veteran status, or disability status.

For more than 20 years, Dotdash brands have been helping people find answers, solve problems, and get inspired. We are one of the top-20 largest content publishers on the Internet according to comScore, a leading Internet measurement company, and reach...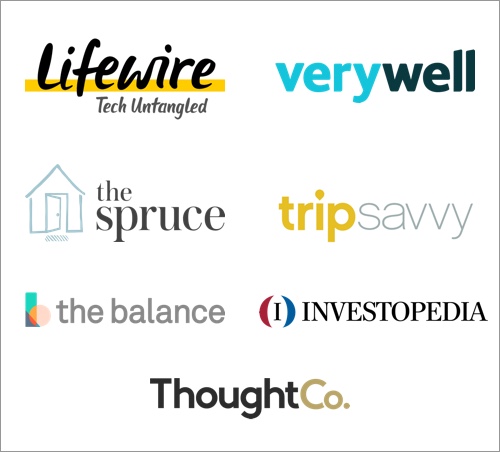 Work With Us