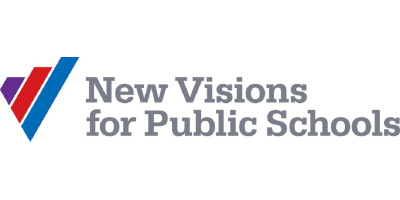 Director of Marketing & Communications
New Visions for Public Schools, Hybrid, NY USA
Public schools that work for all New Yorkers
Salary: Pay Range: $141,359 minimum to $226,174 maximum While the majority of new hires' starting salaries shall be expected to be placed in the first half of the range(s) to allow space to grow in the job, for those who already have significant relevant experience at that level of the job, placement at the higher end of the range(s) is possible.
Salary min: $140,000
Salary max: $150,000
Level: Executive (Director, VP, Department Head)
Duration: Full-Time
---
Who We Are
New Visions for Public Schools is the leading non-profit organization dedicated to the improvement of public education in New York City. We support 1,600 public schools and thousands of teachers, serving almost 1,000,000 students, in their most critical work: deciding what and how to teach, helping keep students on track to graduation, and preparing students for success beyond high school. New Visions directly manages a network of nine charter high schools across the Bronx, Brooklyn and Queens, and works in sustained partnership with a network of 71 Department of Education secondary schools in all five boroughs.
Who You Are
You're an exceptional communicator that wants to work at an organization with stories worth telling. You're equally comfortable defining organization-wide communication strategy as stepping in to draft short content quickly. You know that results don't speak for themselves; even an organization with an enviable record of driving critical improvements in New York City's public schools needs to speak clearly, compellingly, and regularly to its core stakeholders. You're persistent, results-driven, and have demonstrated success building and leading high-performing teams. Most importantly, you believe in the power of public schools and the possibility that they can work for everyone.
Requirements:
5+ years' professional experience in a communications or related role with progressively increased responsibilities
3+ years' experience managing multiple direct reports, and working in collaboration with multiple other teams
Expertise in overseeing and developing websites, social media and other digital assets, in producing marketing campaigns and developing publications and other externally-facing assets, and leveraging multiple forms of media to define and elevate an organization's public profile
Experience engaging press, both proactively to place stories and responsively
Extensive experience writing, editing, and producing compelling print and digital content
Experience in an organization with a social sector or public good focus preferred, but not required
What You'll Do
You'll build and lead a high-performing communications team dedicated to telling the story of New Visions. This includes shaping our organizational communications strategy, in partnership with the organization's senior leadership and Board, and leading the day-to-day execution of that strategy. You will work with teams across the organization to make what they do and how they're changing thousands of lives understandable and visible to multiple audiences.
Why New Visions?
You'll have the opportunity to shape how to highlight improvements that make a real difference to tens of thousands of New Yorkers, from educators and school leaders to students and families. You will get to work with staff at New Visions and in our partner schools and organizations who are thought leaders and innovators in the education sector. You'll be challenged constantly, but will have a talented, diverse, and passionate team to support you. You'll be part of an organization that values its employees, regularly reviewing and ensuring market-leading compensation, great benefits, and fun work perks!
New Visions for Public Schools is an equal-opportunity employer. We believe that our people and teams should reflect the diverse communities we serve, and that our culture and internal structures should be inclusive and equitable for all prospective and current employees. 
About New Visions for Public Schools
At New Visions for Public Schools, we work to make great public schools common in New York City. We believe that all of New York City's students deserve public schools that make successful futures possible, especially Black, Latinx, and low-income students who have historically had inequitable access to a great public education. Since 1989, New Visions has been a driving force behind some of the most significant reforms to public education in New York City. Today, our diverse team of professionals develop and scale innovative tools and approaches that help educators address common challenges. Learn more about New Visions HERE.
We operate nine public charter schools in the Bronx, Brooklyn, and Queens and, as a trusted partner of the NYC DOE, we help 1,600 public district schools plan for the success of over a million students citywide. In 2021-22, graduation rates in our Charter and Affinity networks were 96% and 92% and our support for postsecondary readiness has expanded exponentially.