Personal Finance Writer
Posted: 10/27/2017 | Expires: 11/14/2017
Location: Working from home
Function: Writing & Editing
Specialty: Copywriting, Editor / Editorial, Writer
Level: Experienced (Non-Manager)
Duration: Contract, Freelance
Salary Description: DOE
About Your Role:
Do you love writing about personal finance? Have you figured out ways to save, invest and spend that have left your friends and family saying "wow!"? Are you the person that people come to for advice about their money? Than we have an opportunity for you!
The Balance is one of the largest and fast growing personal finance sites on the web, educating and empowering people to take control of their financial lives. Our mission is to help people earn more, save better and send smarter. We are looking for a number of personal finance writers that have experience and knowledge of financial topics and can convey them in accessible, easy to understand terms.
The audience we reach is looking for information across their lifelong relationship with money, be they a college grad paying down student debt, a person buying their first home, a family saving for their child's college, or someone planning their dream retirement. Our writers talk with our audience, not at them, and have a passion for their topic.
Need to have:
Demonstrable experience writing about personal finance topics (budgeting, paying down debt, investing basics, financial planning)
Experience writing for a web-based publication
Very comfortable writing straightforward, practical advice on personal finance topics
Ability and willingness to edit and update existing content
Comfortable with multiple simultaneous projects and meeting staggered deadlines
Willingness to work closely with an Assignment Editor and Copy Editor
Experience with a WordPress-style CMS
Working Google Account and familiarity with Google Sheets and Google Analytics
Nice to have:
Experience working as a remote freelancer
Experience working with an Assignment Editor and Copy Editor
Demonstrable experience documenting processes
Demonstrable experience creating curriculum or other educational content
Active social media following
Our freelancer contracts last for up to one year and may be renewed. We require a minimum number of pieces to be submitted per month, a number we individualize with each of our writers based on their abilities and our needs. Most pieces are between 700 and 1500 words.

For more than 20 years, Dotdash brands have been helping people find answers, solve problems, and get inspired. We are one of the top-20 largest content publishers on the Internet according to comScore, a leading Internet measurement company, and reach...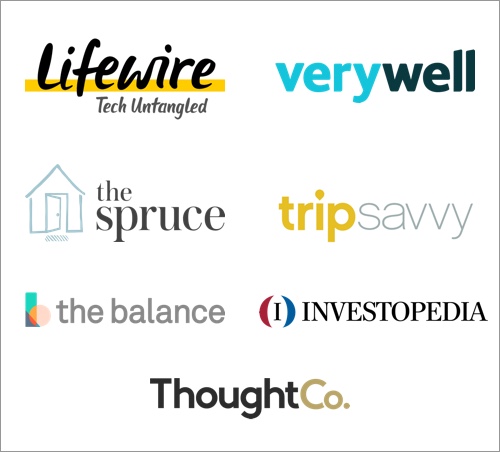 Work With Us