When you're vetting resumes from job applicants, even the smallest detail can turn you off. A misspelled word, a font that's too small, even a lackluster description of a prior role—these little things make a big difference to a hiring manager. We've all seen it a hundred times: a decent candidate who loses the gig because their resume didn't nail the details.
The same holds true for job listings.
As a hiring manager, sometimes you turn off an otherwise excellent candidate because you didn't nail the details in your job listing. The language you choose to use is much more powerful than you might think. The right words can entice the perfect candidate, and the wrong words can push them away without a second thought, or even reel in applicants who aren't the right fit.
Just like job hunters commit to perfecting their resumes, it's time for you to commit to perfecting your job listings. Think of it as learning an entirely new skill—copywriting—and treating your job descriptions as carefully worded advertisements.
Let's get you started down the path to better job descriptions with these three categories of danger words that make candidates say, "No thanks!"
1. Danger Words Category #1: Too-Common Clichés
You want to entice candidates to apply, not blend into the background! Take a look at job listings from other companies and count how many times you see overused words and phrases like "detail-oriented," "multi-tasker," or "self-motivated." Too many times!
Certainly, most positions require these traits. But when your description sounds just like everyone else's, your candidates' eyes simply glaze over. They move on to the next posting, in search of something that really grabs their attention.
A helpful exercise: Rewrite your description in a casual tone, as if you're describing the position to a friend in conversational terms. Often, the more natural the language, the more connected and curious a candidate will feel.
2. Danger Words Category #2: Unwelcoming Words
You already know that offensive, discriminatory or exclusionary language automatically sets you up to be rejected by lots of great candidates, not to mention the possibility of a lawsuit. Fortunately, most hiring managers are incredibly conscientious when it comes to showing outright bias. But there are words and phrases still in use that make candidates feel like they aren't welcome.
A few examples:
Using stereotypically masculine terms like "ninja," "rockstar" or "guru" can subtly discourage women from applying.
Requiring a college degree in a specific field turns off candidates who might be otherwise perfectly qualified.
Asking for salary requirements at the application stage can scare someone away who doesn't know the going rates.
It doesn't matter if you don't intend to exclude anyone with these mistakes—the damage is already done. Chuck these terms and find something better. (Check out our handy "Dos and Don'ts" list for some great suggestions.)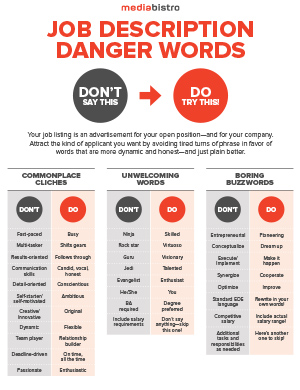 3. Danger Words Category #3: Boring Buzzwords
Job hunting isn't a 100% logical process, and your candidates' gut reactions have a lot to do with whether they apply to your position or pass. If your description sounds boring, candidates will think the role is boring and keep on scrolling.
Watch out for industry jargon like "conceptualize," "implement" and "results driven." Even if you work at a creative, exciting business, these verbs can make it sound like a corporate snoozefest.
This also applies for Equal Opportunity Employer language. In its boilerplate form, it's dry enough that most applicants only skim it. Imagine how much more meaningful it will be if you write, in your own words, why diversity, inclusivity and equal representation are important to you and your company.
Your ultimate goal here is to use language that welcomes all candidates and represents the role (and the company) in the best possible light. For a quick fix, go through our helpful "Dos and Don'ts" list. How many of these phrases can you update in your own job descriptions?
Once you've done a quick copy-check, stop by the Mediabistro Employers page to post your job new and improved description. Good luck!