Hey there! We're back with week 2 of the the #WeekendJobSearch, our new, ongoing series that breaks the whole job-search process into 13 totally doable to-do items.
Last week we started small and purged old job search materials. This week, we're taking that clean slate and building upon it—setting you up for success throughout your job search.
The #WeekendJobSearch Assignment #2

Set Yourself Up For Success

Let's face it: A job search is a numbers game. The more job listings you find and apply to, and leads you follow up on, the more likely you are to land an offer.
As as with any quantifiable task, when it comes to a job search, one of the most important things you can do to ensure and track success is to set a goal.
1. Create a Goal
It may seem minor, but if you establish a job-application goal, you're more likely to get more applications in and ultimately secure a new job. Check out these examples:
Apply to at least ten jobs this week

Make a list of my top ten companies and apply to at least 8 this week

Apply for two jobs every weekday
Either choose one of the above, or develop your own job-search goal. Try one out for a week, and if it doesn't work for you, switch it up. Just make sure you're setting a goal and hitting hit.
2. Record Your Progress
In order to note and observe your progress, you'll need a place to keep it all. Mediabistro's Ultimate Job Search Tracker to the rescue. With this shareable spreadsheet, you can mark the jobs you applied for, jot any important job-related details and write down updates, such as if you score an interview or—fingers crossed—a real, live job offer.
Setting a goal on this chart is ridiculously simple. Just make a note on a cell representing how many jobs you want to apply to in a week; when you've reached that finish line, you're done. Here's a sample: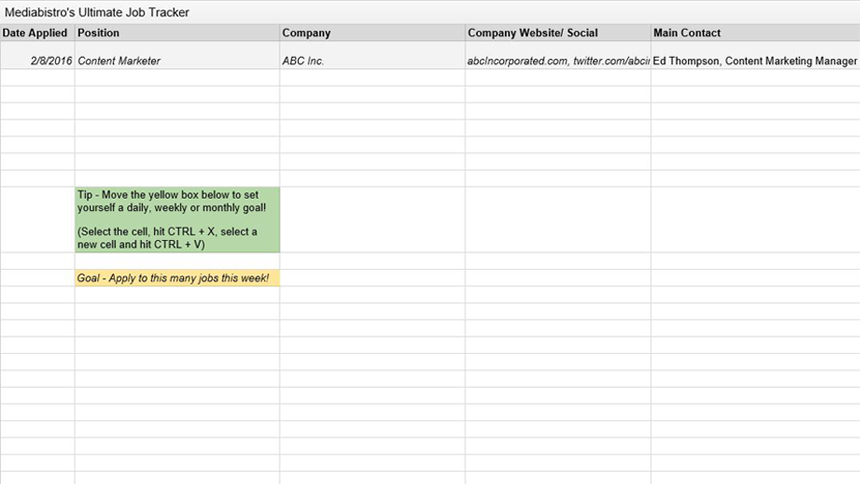 Move this line down each week to set your next goal. Feel free to change the text if that motivates you, and consider combining it with a reward beckoning you at the end.
A few options:
Get here, then beer. Cheers!

Mani-pedi once you've passed this line!

Knock out this many job applications, then play as much Fallout as you want!
You've got your goal, you've got your chart to record it and the rest of your job searching information. Now it's time to crack those knuckles and give it a spin.
Apply for one job right now, get the job tracker started and move closer to your weekly goal—and your ultimate end goal of an awesome new job.
Best of luck with this weekend's assignment! We'll see you next weekend when we'll be cleaning up your social media house.