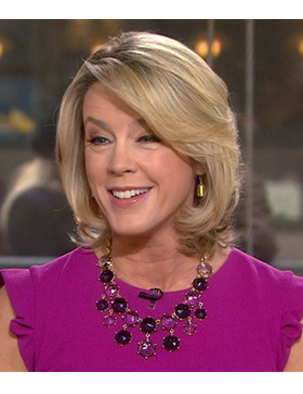 Deborah Norville is first and foremost a survivor. This broadcast veteran endured one of the most brutal cases of career- and character-bashing ever inflicted on a television personality in the nineties, but emerged stronger for it. You can read more about it here, or just Google "Deborah Norville replaces Jane Pauly".
While on maternity leave the following year, Norville, in an interview with People, was photographed breast feeding her son. The photographs allegedly angered NBC executives, and it was announced in April 1991 that Norville would not be returning to Studio 1A.
Her replacement: Katie Couric.
Today, the resolutely outspoken broadcaster/author makes sure she's heard whenever she has something to say. In her book, Thank You Power, which cracked the New York Times How-to/Advice best seller list, Norville uses scientific evidence to show the positive effect gratitude can actually have on one's life, health, and wealth.
It's certainly worked for her.
---
Name: Deborah Norville
Position: Anchor, Inside Edition; author, Thank You Power: Making the Science of Gratitude Work For You.
Resume: Prior to joining Inside Edition in 1995, worked at CBS as anchor of America Tonight and correspondent for 48 Hours and The CBS Evening News. Launched nationally syndicated Deborah Norville Radio Show on ABC News Radio Network in September 1992; hosted for one year. Named co-host of Today in January 1990 after serving as the show's news reader and a stint as anchor of the network's NBC News at Sunrise. Left Today on maternity leave in February 1991. Briefly anchored Deborah Norville Tonight on MSNBC while simultaneously hosting Inside Edition. Started her television career while still in college as a reporter and weekend anchor for WAGA-TV in Atlanta, Georgia. Author of several books.
Birthdate: August 8, 1958
Hometown: Dalton, Georgia ("The carpet capital of the world. We make enough carpeting on an annual basis to pave a six-lane highway around the Equator!")
Education: University of Georgia
Marital status: Married to Karl Wellner; three children.
First section of the Sunday Times: "I usually get The Week in Review because my husband stole the Style Section. [Laughs] I glance at the front page but then I go for Week in Review because I feel if I read that, I've accomplished something."
Favorite television show: "My husband and I like Brothers & Sisters right now. On the surface one would think, 'This isn't real life.' The reality is, oh yes it is. Get five families together and chances are every scenario that's been depicted on this show will be present in one of five families. You won't find them all in one family, that part is a bit unrealistic. But they do have Sally Field as their mother so if that were the case, maybe you would. The acting is fantastic and you don't see a lot of great acting all that often."
Guilty pleasure: "Potato chips and milk."
Last book read: "I'm one of those people where the most recent is always my favorite. Right now I'm working on a book called Richistan by a Wall Street Journal reporter [Robert Frank]. The book is not new. It was on my husband's table and I stole it when he finished it.
---
Next month will mark your 30th anniversary in broadcasting. How would you say you've gotten to where you are?
A lot of hard work. An inability to be personally satisfied with my own effort. I would say also unquenchable curiosity.
What's the secret to your longevity?
I think it's being nice. I really do. When the media turned on me and made me target practice, I didn't lash back — in part because I was under a gag order. [Laughs] I could have lost my contract if I had. [Laughs]
Really?
Oh yeah. I was ordered by bosses at NBC to not speak to the press.
Did you think that was a good idea?
I thought it was insane.
I said to my agent at time, "This is crazy. How can you tell someone who is in the press to maintain a 'no comment' stance?" He said, "First of all, you're talking about network brass."
[Laughs] Secondly, he said, "You've been given a direct order, and if you now take action contrary to what they've ordered you not to do, they could hold you in breach." So now it's turned into a legal thing.
If I had opened my mouth and done what my instincts were — which was to tell my side of the story and explain all the answers to the questions that were going unanswered by anyone — at the very least my version of events would have been out there. Say what you want about me, but Norville speaks the truth.
More importantly, I would have at least felt like hey, at least I defended myself. Que sera, sera. What happens, happens, but I did what I could.
How did you deal with the pressure?
I sewed. It's funny, the only interview I did grant was to Guideposts. They had called me in the thick of all the craziness and wanted to do a piece. I thought, "You know what? I bet those folks don't even read Guideposts" — an ecumenical Christian-focused little magazine that my mother had always read for years — so I thought, "What the heck?." So I said, "Yeah, sure."
They asked me the same question: "How did you get through it?" I said, "My faith" — because I am a born again Christian. I do believe there is a purpose to everything, and the hardest thing is to wait for that purpose to be revealed on God's time, because we're type-A people — God give me patience and give it to me now! But really it was my faith and it was my sewing machine.
The reason the sewing machine worked for me was because I was still showing up for work every day. Heck, I won an Emmy while all the craziness was going on! It certainly wasn't that I wasn't well-equipped for the job. It was obviously political stuff — I was younger and blonder than Jane Pauley. But the sewing helped me, because while I was going to my job day in and day out, there wasn't a whole lot of fulfillment.
I could pull out the sewing machine — at the time I was expecting a child and decorating the baby's nursery — and I could work on the window shades or crib bumper. I could finish it and put it up and feel really good about it. There was a sense of satisfaction. That was the one thing they weren't saying — "She's a lousy seamstress."
I did some research into what was being written about you during that time and was shocked to find a piece in The New York Times by Walter Goodman, which ran on January 9, 1990. He wrote: "For any viewer who might find Ms. Norville's good looks a bit too much so early in the day, her style is reassuringly down to earth." He also called you a "blonde glamour puss" in the piece. How does such blatant sexism look in your rear view mirror now?
The same way it looks to everybody else — You've got to be kidding!
It was the 1990s, not the sixties…
No, it wasn't the sixties or the era of the weather bunny. I might point out that at an even earlier time in the morning, apparently those same "good looks" were sufficient enough to bring the ratings up 40 percent on the program I was anchoring.
The whole thing was just wank. It was ridiculous. With the benefit of hindsight it is even more laughable. But at the end of the day, the net result was a woman who had worked incredibly hard from the age of 19 onward and had earned every opportunity she ever got and was thrown out on her ear.
But no one ever said when we come out of the womb there is someone standing there who says, "Welcome to the world. It's going to be fair from here on out." It's not. There are no guarantees made to anyone. None were given to me. That's okay because I'm a big believer in hard work.
The same work ethic that got me on Today at the age of 29 got me back to where I'm fronting a show that 5.2 million people watch every day. That same work ethic helped me do the research for a book that's about a fundamental truth that sold enough copies to make the New York Times top ten list.
That same work ethic enables me to do the juggling act and have three children that are incredibly cool kids and has kept me married for 20 years.
Some times the breaks go your way and sometimes they don't.
Was that an impetus for Thank You Power? How did that come about?
It was just a hunch.
The good news about my job is that I work on a show that has got great currency with the viewers. Inside Edition is a really solid show, and because I've been there for a really long time, it's not hard for me to write the show. I can do my research quickly. I had a little extra time on my hands and it just occurred to me that when I looked for the silver lining, I felt my life went better.
I'm enough of a cynic doing this for 30 years that I thought, it's better because you want it to be. So, I thought, "I'll see if there's anything to it or if I'm just blowing smoke." I put on the research hat. I started going into the academic journals. There's a lot of garbage out there, but when you do sift through it, you do get to some kernels of valid, properly executed studies.
That was how it happened. It was really idle curiosity. It wasn't something I did every day. It was really over the course of two years, and once I started getting into something, it was like peeling back an onion.
That's when I went down the avenue on positive affect — that your cognitive thinking can be improved, and then it was wow, that's really neat. You can actually influence your body's response to stress. You can actually lower your blood pressure. This is unbelievable.
Did you ever see that movie A Beautiful Mind with Russell Crowe? Remember when he was flipping out and you could see those numbers and things would appear? It was exactly that way — all this disparate data and all these really cool surveys — and suddenly I just saw these lines which were not tangential that definitely connected this to this to that.
I thought, "I'm going to weave something together and I think it's going to be good." It was definitely not hard labor to do this. I pulled a couple of all-nighters — and that's because I tend to let deadlines get way too close. I think that's a hallmark of people who are directed and focused — sometimes you need the pressure of a deadline.
You talked earlier about making career decisions based on what was best for your family. Inevitably, whenever I talk to a woman with children for this column, the conversation turns to the juggling act that is working motherhood. How do you do it?
Finding decent childcare is the hardest part of it all.
It's not a euphemism that it's hard to find good help; it's impossible. If you don't have family that lives nearby — and my husband and I don't — it's very difficult.
When they were really small, I was very lucky. I had incredible reliable babysitters or nannies or a combination of all of the above, so I was able to patchwork something together. But I have to say it wasn't without an unbelievable amount of stress. When they were little there wasn't a business trip I didn't go on where I didn't worry.
You wrote extensively about suffering from depression in a previous book. Is that something in your research you've found an endemic to women in today's society where the pressure to "do it all" and "have it all" is so great?
At any given time 20 percent of the population is depressed.
According to the World Health Organization, by 2020 it will be the second leading cause of death. I don't know if they don't throw heart-related issues in there. Now that I've done a book on the nuances of science I'm not nearly as fast and loose.
I qualify everything. But that's the official statistic, which is frankly why a book like Thank You Power is such a cause. It's not about selling a gazillion copies. It's about giving people strategies and tools that they can use in their own lives to help them cope better.
For me, Thank You Power has helped me do that. I never knew that's what it was. It's obviously been something I've employed for a very long time. I just coined the term, but this notion of the power that comes from recognizing the good in my life I think has enabled me to handle all the moving parts.
What would you consider your greatest success?
It's corny to say your kids, isn't it?
That's a very popular answer, actually.
What gives me the greatest sense of pride is when I take a step back and look at my life as a moving picture. What I see is that all the parts seem to move in a beautiful, synchronized dance. There are a lot of parts, but they don't seem to jar against each other.
I think that's what I'm most proud of. I look at my husband and think, "Oh boy, did I get lucky." I look at my kids, who despite their mother's career, are really sensitive, kind, interested people.
Look, I'm not doing a show where we're going to help you understand why the war in Iraq seems to not be going away, but there are moments during my show when people watch and feel uplifted, entertained and happily transported away, and there's benefit in that, too.
What about your biggest disappointment?
[Sighs] I don't really have one.
The obvious one would be I'm disappointed by the way the NBC thing turned out, but you know what? Those were people who let me down and that will always happen. My biggest disappointment? That I haven't lost those 15 pounds I've been trying to lose.
I've learned to find blessings in my disappointments so there really are no big ones.
---
[This article has been edited for length and clarity.]