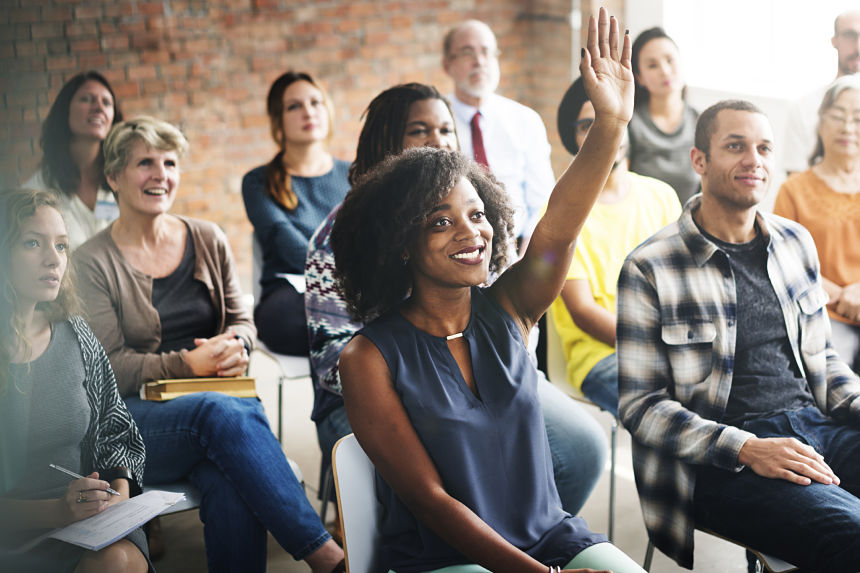 As you step onto the conference floor, your time off work might feel more like vacation than work. But if you spend all your time kicking back, you'll certainly miss out on opportunities, whether it's a lead on a job opening or new networking connections.
Remember: You're there to learn from others in your field and come out a more skilled and marketable talent. You won't get your (or your company's) money's worth if all of your time is spent at the hotel bar. Here are five ways to make the most of your next conference, starting before you even get there.
1. Pitch the Conference to Your Boss.

Some events cost hundreds, even thousands of dollars just to get in the door (not to mention the travel and lodging expenses). The bill may be daunting, but don't get discouraged: With the right pitch, you may just get your boss to pay for you and your colleagues to attend.
Make sure to let your boss know how the company can benefit from sending employees to a conference. You and your fellow conference goers could learn valuable skills or find creative ways to tackle your job. You might even come back refreshed and with newfound energy to apply what you've learned from the conference.
"We always tell employers, 'When your employees come back from this conference, they'll be ready to get to work and really enthusiastic from getting the adrenaline shot of being around their own people,'" says Tenessa Gemelke, director of events and marketing at Brain Traffic. "It's a really good feeling."
The benefits of employee development is far from a one-way street, says Alec Levenson, a senior research scientist at the University of Southern California's Center for Effective Organization. One potential benefit for a company sending employees to a conference is the potential of better retention, Levenson explains, by giving employees a chance to further cultivate their skills.
"Even with the most challenging work, once you've mastered it and have done it years on end, many people will reach a point where the idea of being able to grow and do something different can be very attractive," Levenson says. "(Development) is one potential part of the toolkit a company can use to give people the opportunity to grow and challenge themselves."
2. Do Your Homework.

Don't make the mistake of trying to figure out where to go next as you exit a session. Chart your course ahead of time and figure out what topics you'd like to spend time diving into.
"It's really worth educating yourself about the speaker and about the talk," says Gemelke, who organizes Confab Events at Brain Traffic. "Somebody could be a great speaker, but if they're talking about something that has no value to you, that could be time spent doing something else."
Some sessions just might be more worth your time than others. You might not get much out of a talk on search-engine optimization if you're already comfortable with the subject and it's not one of your core duties at work. Instead, suggests Gemelke, try seeking out a session about something new to you, or a subject about which you want to know more.

3. Go for Quality Over Quantity.

Most conferences will have hundreds of people angling for new contacts or even potential clients. With so many people around, a wide-net approach may not be the best way to make a lasting impression. Instead, take your time and focus on one-on-one meetings or small group activities, which can be more memorable.
Aim for smaller crowds; some conferences, like Confab, might schedule more intimate networking events, like happy hour or small group dinners.
"Having a real conversation with people is always a much better way to be remembered," she says. "Making that one-on-one connection with people is more valuable than a rapid-fire approach with your name on a card."
4. Don't Be Afraid to Stand Out.

When you're competing with so many others to make a connection, try going beyond the small talk and make an impression.
The key is to not sit idle, and engage with the sessions and the conversations instead, Gemelke says. Ask questions at the end of talks. Follow the conversation on Twitter and take part in the discussions. If you have a great idea or feedback, don't be shy to put yourself out there.
5. Follow Up.

What happens at the conference shouldn't always have to stay there. Follow up with the connections you've made and connect with them on social media.
If you've missed a session, it's worth reaching out to the speaker or the event coordinators. The presentation might not be posted publicly, but a conference like Confab might share the slides with an attendee, Gemelke says.
And don't forget to boast to your boss and coworkers about your experience. Share with them the new things you learned and the connections you've made. These success stories could help transform the way your company does business, and shore up your chances of going to another conference in the future.