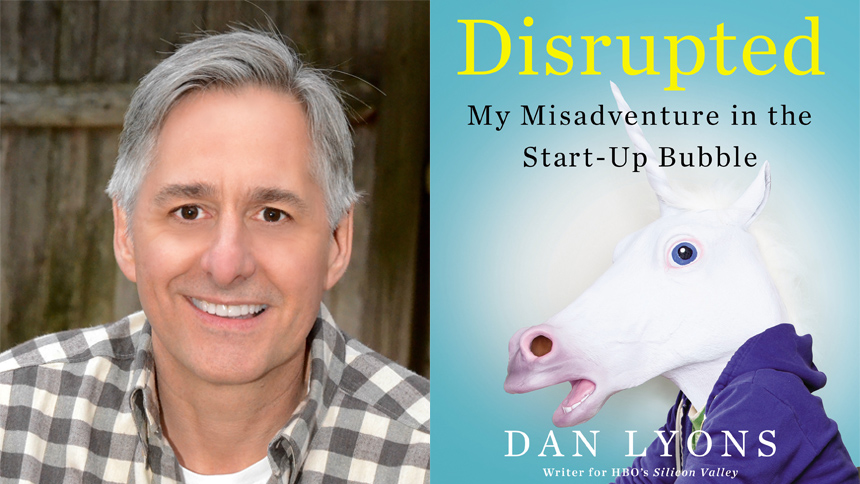 After being laid off from Newsweek as a tech writer at 52—with a wife and two kids, no less—Dan Lyons took this as an opportunity to break into the field he'd been covering for years: tech start-ups.
Joining marketing software start-up Hubspot as the oldest employee at the time, Lyons quickly found the frat- and cult-like culture to be much more than he had bargained for, and he writes all about it in his brand-new memoir, Disrupted: My Misadventures In The Start-up Bubble.  
Dan's motivation for joining the tech-start-up culture was simple. He saw how media and tech were changing and wanted to get on board:  
"[T]here's a sense in the media business—and I share this sentiment—that technology is really reshaping the media business. And I kind of thought, I want to get in on that. I want to get in on how the media business is changing, how people are telling stories in new ways. And the tech guys, in many ways, are doing a better job of that. Microsoft has a thing called Microsoft Stories now that is really a phenomenal publication, and it just happens to be funded by Microsoft. So there's that too. You realize that if you're in the media business, technology is fundamentally what's driving the change in that business. And so I thought it would be a way to learn that."
Lyons spoke about his career transition this week with Fresh Air's Terry Gross. It's compelling listening for anyone with a journalism or editorial background who has made or is contemplating making a switch into content marketing. It's also worth checking out if you've ever dreamed of working in TV; Lyons is a writer on the HBO show Silicon Valley, too.
Laid-Off Tech Journalist Joins A Start-Up, Finds It's Part Frat, Part Cult