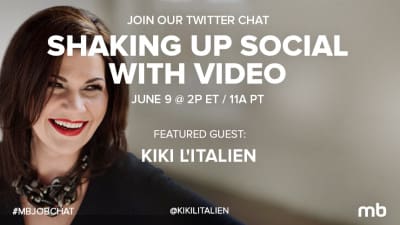 Everywhere you look, there is a new video platform popping up. The popularity of Periscope, Facebook Live and Snapchat proves social video is here to stay.
So for all you marketers and media professionals, how does the emergence of social video fit into your marketing strategy?
Get the answer to this question and more by joining us on Thursday, June 9 at 2 p.m. ET/11 a.m. PT for our next Twitter chat!
Social media strategist KiKi L'Italien and your fellow media pros will break down the strategy, skills, equipment and platforms you need to successfully market your brand using social video content.
And there's more! Halfway through our #MBJobChat, join L'Italien and Mediabistro for a Facebook Live stream on Mediabistro's Facebook page. Make sure to like us ahead of time so you can get in on the stream seamlessly!
Who: @Mediabistro, @kikilitalien and YOU
What: #MBJobChat
Where: twitter.com/mediabistro
When: Thursday, June 9, 2 p.m. ET/11 a.m. PT