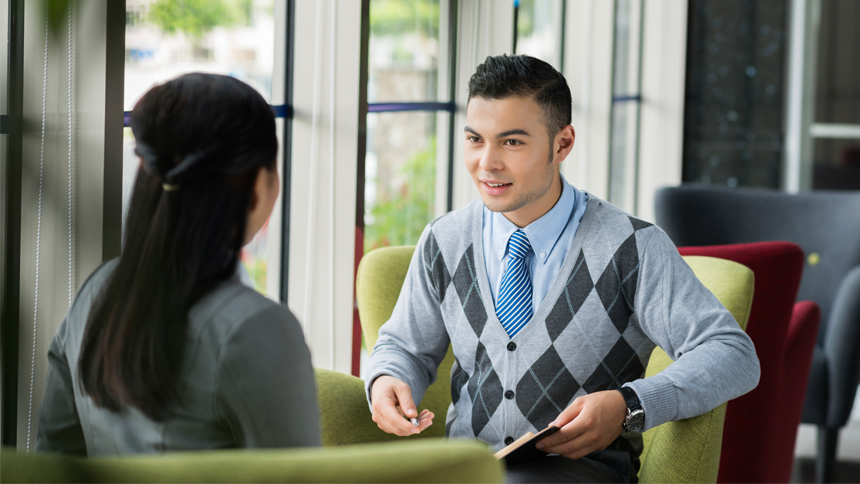 Asking your boss for an official review may sound like asking for trouble, but it actually has a number of not-so-obvious advantages for both your peace of mind and your chances for promotion. The question is: Do you feel secure enough to ask for one? Here, job experts explain why a simple "How am I doing?" might do you a lot of good.
1. To Get Important Feedback
The most obvious reason to seek a review is to know where you stand in your boss' eyes. "You can't improve without being told what you're doing well and what you're not doing right," says Andrea Ballard, a career coach for midlife professionals at Expecting Change LLC. "Asking for feedback gives nervous bosses permission to tell you what's bugging them."
Cheryl Palmer, a veteran career coach at calltocareer.com, agrees that a little insight goes a long way. "A performance review gives insight into how well you're meeting your boss' expectations," Palmer says. "Without this knowledge, you're flying blind."
Seeking feedback is a good idea even when you have a new manager. In such a case, "it may be a wise move to ask for a mini review a month or so after the supervisory change," says Marla R. Gottschalk, an industrial and organizational psychologist. "Not only can you obtain feedback about how he sees you as a contributor, but it allows you to discuss his specific performance expectations going forward."
2. To Improve Your Standing
A review can help you take the first step in repairing a negative reputation. "If you performed in a less-than-satisfactory fashion, this allows you the opportunity to appear proactive and avoid being harshly perceived by management," says Stacey Hawley, a principal with Credo, a career counseling firm. "It's your mea culpa."
"A conversation in the present could save your job in the future," suggests Gottschalk. After all, losing your job is a far darker prospect than enduring an awkward conversation with your boss.
3. To Demonstrate Your Commitment
Even before you have the meeting, simply asking for a review says something positive about your work demeanor. "Asking for constructive criticism will communicate that you're proactive and dedicated to growing as a professional and to your organization," says Kathy Kane, chief human resources officer for Emergency Medical Associates.
"On the most basic level, it emphasizes your interest in your own performance and your desire to improve and develop," says Hawley. It also emphasizes another quality rarely on display in the office: bravery.
4. To Highlight Good, Unnoticed Work
A big benefit of having a review is the chance to sing your own praises. "If your boss isn't involved in your day-to-day, she might not know what you're working on," says Rachel Dotson, marketing manager for SaneBox. "A review forces her to sit down with you, so you can communicate your impact and value to the company."
"Sometimes the cumulative effect of what you do every day is hard to see, but when you sit down and list accomplishments, your contributions become obvious," says Sara Sutton Fell, CEO and founder of FlexJobs and founder of Remote.co.
A review is not just a boss' chance to grade you, but also a chance for you to make the case for yourself. So prepare in advance a list of individual accomplishments or your role in team accomplishments.
5. To Set the Stage for a Raise or Promotion
While you shouldn't use your review time to ask for a raise or promotion (we repeat: don't use your review time to ask for a raise or promotion), a review will help identify "what growth areas to focus on, what your strengths are and what qualities and projects you'll want to highlight when asking for a promotion or raise," says Kane.
Putting those successes, qualities and projects on the record is crucial. "Without documentation of what you have been doing, it's difficult to convince management you deserve that promotion," says Palmer. "If you've been working without a pay raise for some time and have a high quality of work, the review can show that you are due a raise, whether a promotion comes with it or not."
Even if a raise or promotion isn't in your immediate future, a review can put you in the right professional direction. During a review "you're better equipped to ask for specific responsibilities or development opportunities to get you where you want to go," says Hawley.
Tips on Preparing for a Review
Once you schedule a review, don't just wing it. "Before going into a review, be prepared with a few examples of projects that you enjoyed or excelled in," says Kane. "This will give your manager an idea of when you are happiest and perform your best, which may result in being put onto similar projects in the future."
"Start by listing the initial duties that were described in your job description," advises Nicole Williams, founder and CEO of the career website WORKS by Nicole Williams. "Give examples of how you've successfully completed these tasks and then demonstrate how you've gone above and beyond what was expected of you." Williams also recommends being honest about your self-assessment and open to criticism.
"When they point out a weakness you don't necessarily agree with, go with it anyway. It takes a little pride-swallowing, but it demonstrates you're easy to work with," she says.
Of course, even well-meaning managers may decline your request for a review or ask that it be scheduled during an official review period, but if your boss says yes, then go in knowing it's never too late to improve on a first impression.