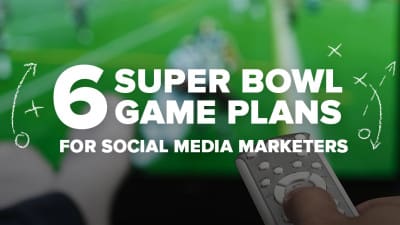 The competition at Super Bowl 50 won't just be Denver versus Carolina. For marketers, the real contest will once again be in between plays, as major brands, who can afford to spend $5 million on a 30-second spot, vie for audience's attention with commercials that will get people talking.
But it doesn't end there, and it begins way before game day; social media keeps the story moving before and after the Super Bowl spot, and can even give some juice to brands that can't afford the big-bucks ad placement. (Social can even surpass the commercial itself; see Oreo's "Dunk in the Dark" tweet in 2013.)
Here are six ways brands are employing social media tactics. Think of these as real-life media game plans you can work into your own tool kit—and something to refer to the next time a prospective employer asks you in an interview to talk about winning social campaigns you admire.
1. They Tease

The immediacy of social media means there's no waiting until game day for the ads. Buzz is created beforehand via social channels and through pre-release commercials, like the Kia Middle C ad, which posted nearly a month before the game itself.
This makes sense: The sooner the conversation starts, the more time there is for followers to join and contribute to the story.
2. They Drive You to Share

These days, all marketers are looking to do two things: One, create relatable, sharable content, and two, drive an audience to social media to keep the conversation moving.
This year, look out for Mini's spots featuring athletes and pop stars all sharing how they #DefyLabels. A few of the spots, including those featuring tennis great Serena Williams and retired soccer star Abby Wambach, were recently released and the hash tag has already gained traction on Twitter.
3. They Snapchat

A recent survey found 31% of marketers plan to incorporate Snapchat into their 2016 Super Bowl campaigns. And while most marketers are keeping their game day Snapchat campaigns under wraps, we can look back to 2015 to get an idea of where things might be heading.
One of the most memorable campaigns last year was Audi—they teamed up with Huge and The Onion to create odd and hilarious snaps that poked fun at the typical Sunday, sharing jokes in real-time about the game and halftime show.
This campaign helped increase Audi's Snapchat views by over 100,000. It also spilled over into other social channels, growing their Facebook audience by 9,000 users and their Twitter audience by over 2,000.
4. They Periscope

Marketers are tapping into the emerging popularity of Periscope, the Twitter-owned app that lets users live stream events, and was named App of the Year for 2015 by the App Store.
To draw attention to their upcoming Super Bowl Butterfinger commercial and to launch their "Bolder than Bold" campaign, Nestlé hired skydiver Carson Schram from NorCal Skydiving to deliver their big announcement live via Periscope while tumbling to earth.
5. They Join Forces

This year, partnering with Dreamworks, website builder and host Wix.com is rolling out a series of TV spots using the characters from Kung Fu Panda 3. The tech company is tapping into the popularity of an established movie franchise while simultaneously introducing viewers to the digital services and inviting them to "Create Your Stunning Website."
And of course, the story woven in the TV spots continues online, at startstunning.com, and on social media, with #startstunning.
6. They Make Us Laugh

If we can learn anything from sites like Buzzfeed and Funny or Die, it's that humor makes for highly sharable content.
And with sharing always on the forefront of marketer's minds, one brand to look out for this Super Bowl is Toyota. Airing during the second quarter of the game, Toyota's group vice president of marketing, Jack Hollis, says to expect a humorous, "comedy of errors" :60 second spot filled with humor and drama.
Of course, funny Super Bowl commercials are nothing new. These spots that get us laughing, talking and (advertisers hope) buying go back to the early days of the big game, or at least to when Farrah Fawcett smoothed shaving cream over Joe Namath's face.
Looking to become a social media MVP? Mediabistro's Online Courses offer social media topics that range from a crash-course in social media engagement to an in-depth analysis of social media metrics.