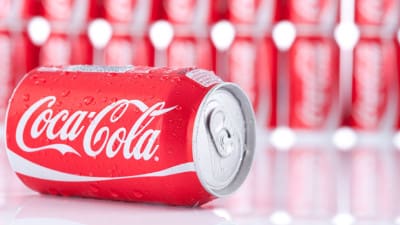 In a world where even your grandmother has a favorite meme, there's no excuse for marketers to not know what brands are doing social media best. Being able to spot greatness—and storing those great ideas to use later—can help up your own marketing game and showcase enthusiasm employers will appreciate.
Watch and learn from these brands that are killing it on social—and talk about them in your next job interview.
Coca-Cola
It's almost unfair to compare the most-recognized product in the world to any other brand. But despite its size and being nearly 125 years old, Coca-Cola sets an example for companies of any size by experimenting with new channels early, treating social as a conversation and using insights from social to determine what its audience likes.
What They Do Best: Put the product at the center of content that delights
Example: The Share a Coke integrated campaign
Facebook Likes: 96.8 million
Twitter Followers: 3.2 million
Instagram Followers: 1.1 million
Red Bull
Red Bull was one of the first brands to fully embrace its role as a publisher. The brand that's all about music, racing, extreme sports and, oh, yeah, energy drinks, actually started its publishing house before it even embraced social media.
What They Do Best: Use social media to promote its original content
Example: Red Bull TV shows, films and live events
Facebook Likes: 45.1 million
Twitter Followers: 2.12 million
Instagram Followers: 4.4 million
GoPro
Staying true to what its product is all about, GoPro's social media strategy hinges on user-generated content. The brand makes it easy for anyone—amateurs, professionals, athletes, families, friends—to submit photos and videos captured using their GoPro cameras, and even pays its best contributors.  
What They Do Best: Put their customers at the center of social content
Example: GoPro Awards user-generated content
Facebook Likes: 9.5 million
Twitter Followers: 1.5 million
Instagram Followers: 8.3 million
JetBlue
Airlines get their fair share of grief from customers on social media. JetBlue, however, has long been the gold standard in customer service. The company's social media team often responds to mentions in a matter of minutes, and is known for going the extra mile to put smiles on customers' faces.
What They Do Best: Listen to and engage with their customers
Example: From meeting a customer at the gate with cupcakes for his 100th flight to waiving fees for transporting folding bikes in suitcases, there are literally too many examples of JetBlue's social media customer service to count.
Facebook Likes: 1.1 million
Twitter Followers: 2 million
Instagram Followers: 133,000
Dollar Shave Club
You probably know this brand from its crazy viral 2012 YouTube video that cost only $4,500 to produce and was done in just one day. But they didn't stop there. Dollar Shave Club has evolved into a social customer service hero and content creator, owning all things related to skincare and other bathroom, um, rituals.  
What They Do Best: Stay true to the company's roots; Its gruff, no-nonsense voice never waivers, and the brand puts customers first
Example: #UnboxDSC, featuring customers' own photos for which they receive a T-shirt
Facebook Likes: 2.6 million
Twitter Followers: 76,000
Instagram Followers: 50,400
Tough Mudder
Developed by a Harvard Business School grad and a former attorney, Tough Mudder challenges teams to complete military-style obstacle courses using both physical and mental abilities. The brand stresses teamwork over performance, and the events are not for the faint at heart. Through social media, Tough Mudder has been able to bring together those passionate about these live events and what they stand for.  
What They Do Best: Build a community that's not afraid to get down and dirty for what they love to do
Example: #ItsAllBeenTraining video tips, livestream coaching events and participant spotlights
Facebook Likes: 4.1 million
Twitter Followers: 161,000
Instagram Followers: 167,000