Source relevant, qualified
Marketing
Publishing
Sales
Business Development
Writing
Communications
Editing
Public Relations
Social Media
Production
candidates.
Trusted by thousands of Hiring Managers
Uniquely serving our audience of talented media professionals 
seeking roles within these core functions and specialties
Over 1 Million registered users and 200,000 + active users per month
"I love using Mediabistro for my harder to fill creative roles. Multimedia positions like photo editors, video producers, or even niche journalists yield great results. Other job boards don't always produce the specialized talent my hiring teams are looking for, and I feel like I can find that talent through Mediabistro."

Katie Hopkins

Columnist

"What we like best about Mediabistro is the quality of targeted talent they deliver through their job board portal. We know we'll find the right type of talent for specialized positions that may be more challenging to fill. For almost fifteen years, Mediabistro has been our go-to resource for talent in the media/publishing space."

Dawn Ussery

HR Manager

"Mediabistro is valuable partner when it comes to finding top candidates in the media industry. Their team is extremely responsive, which makes the posting process quick and easy. They also offer great insight into branding company pages."

NBCUniversal Talent Acquisition

Talent Acquisition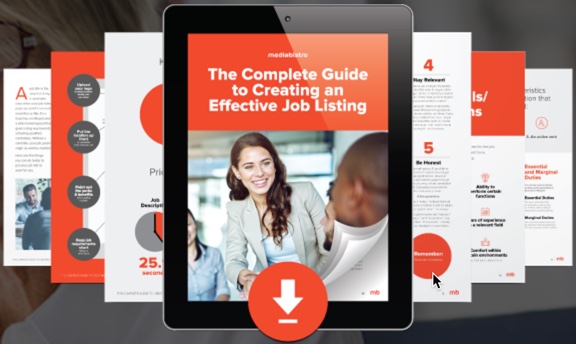 eBook
The Complete Guide to Creating an Effective Job Listing
Get our free eBook that breaks down our top tips for getting the most out of your job posts!