The Tumblr blog Reasons My Son Is Crying is only 6 days old and already has an enthusiastic following. That's because the site's chronicle of the very specific logic behind a toddler's meltdowns is familiar to anyone who has ever cared for young children, or even used to be one. Reasons My Son Is Crying is finding fans on Reddit and parenting blogs alike.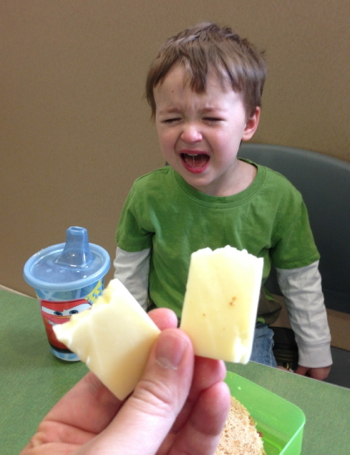 Facebook, however, is not laughing. They've
blocked
the website "for being spammy or unsafe" (the blog is neither) and removed all posts that linked to it.
This isn't the first, or even the hundredth time Facebook has blocked innocuous links and content. In 2011, Facebook briefly took down film critic Roger Ebert's page for "violating the terms of service" after a controversial post by the author generated complaints. Facebook soon restored Ebert's page and said its removal had been a mistake, but declined to explain further.