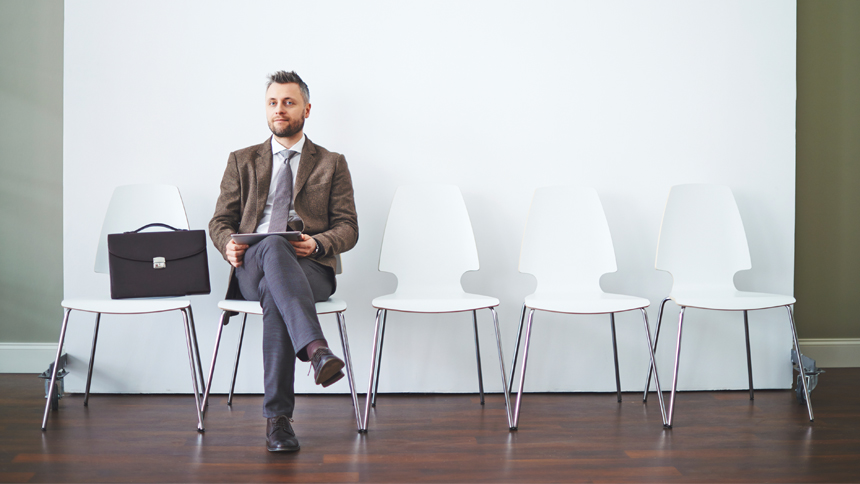 The interviewer sitting across the table might seem perfectly chatty, but her questions are loaded with ulterior motives. While you might think you're the answer to her hiring needs, it can be nigh on impossible to get that across—unless you're thoroughly prepped to answer her queries. We asked three industry pros to tell us which questions job candidates tend to bungle the most, and how you can avoid every single pothole on your way to interview nirvana. Read on for their best advice.
1. "Tell me about yourself."
This may sound like carte blanche to drag out your entire past, but it's not. Whether your interviewer says it or not, she means, "Tell me about yourself—as it pertains to this role," says Heidi Nicoll, Shutterstock's marketing and creative recruiter. Aim for professional, not personal. If you're recently out of college, it's fine to talk about projects you helmed, extracurricular activities you spent a lot of time working on and any work experience—as long as it relates to the position you're currently interviewing for.
Not quite sure how long to ramble on? First: Don't ramble. Prepare some sort of chronological story that shows how your background and interests intersect with the company's open position as well as its history and culture. "Your answer should be similar to a slightly lengthened elevator pitch, about a minute [long]," says Lisa K. McDonald, a brand strategist and career coach at Career Polish. And do be focused. "Your experience should be limited to the positions that lead you to this moment," she adds.
2. "Where do you see yourself in five years?"
Cruise through this question by harmonizing your own interests—the ones that made you apply for this job in the first place—and relating them to the direction in which the company is heading. "They are looking for how you look to add value, grow and be a part of the organization," McDonald advises. Whether or not you're aiming for a traditional path of advancement (like managing others), Linda Pophal, a certified senior HR professional and founder of marketing firm Strategic Communications, urges you to emphasize your desire for personal growth. If you're aiming to bring your interactive media skills to digital platforms, for example, or would like to have the opportunity to nurture young writers or editors, this a great place to say that.
Keep in mind that while some jobs do tend to have high turnover, particularly in lower levels and the industry as a whole sees a lot of lateral movement rather than vertical, no company wants to hire someone who knows she's going to leave in two years. Nor does your hiring manager want you to look him in the eye and say, "Oh, I want to have your job!" Awkward. Instead, end your answer with a positive and reaffirming statement such as, "Most importantly, I want to work for an organization where I can build a career."
3. "Tell me about a time you made a mistake."
Don't get nervous. "They are not trying to make you squirm," McDonald tells us. "They are attempting to ascertain if you take risks, acknowledge failure and, most importantly, learn from mistakes." Both Nicoll and Pophal agree: The mistake you made isn't the important part of the question. Go through your thought process so your interviewer can see how you made each decision. Adds Nicoll, "How you describe your work is critical—the thought that went into it and who you give credit to. What did you do and what did your team do?"
To begin with, "Pick an example of something that is not a red flag, hints to inexperience or ineptitude," McDonald cautions. "Get right to the point by starting with the mistake. Give the parameters: 'This is what happened,' in a non-accusatory manner. This is where, looking back, you realize where something should have been done differently. End with, 'This is what I learned and how I incorporated it going forward.'"
4. "What's your dream job?"
This question is all about fit, Pophal says. If the job you describe here doesn't bear any resemblance to the gig you're interviewing for—or to any potential career arcs available within the company —you're not going to make a good impression. Not sure what your dream job is exactly? That's normal, and even if you do know, it may change as your career evolves, McDonald says. To handle the flux, focus on your ideal environment rather than a list of responsibilities you might want to tackle. "The best way to address this question is to focus on the qualities of a position, company and skills," adds McDonald. "Emphasize that it is not a job title, but rather being in an environment that allows you to continue to increase your skills, take on opportunities and provide value to both your organization and its clients."
Bottom line: "Keep it focused on the prize you're after that day," Nicoll says. "If you've done your research and it makes sense to, maybe you can say the next job in line above that. But don't say you want to run the department you're interested in joining. Be realistic about it."
5. "Why are you the best person for the job?"
Now is not the time to sidle away from the spotlight. "You have a moment to tell someone what sets you apart. Don't shy away or be humble," Nicoll urges. "Brag when the opportunity is presented to you."
How do you do that, exactly? Pull out your biggest accomplishments. "Have three to five solid reasons ready that are in line with what is most important to them," McDonald shares. "Go beyond simply stating your strengths by demonstrating your value. This means providing accomplishments tied to each strength (innovative thinking = new product line = more revenues). This is a great time to emphasize any unique combination of skills. For example: If you work in a highly technical role that normally does not allow for training or communication with stakeholders, but you have been recognized for developing and facilitating training."
Remember, as Nicoll says, "Nobody else is going to sell this except you."