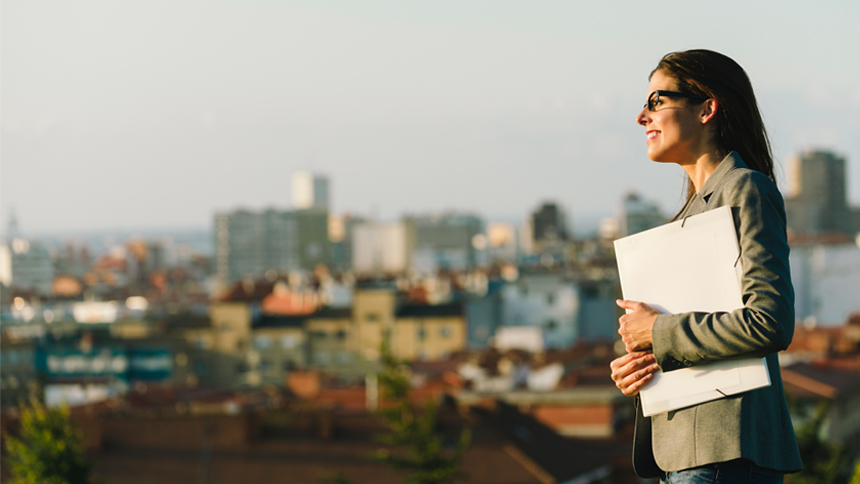 So you landed that interview. Nice work! Now comes the big question: "What should I wear?"
It's a good question, and one that's constantly being asked. While jeans and heels won't make a good impression on an interviewer, you also don't want to show up looking too formal…especially in a creative field.
To get some answers, we turned to Ali Intres, SVP of talent for DigitasLBI and veteran media recruiter, to find out.
So how do you know how to dress for a media-biz job interview?
"It depends on the publication and the corporation," says Intres, who has spent years interviewing candidates for jobs in marketing, sales, editorial and production
"Choose clothes that demonstrate an understanding of the reader and the company." And, it's important to remember, of the job itself. "For a sales job, you're going to be more traditional and formal; for an editorial position, reveal more personality," Intres says. "The bottom line is that you should look like you respect the seriousness of the meeting, and you should be prepared to have a serious conversation about your work history."
Intres is quick to point out that she evaluates candidates based on skill and talent—not the color of their suit. "I would never turn anyone away because of personal style," she says. But she acknowledges presentation is very important, and she offered these pointers to help you pick the right outfit for your next interview.
A suit?
For most of the creative positions, a suit is not required in the interview but is always a safe choice. Black is a standard color, and it probably goes with every shirt in your closet. "Wear a fun shirt underneath, a colorful scarf or interesting jewelry," suggests Intres.
For men, she suggests a crisp white cotton shirt for a hip yet responsible look. For jobs in public relations, marketing and sales, there's less freedom to be funky. Because these positions require that you meet with clients, present yourself as someone who knows how to dress for the public: A well-pressed suit is a must.
How stylish?
This is probably one of the most confusing aspects of dressing to interview for creative jobs; it depends on the magazine or TV show or website you're applying to.
"You want to show an understanding of the client," Intres says, and in media the "client" is some combination of the reader (or viewer or user) and the parent company. "If you're interviewing for a fashion book or a PR company with fashion clients, wear something unique, stylish and put-together," Intres says.
"For a teen book, wear something hip. And for a serious news organization, wear something corporate." As for funky personal accents, play it safe. Cover tattoos, multiple piercings and avoid blue hair and cleavage. Don't wear too much perfume and, for God's sake, don't smell like you just smoked a cigarette! Guys, take out your earrings.
What about shoes?
Well, sneakers are out, obviously.
Beyond that, this is mostly an issue for the women. In winter, pumps, dress shoes and dress boots work well. Even cowboy boots demonstrate a certain sense of style without sacrificing seriousness. And what about in warmer months, when toes become a perplexing dilemma?
For job hunting in media sales, marketing and PR, play it safe and keep toes covered. For all other areas of the industry, exposing toes is acceptable. One caveat: Avoid flip-flops and summer sandals that look too laid-back and relaxed. And, remember, if you're going to hang ten, be sure to schedule a pedicure before your meeting.
But what if the office environment is very informal?
"Even if you wouldn't be wearing a suit in the job itself, that doesn't mean you can wear jeans to the interview," says Intres.
So how low-key can you go? Men should consider the standard khakis-and-blazer combo as the casual limit, although at some new-media or exclusively creative companies—you'll know the ones—a more trendy, less prep-schooly look is appropriate.
For women, wearing a skirt without stockings is an acceptable (and commonplace) type of informal-chic for editorial positions. But bare legs are frowned upon in marketing, PR and sales. Think of it this way: "If you were in an interview and the CEO of the corporation happened to stop by," asks Intres, "would you feel comfortable meeting her with bare legs?"
And don't forget to scrub behind the ears.
It's surprising how many people neglect basic personal hygiene before a job interview. So, listen: Clean yourself up! Comb your hair. Put on some makeup. Shave. Cut your nails. If you color your hair, get a touch up. (It's tacky to show up with dark roots.) And splurge on a manicure.
Then, once you're all spruced up, remember what Henry David Thoreau said: "Walk confidently in the direction of your dreams."