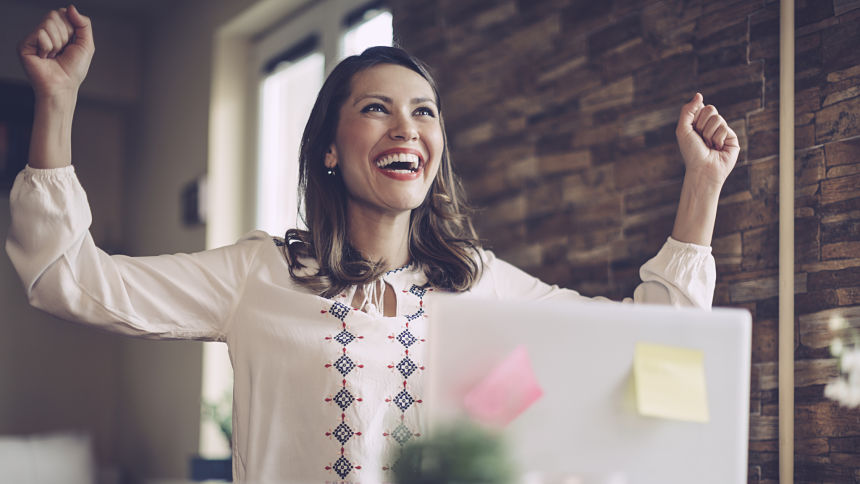 Whether you're searching for a new job or are trying to bolster your career, it's always a good idea to have a running list of your career wins to prove your worth. We talked with Nicole Williams, career expert and founder of WORKS by Nicole Williams, for tips on tracking your bragging points for your resume, your upcoming interview or even for your end-of-year employee review.
Why You Need to Track Your Successes
Put simply, if you don't, nobody will.
"No one is going to test you, hand back an A grade and pat you on the back," says Williams. "You need to promote your own great work. Influence your higher-ups and engage them in conversation about your career wins and how they've been helping the company."
When to Track Your Successes
We all have great moments in our careers, the problem is we can sometimes forget these moments as other things come up at work. Williams' advice? Track your wins right away.
"Don't get stuck," says Williams. "Right after a great client presentation, sale, traffic spike, program—write down your accomplishments. Add it to your resume, LinkedIn Profile, notes on your iPhone. Whatever you do, track it now before substantial times passes by and you can no longer account for it."
What Counts as a Success?
Haven't won a major account yet? Or led a project that scored major conversions? No big deal. A win doesn't have to be huge to be considered a brag-worthy success. The key is to show how you contributed your skills to a project or process.
Here are a few examples:
I contributed ideas for the company's email marketing campaign, which streamlined the process and freed up the creative team to focus on other marketing efforts.

I contributed designs to a marketing campaign that led to a 25 percent increase in web traffic.

I effectively resolved client issues, helping to maintain our company's mission of client-focused care.
How to Develop Stories From Your Successes
After tracking your wins, it's important you turn them into stories that will capture the attention of a hiring manager.
"Hiring managers do not want to read a list of dry skills. They want those skills to come to life via actionable stories," says Williams. "Help them visualize you in a role by highlighting your successes and walking them through your accomplishments."
And, just as you'd use this technique to land a job, you can also use it to show your manager how you're a vital part of the organization—who definitely deserves that annual raise.