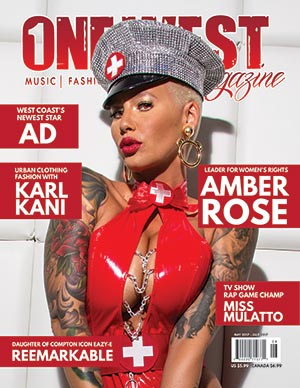 Circulation: 25,000
Frequency: Quarterly
Special issues: None
Background: Readers who are eager to know all about what's going on in the hip-hop and R&B music scenes have been flocking to both the print and digital editions of One West Magazine for years. But the title is now on the cusp of an editorial shift.
"We really speak to the urban audience, but we're diversifying to a more generalized audience," said Jeremy Bamidele, managing editor. One West has been primarily an interview-based music magazine, featuring conversations with heavyweights like Russell Simmons and Chris Brown. But the title has recently started throwing in a lot more fashion and lifestyle coverage in addition to stories about social issues.
The One West audience is about 65 percent female/35 percent male and its readers range in age from tweens to millennials. The publication also separates itself from the pack by presenting its audience with interviews that nobody else can get. The publisher and EIC have worked in music for more than 20 years, and they can get in touch with just about anyone, said Bamidele.
What to pitch:
Editors work with a host of reliable freelancers, but they're always looking for new voices. And writers who are based in Los Angeles, New York City, or other major urban cities have an advantage over those from rural areas. That's because editors love to receive pitches from writers who can provide exclusive coverage of events in the worlds of fashion and music (e.g. the BET Def Comedy Jam, Ebony Fashion Fair, etc…) So, if you're going to pitch coverage of an event, then you must be able to actually attend the event. Editors are also interested in reported pieces, as well as profiles of movers and shakers in the music and fashion industry—like designer and visual arts expert Michael Edward. Just remember that the pitches must appeal to a national audience. Word count for articles is about 800-1500.
Pitches have a greater chance of actually leading to an assignment if the writer is also able to provide photos and videos. But at One West, a good pitch may also lead to a full-time gig. If you're consistent with top-of-the-line pitches and editors enjoy working with you, there's always the possibility that they will offer you a position as a staff writer or photographer, said Bamidele.
What not to pitch: All sections are open to freelancers.
Online opportunities: Print and digital content are kept completely separate. However, editors are still looking for digital pitches that cover events related to music and fashion. And if you'd like to pitch a video story then that's OK as well. Just keep them to around 5-8 minutes.
What publicists should pitch—and when: Editors welcome pitches from publicists, but they're not interested in receiving post-event pitches. Editors must have the opportunity to attend any events and get exclusive photos. And if you're pitching a client, make sure that he or she is available for an in-person interview or a phone interview. Lead time is 1-2 weeks.
Percentage freelance content: 20%
Percentage of freelance submissions accepted: 5-10%
Etiquette: Email your pitches and keep them to around 2-3 paragraphs. Editors like to see that you have experience writing about the subjects that you're pitching, so be sure to include a link to your portfolio. And if you have sources already lined up let the editor know.
Lead time: 1-2 weeks; as little as three days
Pay rate: $50-$80
Payment schedule: Two weeks after acceptance.
Kill fee: None
Rights purchased: All rights
Contact info:
One West Magazine
Santa Ana, Calif. (The company is in transition and a new office location has not yet been determined.)
OneWestMagazine.com
Social: @onewestmagazine | Facebook
Email Convention: FirstName@OneWestMagazine.com
Direct all pitches to:
Managing Editor Jeremy Bamidele: JEREMY at ONEWESTMAGAZINE.COM