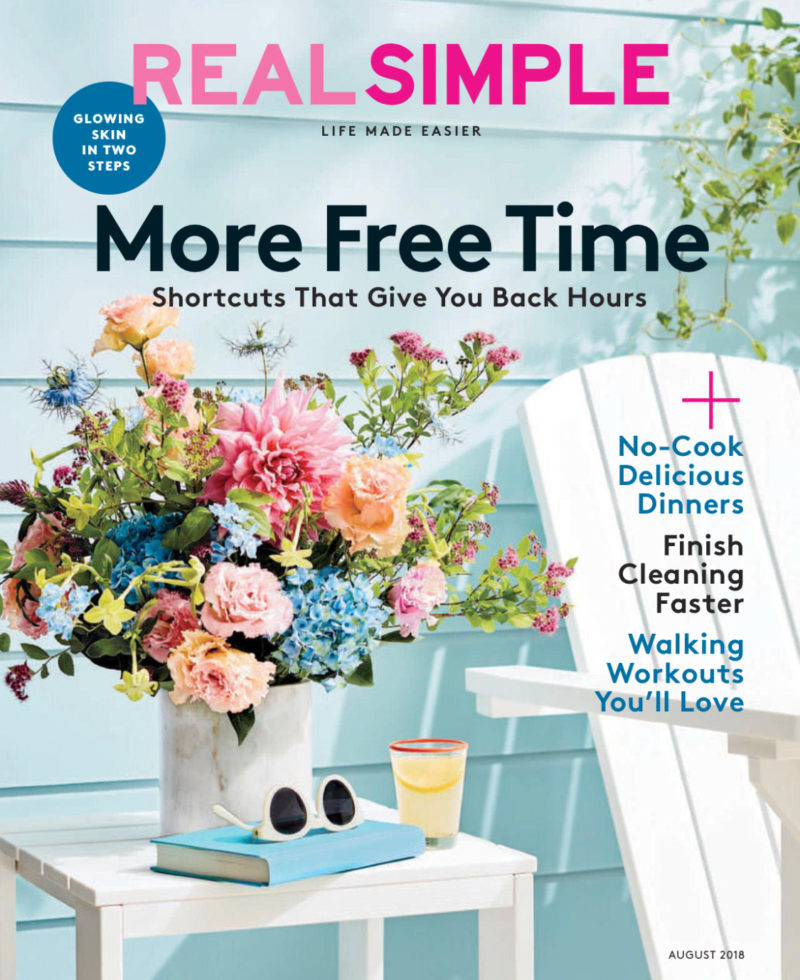 Audience: 21 million (print and digital)
Frequency: Monthly (print), daily (digital)
Background: Real Simple is a lifestyle magazine that aims to make every aspect of women's lives easier, in a simple, friendly, and accessible way. They aim to help readers of all stripes feel a little more calm and joyful in their everyday lives. The magazine makes it clear that you don't have to have unlimited time or an unlimited budget to love your home, to enjoy your life and family, and to feel good about the way you look.
"We try to stay true to our name in all things," says Real Simple deputy editor Anna Maltby. "We want our readers' lives to be simpler, and we want it to be easy for them to get the information and advice they need to make it that way. Our readers love our organizing, food, health, and family stories, and they appreciate that we come to them on all topics from an accessible, friendly POV."
What to pitch: Truth be told, Real Simple staffers produce a lot of content in house. "Many of our stories are based on the market work and research our editors do themselves," Maltby explains. But editors are always interested in hearing from writers who know the magazine's voice and coverage areas well.
"A successful pitch will almost always come from a writer who truly knows our magazine—loyal readers who know what we've covered and how we've covered it," Maltby says. "We cover evergreen topics, so coming at them in special new ways is crucial. A clever spin we haven't done before and wouldn't have thought of ourselves is a pitch that stands out."
Consider trying to pitch these entry points:
Real Simplifier, a short (500-700 words) how-to guide that breaks down something that feels overwhelming—like building a campfire or running a marathon—into five bite-sized steps. These are typically projects that wouldn't be covered elsewhere in the magazine.
Pitches for Moneywise (500-1200 words) should feel actionable and empowering; readers are looking for smart and surprising advice about investing, budgeting, and saving for retirement.
For Career Coach (800-1200 words), keep in mind that RS readers are often confident mid- and senior-level managers, so pitches that help with tricky things like delegating, giving feedback, and dealing with work stress are more intriguing than those about resumes and interview tips. Real Simple's career coverage also has a strong emphasis on work-life balance advice for men and women, and recognizes that many readers have (or want to have) flexible or nontraditional work situations.
Health, parenting, and family service stories (1200-1500 words) are usually written by freelance writers. For health, ideas should be based on strong science and reputable experts—RS gives only tried and true health advice, focused on positive (not fear-based) strategies to fit in exercise, eat healthfully, reduce stress, and otherwise live a healthy lifestyle. The magazine does not chase health trends or diets.
Parenting and family stories should apply to as wide a range of readers as possible, so pitches that cover multiple ages, stages, and relationships are best. The opener of the Relating section (900 words)—five interesting experts and authors' answers to the same question—is also a freelance piece, and editors consider both the uniqueness of the suggested question and the potential people to include.
Well and FOB features run at about 1500-1800 words, but occasionally longer. The editors look for profiles of real people giving back and making a difference in their communities, service packages (anything as it relates to making readers' lives easier), and trend stories. Some recent standout features pitched by freelancers have included a reported personal essay on backyard beekeeping, a profile of a Texas historically black college president who turned the football field into a farm, and a guide to modern dress codes.
In the home department, most stories are written by editors, but they will consider ideas for one-off home-focused feature stories, especially pitches that include multiple visual examples (or, for a proposed home tour, multiple photos of the potential space).
Digital editors accept freelance pitches for evergreen content in home, food, beauty, fashion, careers, money, and holidays. When pitching, keep in mind that the website's mission is the same as the magazine's: to simplify people's lives.
What not to pitch: Three areas that print editors (almost) never take freelance work are food, fashion, and beauty, which are typically done in-house (or by a small pool of trusted and trained contributors).
Little Helpers, Now What?!?, New Uses for Old Things, and Making it Work are always written in-house as well.
Digital editors do not take news pitches.
What publicists should pitch: Maltby's advice for publicists is much the same as it is for writers—that is, know the book and know it well. Pitching with a specific section of the magazine in mind can help, too. "We have a section of products called 'Little Helpers,' which are products that make life easier," Maltby says. "Be familiar with what's run and what's appropriate for us."
Other factors that increase a publicist's chances of landing a placement? Seasonality certainly helps (the magazine runs gift guides in the summer and holiday seasons), as do pitches for products that are "surprising, clever and problem-solving"—for which Real Simple is known.
Percentage of freelance content: About 40 percent
Percentage of freelance pitches accepted: 15 percent
Recent freelance stories pitched and published: A writer pitched a health story called "Wake Up With More Energy," which the editors responded to for many reasons. "That's such an enticing promise to our readers, who have busy lives. The concept was so smart, the writer had fantastic health service clips, and her sample tips were realistic and science-backed," Maltby says. "We ran the piece and actually used her suggested headline as both the actual headline and the coverline, and our readers responded well to it." (That's another piece of pitching advice: Include a sample headline in the Real Simple voice.)
Etiquette: Maltby says a working hed and dek is helpful, shorter is better, and most editors prefer not to receive attachments (other than the home editor, who likes to see visual aids). But, ultimately, the ideal anatomy of a pitch is predicated by the actual story being pitched—in other words, if the story always includes five tips, show what those tips would be.
Lead time: About eight months
Pay rate: $2 a word for print. Digital rates vary depending on the story.
Payment schedule: On acceptance
Kill fee: 25 percent
Rights purchased: All rights
Contact info:
Real Simple
225 Liberty Street
New York, NY 10281
www.RealSimple.com
Twitter | Facebook | Instagram | Pinterest
Email format: FIRSTNAME dot LASTNAME at REALSIMPLE dot com (If you receive a bounce back, try an underscore instead of a period between the names.)
Direct pitches to:
For Real Simplifier, Moneywise, and Career Coach, articles editor Brandi Broxson: BRANDI dot BROXSON at REALSIMPLE dot COM
For Food, Food Editor Ananda Eidelstein: ANANDA dot EIDELSTEIN at MEREDITH dot COM
For home, home editor Stephanie Sisco: STEPHANIE dot SISCO at MEREDITH dot COM
For the Web, digital director Heather Morgan Shott: HEATHER dot MORGANSHOTT at MEREDITH dot COM;
Deputy editor Claudia Fisher: CLAUDIA dot FISHER at MEREDITH dot COM
Associate Digital Editor, Beauty and Style Hana Hong: HANA dot HONG at MEREDITH dot COM.