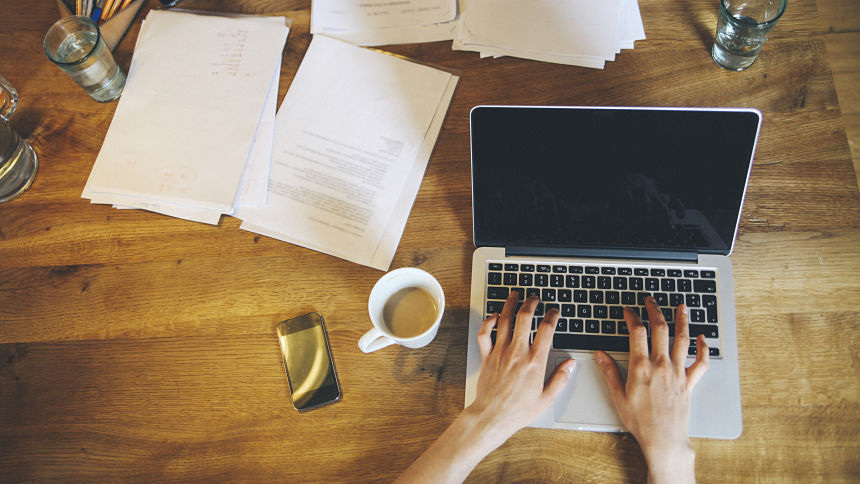 If you're a freelancer, you may have given up your day job because you found the pay and the hours better than your old 9-to-5. Or maybe you're working freelance because you haven't been able to land that dream full-time gig.
Either way, you may not be making as much as you like, and find your income routinely comes in south of $100K a year. If you're looking to break through that barrier, read on: We've got the secrets to hitting and surpassing that magic six-figure mark, from freelancers who do it year after year.
1. Sell Yourself
What you might have failed to consider as a freelancer is how much time you'll need to spend marketing your services.
In a guest post on Six Figure Nurse, Elizabeth Hanes—a registered nurse and freelancer raking in over six-figures by writing for health brands—says freelance writing is about 75% marketing and 25% writing.
"If you aren't willing to sell yourself," she writes, "then you probably won't succeed in this arena."
So while the ability to write is, obviously, key, just as non-negotiable is a talent for getting out there and marketing yourself and your talents.
2. Work Your Connections
Just like anything in life, it's all about who you know. In his blog, Joel Klettke, a freelance copywriter who banked over $200k in two years, says to treat everyone you meet with respect, because you never know where that person may wind up, or where that relationship could lead.
"Never write anyone off because they're in a position where they can't immediately help you or give you a job," he writes. "You never know where that person might wind up, or that relationship might lead."
Whether the person is a client, a fellow freelancer or just an acquaintance, Klettke adds, be helpful first, and to listen more than you speak.
Get inside information on what to pitch niche publications, up-to-date contacts for magazine editors and more. Join AvantGuild, our exclusive membership program for freelance writers and other media professionals.
3. Identify Speaking Opportunities (and Pounce on Them)
Speaking at events is an excellent way to gain visibility and credibility in your field.
In a guest post on Sujan Patel's blog, Ross Simmonds—a freelancer who made over $250k last year—recommends looking for events in your niche area and ask to be a speaker.
"Public speaking is a super power in the world of freelancing," Simmonds writes, "because it's a tactic that works" in generating new stories, leads and assignments.
Not sure where to start? Simmonds recommends looking at projects that did really well and see if you can find a central theme—say, perhaps content writing—and scout out those conferences.
4. Follow Up With Past and Potential Clients
Jennifer Goforth Gregory, a freelance writer who broke six figures in 2015, wrote a post on her site listing reasons freelancers are not breaking $100k themselves.
Freelancers' biggest mistake? Not following up after sending out an initial letter of introduction.
"The majority of the gigs that I land through letters of introduction come on the follow-up," Goforth Gregory writes. "I recently heard of a writer who has been following up with a client for three years and was recently offered a huge project. Yes, it can take months or years, but I personally believe that when you don't follow up that you are leaving money on the table."
Goforth Gregory recommends making a note on your calendar every time you send initial letters reminding yourself to follow up in three weeks (and then again three weeks after that).
5. Get a Niche
Specializing—honing in on an industry or topic—is one of the best things you can do as a freelancer.
On the Freelance Transformation podcast, six-figure freelance writer Bryce Bladon says by specializing, you're able to develop an expertise, and develop content for clients within your niche more efficiently.
"When you specialize in one thing, you can start anticipating the needs of your client," Bladon shares. "You appeal to one type of client, and the potential clients who don't fit in your niche will disqualify themselves. That way you only work with the clients you want and become even more efficient in helping those clients in your niche."
Bladon suggests making your niche very clear by only displaying work in your portfolio that's within your specialization, focusing on the positive outcome of your efforts.