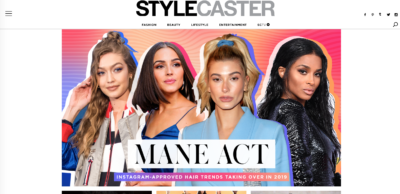 Monthly Unique Visitors: 5.9 million
Background: Some lifestyle blogs and print publications are just beginning to see the value of inclusivity and diversity. But StyleCaster got there a long time ago. The beauty and fashion site has lived online for about 10 years and has stood by its mission statement: Style to the People. "We don't shout 'inclusivity' as a branding tactic, it's simply exists as part of our DNA," says Alana Peden, deputy editor. "We are also body positive and feminist, though once again, not in a performative or contrived way. We seek to share the actual thoughts and experiences of women, not mitigate them to fit into our sales pitch."
The site's visitors are mostly career-driven millennials with high household incomes who regularly shop online and love to have conversations about style, says Peden. "We want people to come to StyleCaster and feel very empowered to shop and to learn about skincare and…really to trust us at the end of the day," she says.
What to pitch: When StyleCaster editors find writers that they like, they typically wind up assigning stories to them on a regular basis, says Peden. And the Entertainment section is one of the best places to get your foot in the door. This is the place to send your reported story ideas about celebrities and entertainment, as well as personal essays about how entertainment/TV shows have impacted your life.
The Fashion and Beauty sections are also open to freelance writers. Editors are looking for reported service pieces as well as personal essays about fashion and beauty experiments (e.g. trying a new makeup look at work—and don't forget to include some original photography).
The Lifestyle section is also fair game—and the topics that are accepted are pretty broad. Pitch away with your best service pieces and personal essays about astrology, home décor, relationships, sex, dating, and food.
All sections run about 600-800 words.
What not to pitch: News is handled in house.
What publicists should pitch — and when: Editors love to get the low down on beauty and fashion product launches, as well as new collections and fashion collaborations. Lead time is 2 months.
Percentage of freelance-written content: 15-20%
Percentage of freelance pitches accepted: 15-20%
Recent freelance stories pitched and published:  How a Black 'Buffy the Vampire Slayer' Can Change TVs Villainization of Black Women was pitched by a freelancer. Editors greenlit the entertainment feature because it showcases how entertainment affects real women. And editors knew that How to Wear a Wash-and-Go Without Catching a Cold in the Dead of Winter was a winning pitch because it offered a fresh angle on a beloved topic: hair.
Etiquette: Editors like to see the word "pitch" in the subject line of an email, and the pitches themselves should be relatively short. Be sure to include a headline, as well as a few sentences describing the story idea, the format, and the reason that you'd like to write the piece. You should also include links to a few clips.
 Lead time: 2 months; but timely stories that are pegged to an event should be submitted the week of the event.
Pay rate: Flat rates vary.
 Payment schedule: Payments go out on the 25th of each month for invoices processed the month prior.
Kill fee: 30%
Rights purchased: All rights
Contact info:
StyleCaster
475 Fifth Avenue, Floor 19
New York, NY 10017
www.stylecaster.com
Social Media: @StyleCaster | Facebook |  Instagram
Direct all pitches to:
For fashion and lifestyle, senior fashion & lifestyle editor Lindsey Lanquist: LINDSEY dot LANQUIST at SHEMEDIA dot COM
For beauty and health, beauty editor Nikki Brown: NIKKI dot BROWN at SHEMEDIA dot COM
For celebrity and entertainment, entertainment editor Jason Pham: JASON dot PHAM at STYLECASTER dot COM
For personal essays, et al, deputy editor Alana Peden: ALANA dot PEDEN at STYLECASTER dot COM