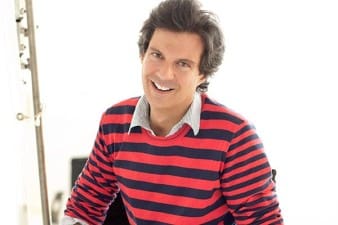 Adam Glassman has a lot to say. His words tumble over each other like a bunch of 20-something socialites at a Prada sample sale. He pauses only briefly between thoughts, his conversation coming in one run-on sentence after another.
But you would be excited, too, if you were working side-by-side with the Queen of Media, meticulously poring over cover shoot wardrobe choices for her eponymous O Magazine, and making the world a more stylish place—one pair of nude pumps at a time.
Throw in Glassman's self-appointed duty to personally groom the next generation of fashion ninjas ("I don't look at interns as 'for-credit-only' free help," he says. "That is not what we do here."), and you have a real-life knight in shining, and well-tailored, armor.
---
Name: Adam Glassman
Position: Creative director at O: The Oprah Magazine
Resume: Started as fashion and beauty director at Lear's magazine. Became a freelance art director/stylist with Gap before doing interior design work with Garnet Hills catalogs and Ethan Allen. Most recently served as style director at Self and style editor/contributor at House and Garden Magazine before joining O as a freelance creative director in 2000. Got the job full-time shortly thereafter and launched the "Adam Says" advice column in 2007.
Birthday: November 6
Hometown: Manhattan
Education: B.A. in business and communications at NYU
Marital status: Single
Media idol: Oprah, obviously. "What I really have learned from her is that most people just really want to be heard, and that is the human condition. So I've really learned to listen from Oprah." And Gayle King because "besides the fact that she's so versatile between print, TV, radio, she's, like, the nicest person in the world."
Favorite TV shows: The Carrie Diaries, Downton Abbey and Homeland
Guilty pleasure: Casa Dragones tequila and Peeps marshmallow candies
Last book read: Twelve Tribes of Hattie by Ayana Mathis
Twitter handle: @therealadamsays
---
What is one not-so-obvious skill needed for your position?
In some worlds, creative director is solely like a graphic design person. In some places, like at Vogue, they're really a fashion person solely, and they're a kind of stylist. And, in some places, such as this, I do a little bit of it all.
So I conceive, I produce and I pull together all of the teams involved to make all the shoots happen, to sort of figure out how to take the brilliant words in O and the brilliant story ideas and make them visually compelling.
But what I will say is that what we're most proud of here at O is that we put out a magazine that really is solely for the readers, not for my colleagues who work at other magazines… And we have such a unique reader because we speak to three generations of women.
So we're speaking to you, we're speaking to your mom and we're speaking to your grandmother, so to speak. And, in order to do that, you have to be a fairly creative editor, in terms of the kind of material you're going to talk about and also how do you portray it.
What is the most challenging part of your job?
Finding enough hours in the day to do it all.
I know how to do this job very well; I know the scheme and the landscape that I operate it in. It is really finding the time to do it that is the most challenging part of it. And, also, I will say that [it is challenging] to get people on board to understand the mission.
I think from a creative standpoint it's always a challenge to find photographers who love the idea of adult women and who love the idea of shooting women and making them look beautiful, and alive, and soulful and intelligent, and not just treating women like young models who are meant to be mannequins.
And that takes some trial and error because a lot of photographers, especially young ones starting out, want to be fashion photographers with a capital "F." They want to take pictures of young, skinny girls in high fashion. I'm always looking for people who have the taste of a Vogue editor but the understanding about how to take that taste level and make it applicable and adaptable to every woman.
Speaking of the models, let's talk about the decision to use real women and not the fashion models with a capital "F."
When I came here, I really studied The Oprah Show, and I thought, "Isn't the differentiating point between Oprah and so many of these other shows that she resonates somehow with these real people? And that even Oprah herself has had her own trials and tribulations with going up and down with dieting or other aspects of her life that everyone can relate to?"
I thought, "Why don't we do that here at O?" I don't want to say that we don't ever use models because there are times that we do, but as we speak to these three generations of women, how can you do that? You can't do it with just some young, 20 year-old model. That's not going to appeal to your grandmother. That's not going to appeal even to your mother as much.
You need something that is going to appeal to everyone. So I started using women of all ages, and not just all ages, but really all shapes. And I thought that was really key.
Even Oprah thought I was nuts in the beginning. She was like, "You really want to do fashion on real people?" And I said, "Yes, why not? You do it on the show. You show your people in makeovers; you have it in the audience. Let's try it."
Now, we can't talk about photo shoots or real women as models without talking about Oprah as the cover girl. So tell me what that's like, styling your boss every month.
Well, she is our cover girl, and she is our cover girl that sells lots of issues monthly.
Oprah's really on board with that, and she's totally fine with that. We make it as fun and as painless as possible, and I will say this: I try to shoot at least three covers at a time because Oprah is probably the busiest person that I know.
To do a monthly cover shoot is just not time effective or possible with her schedule. We do so many at a time, and they all have to be sort of perfect. Oprah is the most professional person I know. She comes camera-ready, and when she comes camera-ready, it literally means "Let's get dressed, and let's start shooting."
All of Oprah's clothes are made in advance and, fortunately, there isn't a designer out there who doesn't want to dress Oprah, so I'm lucky like that. But I start now going to all the shows, making big notes and printing out pictures, going, "Okay, this we're going to make for next season; this is what we're going to do; can they add a sleeve…"
You know, there are certain things, like Oprah doesn't wear sleeveless, so it's hard to find clothes sometimes, especially in the summer months and especially if you want to do high-glamour evening. So we're very creative about that kind of stuff.
But it's great fun, I must say. I love it.
You talked a lot about hiring crews for photo shoots: the photographers, the stylists, the makeup artists. What is the biggest mistake that you see young professionals making? What's the one tip that interns or fashion assistants should keep in mind?
First of all, I think everyone should do their homework.
You need to know who you're interviewing with: not just the human being, but also the publication. And I can tell you numerous times people have come in and they've never picked up an issue of O Magazine. And I have to tell you something: that doesn't fly.
There are so few jobs out there right now for young people, and there are a lot of people looking for a job. The moment you say that to me, the interview is over, basically, in my mind. The other thing is you have to keep in mind that you only have one chance to make a great first impression. That's why it's called a first impression.
So you need to look the part, but you also need to project some kind of confidence. And I don't want to confuse confidence with cockiness, but you need some sense of self, and you need eye contact. I've had people in my office, and they weren't even looking at me.
They don't even know what they're talking about; they're not looking at me; they're looking around; they're looking down; they're meek.
That doesn't work.
What are three universal fashion tips for all women, regardless of age, size, body type, etc.?
1. Befriend your tailor. Fit is everything. Regardless of your body type, and regardless of how expensive a garment is or how little you spent on a garment, everything needs a little tweak.
2. Embrace a nude shoe—and I say a nude that matches your own skin tone—because a nude shoe will instantly make you look longer and leaner.
3. My overriding theme, no matter what: Just because it's a trend, doesn't mean you have to buy into it. If you don't look good in it and you don't feel comfortable in it, ignore it!
This interview has been edited for length and clarity.