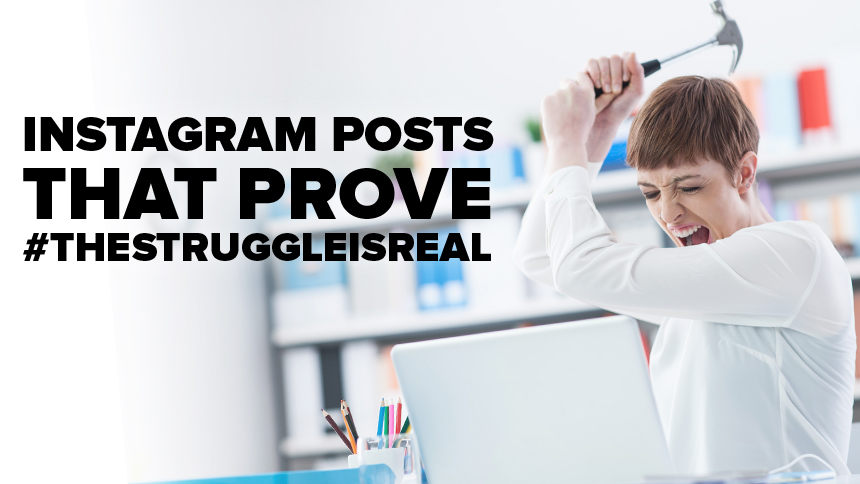 You may learn some career skills in college, but nothing can mentally prepare you for the struggles of job searching, rent checks and a negative bank balance.
The good news is you're not alone. Next time you feel like you're the only person who doesn't understand tax returns, scroll through these Instagram images and remember #TheStruggleIsReal, and every young professional is experiencing it.
1. Why can't being employed in a job you sort of, kind of, don't totally despise just be enough?
2. When payday and rent day are the same day.
3 .You can tolerate a lot but not someone getting in the way of you and your promotion.
4. After five days in the office, your weekends are for you.
5. You'll accept payment in form of wine. (Just kidding. You're in desperate need of a raise.)
6. That moment when someone asks you what your career goals are and you wish you could say you really just want to be Instafamous.
7. When you feel like no one appreciates your real-life skills.
8. Having to accept that you're never actually going to be rich…or even financially stable.
A photo posted by BuzzFeed (@buzzfeed) on
9. You've read Lean In but still can't seem to get ahead.
10. This job search conundrum shows why #TheStruggleIsReal.
We get it: Starting out in your career can be painful. We're here to help.
If you really can't stand your job, you can find a new one on our job board. If you're unsure of how to get your ideas heard at the office, our career advice will help you through your professional challenges.
Always remember: #successisreal, too. Tomorrow is a new day and you have a bright career ahead of you. We promise.