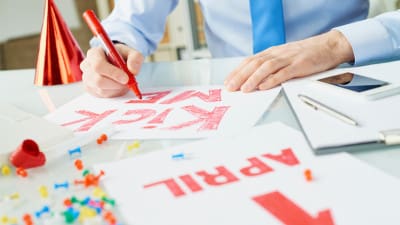 April Fools' Day means a time for jokes, hijinks and the always usually awesome annual Google pranks. And while everyone loves a good April Fools' Day joke, when they backfire, they don't just wither away, they go down in history. And, surprise: Digital media companies aren't immune.
Check out these April Fools' Day media faceplants. Then, rather that pull some elaborate prank on a coworker, play it safe and kick out some job apps (no joke) or plan to up your skills with an online course—after all, courses are 40% off until Friday at midnight using promo code NOFOOL.
1. Taco Bell "Buys" the Liberty Bell
Back in 1996, a team at Taco Bell put together an elaborate hoax involving the Liberty Bell, a full page ad in six major newspapers and a headline that read, "Taco Bell Buys The Liberty Bell."
The ad—claiming the purchase of the Liberty Bell was a noble attempt to help reduce national debt—struck a sour note. Thousands of citizens called Taco Bell headquarters and the National Parks Service, and some even took to the press, decrying Taco Bell's move. (Of course, bad is press is still good press and Taco Bell earned millions in free air time and also saw a big spike in sales that week.)
2. Radio Show Hosts Memorialize Their (Not Actually Dead) Mayor
In 1998, rock station WAAF personalities Opie and Anthony claimed Boston's then-mayor Tom Menino was killed in a car crash.
Unsurprisingly, the prank was DOA. Menino, who was in fact very much alive, filed a complaint with the FCC urging them to fine the radio station. And for Opie and Anthony, they were quickly fired …only to be later hired on at a station in New York, where their careers propelled into on-air stardom.
3. ABC's Countdown Clock Leads to Nothing
Remember Happy Endings on ABC? While never a smash hit, the show had a strong following who always hoped for a reboot. That's where the prank comes in.
Last February, ABC tweeted the link to a countdown clock which would end on April 1st. The end date should have screamed "prank!", but fans held out hope that the clock was winding down to the announcement of a new season. Instead, at the appointed hour, nothing happened. Happy Endings tweeted, "Happy…April Fools' Day! Sorry!"
Needless to say, fans were not happy.
4. A TV Reporter Tells Bostonians a Nearby Hill Is an Erupting Volcano
In 1980, Boston's Channel 7 News broadcast a special bulletin that a Massachusetts foothill was actually an active, erupting volcano, and included spliced footage and audio of then-President Carter claiming this is a "serious issue."
The reporter ended the special bulletin with a sign reading "April Fools," but it was already too late. Worried callers rang into the police station throughout the night, and the executive producer responsible for the prank was—you guessed it—fired.
5. A Furniture Company Places a "Sr. Mattress Tester" Job Ad
Chalk this one up as an April Fools' win: Taking to social media with their job posting, one company used LinkedIn and other sources to play a killer job posting prank.
With such requirements as Demonstrated expertise in sleeping under varied conditions and A complete lack of enthusiasm and drive, the India-based furniture company Urban Ladder created a job posting for a bed tester that just had to be too good to be true.
And of course, it was. But because the ad was fun, lighthearted and—most important—didn't tarnish a national treasure, fake a person's death or get super fans' hopes up, it led to some great free publicity for the company.
While we love April Fools' Day jokes, we don't post fake ads, only awesome ones. And because we think you deserve to be the complete opposite of a fool, we're offering 40% off all courses when you use promo code NOFOOL. This deal ends before midnight on Friday, so sign up now!