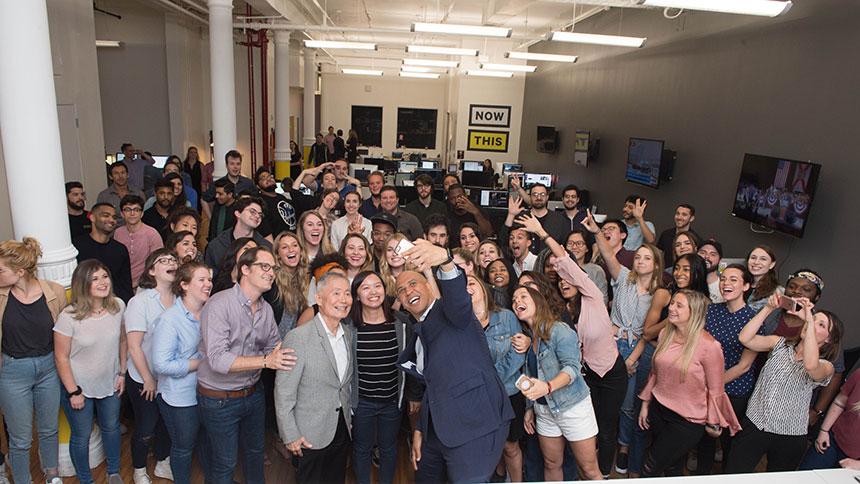 It's no secret that today's media environment has been challenging for publishers, as audience attention (and the resulting ad dollars) grows ever more elusive.
Consumer attention and media consumption has shifted dramatically from radio, newspapers and television to mobile and social media platforms. People want access to news and information wherever they are and audiences want to directly engage with content.
Media companies are struggling to adapt to the way that people get their hands on everything from hard hitting news to feel good stories.
However, for some companies, this constant evolution presents more of an opportunity than a hurdle—and nobody is better at staying ahead of the curve than Group Nine Media.
Group Nine Media is the parent company of four powerful brands you've frequently seen in your social media feeds: NowThis (the no. 1 most watched U.S. video news creator on social), The Dodo (the no. 1 animal brand on social), Thrillist (the most trusted digital brand in food, drink, travel, and entertainment) and Seeker (the digital leader in science and curiosity).
Known for its high-quality, timely, and engaging video content—not to mention killer social media strategy—Group Nine isn't intimidated by the growing challenge of standing out in the crowded and ever-changing landscape—in fact, the company is excited by it.
"There is a ton of video content currently in users' Facebook feeds, so the name of the game is to get people to stop scrolling and watch our videos," shares Shelby Levinson, Supervising Producer for Publishing and Strategy at NowThis.
So much of Group Nine's success is driven by its distributed content strategy on social media platforms. Within the company, there are obviously a lot of roles that fall within the video and social media management realm—including platform managers who are tasked with intimately understanding the ins and outs of their designated social media platforms.
However, just because Group Nine's brands live and breathe on social doesn't mean there aren't plenty of other roles and departments that contribute to its mission.
"Our written editorial team actually works hand-in-hand with our social video team," explains Matt Morales, Producer and Editor with Seeker. "Both teams attend the same pitch meeting and work together to make sure that they are creating complementary content that shares our editorial tone and vision. So, when you're on Seeker's website, you can not only read a great article on, say, the latest advancements in artificial intelligence, but you can also watch a video related to that content."
Indeed, Group Nine places a great deal of emphasis on cross-functional collaboration in order to produce its standout content.
"In my day-to-day on the social team, I'm consistently working with other teams including video, written, business and operations, and analytics," explains Nicole Hendrickson, Senior Social Media Manager for The Dodo.
Group Nine's teams also work together to incorporate data driven insights into their editorial and social publishing strategies to make each piece of content as impactful as possible.
"We're a social-first publisher, so every single piece of content we create is specifically tailored for the platform it's being published to," Hendrickson adds.
It's no secret that Group Nine is forging a new path in the media landscape. But, don't let that intimidate you—when it comes to hiring, Group Nine looks for people who are willing to learn and evolve, rather than people who have already mastered a specific skill set.
"It's important to look for candidates who are open to trying new things and willing to dive right into the brand," says Julie Cerick, Director of Operations at Thrillist.
That flexibility and willingness to experiment carries a lot of weight at Group Nine, particularly since the company is ready and willing to invest in helping people shake some of those standard beliefs and gain a better understanding of their innovative approach to media.
"When we bring in new employees, a big part of that training is getting out of the old habits and learning how to entice people to watch a video and keep watching," adds Levinson.
With this forward thinking attitude, tackling new challenges, and plenty of driven, passionate employees on its constantly growing team, Group Nine has a lot of enthusiasm for the future—which is the very thing that keeps team members excited to head into the office day in and day out. The company is centered on core values: "care deeply," "be brave," "go first," do good," "stay close," and "win together." They recently hired their first Chief People Officer, Stacy Green who has a proven record of building the kinds of environments that allow employees to thrive.
"It's the idea that anything could change at any moment, which is so exciting because it affords me new opportunities to learn," concludes Cerick, "I love being kept on my toes and having to adapt to how the world consumes content. It's changed so much in five years; imagine where we'll be in the next five…"
Group Nine Media is hiring. Explore all the great open positions.