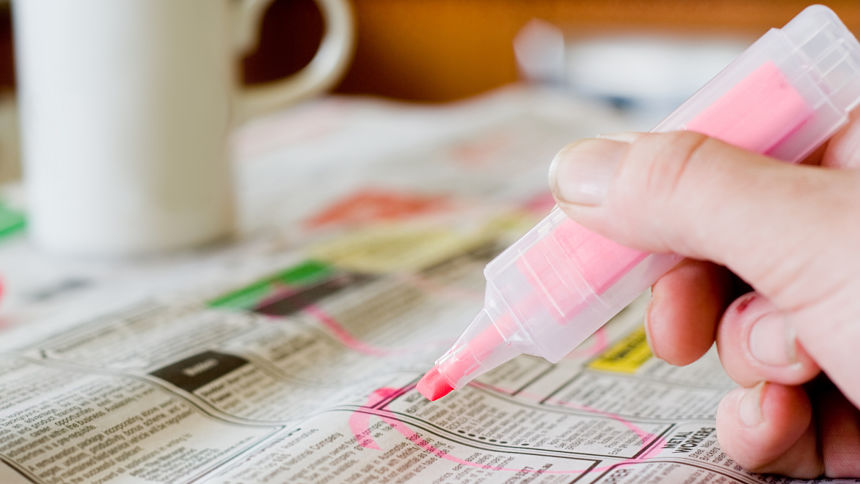 If you're in full job search mode, you may be freaking out about how to present yourself to an employer in a cover letter or email query, let alone the interview. But the biggest clue about what a hiring manager wants is right in front of you: The job listing.
That's right. The job description is filled with details that can help you personalize your resume, craft a killer cover letter and slay the interview. Here's what to look for:
Job Title
The job title itself is often enough to inspire ways to make your resume stand out. For example, if you're seeking a role as a video producer, what better way to showcase those video skills than by developing a video resume or cover letter. The key is to make the video more than a simple recitation of your skills. Can you say boring?
According to Lisa Copeland, a workplace expert at The Culture Works specializing in culture, engagement, leadership and teamwork, a simple one-minute video explaining your excitement to be considered to work for the company, is sure to make a positive impression.
"In video form, it's much easier to talk about why you are the perfect candidate and why you want to join the team," says Copeland.
Responsibilities
The responsibilities section is usually a bulleted itemization of what your day-to-day will look like. So here's your chance to show the employer you've mastered similar duties.
"Consider how you can show on your resume that you will be able to take on the tasks and responsibilities that are being described," says James Reed, author of 101 Job Interview Questions You'll Never Fear Again and chairman of Reed, a UK-based recruitment service. "Pull out adjectives and phrases you can echo in the skills section of your resume—avoid copying them verbatim, though, as this can be too obvious."
It's also important to use your cover letter or interview to tell a story about an instance where you did such-and-such.
If one of the job responsibilities is to "collaborate with sales, planning and marketing leaders on events," describe a time when you did exactly that successfully.
Copeland gives this example: "Our client's big event was the next day, and our PR lead was on vacation, our social media manager was out sick, and the boss was handling multiple other projects. I gathered the other members of our team and helped delegate the responsibilities with the little staff we had. In the end, we pulled off a very successful event."
Qualifications
These are the skills your employer requires you to have to feel confident you can get the job done without a whole lot of on-the-job training.
If you've passed the on-paper portion of the hiring process, and are getting ready for the interview, know that "interviewers are looking for a specific skillset," says Copeland. "Wasting someone's time if you're not a fit is the first kiss of death."
"Be specific as to how you are qualified for that job and what you will bring to the table," stresses Copeland.
"If you're lacking relevant experience, push the discussion toward whether or not you can do that job by highlighting transferable skills," suggests Reed.
Bruce Serbin, founder and CEO of Serbin Media, Inc., who worked in TV news for six years before making a career move to public relations, says, "In every cover letter I wrote [for a PR job] and in every job interview I had, I stressed how working in television news made me a better candidate."  
"I made it clear that I could write and pitch a compelling story that got approved by the newsroom gatekeeper, because I was the gatekeeper. Being able to showcase my former experience and how it could be an asset in the current position definitely made a difference and made me look more favorable in the eyes of the employer," he explains.
That said, you'll have to own up to specific knowledge gaps. Let's say you're applying for a position that requires strong graphic design skills, but you have limited knowledge in that field.
"Focus on what you know best and make it clear you are a quick learner, but never exaggerate or make things up," cautions Copeland.
Finally, Reed suggests reviewing the job description again on the day you're meeting with a hiring manager as part of your interview preparation.
"About Us" Section
Usually appearing at the end of a job posting, the "About Us" section is similar to a company's About page, containing a couple of lines on the company history, honors and mission. But with a closer look, you can glean more than that.
For example, you can get a hint at a flexible, laidback office culture if you read, "We offer our employees the option of telecommuting" or "We have happy hours in our employee lounge every Friday."
This is important because "many companies now have a defined culture and are looking for good cultural fits," explains Copeland. So they are looking for candidates that get what's important to them, and you can easily allude to these points in your resume or cover letter.
Say the company mentions its philanthropic affiliations, and you have personal experience with the nonprofit the company supports because you were a longtime volunteer for the local chapter. You can say in your cover, "I know that your agency frequently partners with Dress for Success, and I've seen first-hand how that organization can help develop leaders in low-income communities."
In addition, "when working on the cover letter, look for similar affinities, possibly clients in common," adds Copeland. Work them into your application to let the recruiter or hiring manager know you didn't gloss over the job description.