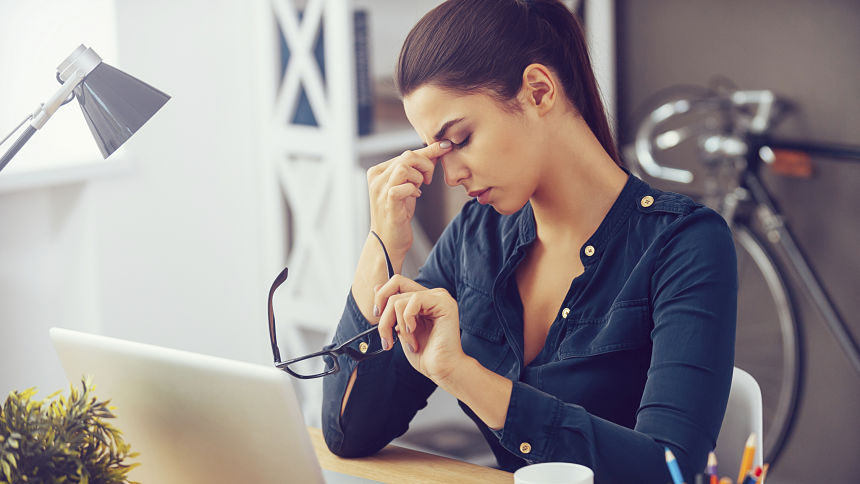 You found the perfect job listing. You applied. You scored an interview. But something seems… off. Are you dealing with a bad employer? Here are eight warning signs to look out for during your job search.
1. Details are hazy
One of the biggest red flags is lack of concrete information about the job. Maybe the job description is too short. Maybe it's too long, filled with lots of meaningless industry jargon. Maybe there's no job description at all. Or, the interviewer is cagey about the details.
"There is a lack of transparency if the interviewer is not able to speak to career development, culture, work life balance, benefits or perks," says Theresa Vargas, Human Resources Manager for Grant Associates, a workforce development company.
Always be suspicious if you can't lock down real information.
2. Disorganization reigns
"An unorganized interview process is a red flag," says Vargas, and it's often the sign of a disorganized workplace in general.
Let's say your interview date and time keeps changing. Or your interviewer forgets to show up. Or they lose your application altogether. This is not normal! Imagine what it might be like to work there under similar chaotic circumstances.
Find the right position—and employer for you: Search for your next job on Mediabistro's job board.
3. Follow-up takes forever
"Your recruiter or HR contact shouldn't take a long time to follow up during the recruiting process," says Vargas.
Hiring decisions can take weeks or months, but that's no excuse for ignoring your phone calls or emails in the meantime. You want to work in a respectful, communicative environment.
4. They're in a big rush
On the flipside, be leery if the process seems rushed and you're pushed to commit in a tight time frame. You might hear phrases like "We want you to start this week," "Our last employee walked out and we need to replace her ASAP," and "How quickly can you start?"
Don't get caught in a situation where an employer is looking for any warm body to fill the role instead of the right person to fill the role. Finding the perfect match takes time.
5. Your interview is one-sided
Have you ever had an interview where you can't get a word in edgewise? They talk about the company, themselves, the weather, but don't ask you any questions or seem that concerned about your experience or what you'll bring to the company. That's a sign of an employer who doesn't take their hiring decisions seriously.
6. You can't meet the team
"Not being able to meet with the people you will be working with is concerning," says Vargas, "because you don't know if you will be a right fit for the team."
If the employer doesn't offer an interview or meet-and-greet with team members, ask them directly if that's possible. Meeting your colleagues is a crucial part of determining whether you want to take the job.
7. You can't see the office
Likewise, if the employer doesn't invite you to interview at or tour their workplace, ask. It may be a simple oversight, or it could mean the business is hiding something.
"Not being able to see the actual working environment could leave you with regrets after accepting the job," says Vargas. "If you knew in advance that you would be working in a closet, it might change your mind."
8. They don't know what they're looking for
This is a common problem, and it spells trouble. Keep an eye out for an employer who wants one person to do the work of a full team, an employer who doesn't understand what you do, a salary that doesn't match the position or a position that seems like it was created in haste.
Also: an employer who says you'll "figure it out" once you're on board. No way!
What next?
If you spot any of these red flags, proceed with caution. When in doubt, dig a little deeper. Seek out more information from the employer as well as external sources: workplace review websites, current and previous employees, and a general web search.
And always, always trust your gut. If something feels wrong, better to address it now than committing to a workplace that's not right for you.