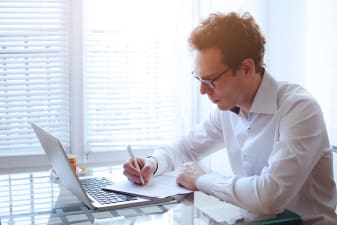 Three Tips on Keeping Your Resume Up To Date was originally published by the American Marketing Association.
Here are three simple ways that you can ensure your resume is ready should you need one quick, in the event of unforeseen circumstances, like (heaven forbid) a layoff or (hallelujah!) an unexpected job offer.
1. Track Your Accomplishments
It can be challenging to remember achievements from a few years ago. You probably know what you did in general terms, but the measured results may be tough to recall. Keep a folder where you can store e-mails, reports and performance evaluations that document your achievements and the statistics. It only takes a few seconds to tuck this data into a safe place for review at a later date. When it is time to update your resume, you will be glad you saved those documents.
Want even more help on your resume? Get started with a FREE resume evaluation from Mediabistro's
Career Services
. Our counselors and writers can help you update and upgrade your resume so you can confidently apply for the job you want.
2. Keep Your LinkedIn Profile Current
Your LinkedIn profile is much easier to update and maintain than your resume. You don't have to be concerned about the appearance or spacing. You can quickly drop in a few lines about a recent project or new certification. Also, you are probably on your LinkedIn profile page at least once every week or two. Each time you are on LinkedIn, it is a reminder to add important new accomplishments.
3. Refresh Your Resume Twice Annually
Waiting one or two—or more—years to update your resume can be a large endeavor. The thought of such an effort can cause you to delay until you absolutely need a resume. Rather than wait that long, update your resume at least twice annually. Follow this checklist when performing your refresh:
Have your career goals changed?

Do you have a new position, new employer, new award or new degree to add?

What are your top accomplishments since your last update? Can you add a measured result for the accomplishment?

Is your resume style and format current?
Debra Wheatman is president of Careers Done Write.
The American Marketing Association is the pre-eminent force in marketing for best and next practices, thought leadership and valued relationships, across the entire discipline of marketing. Its online publications include posts on industry trends, career advice and more.