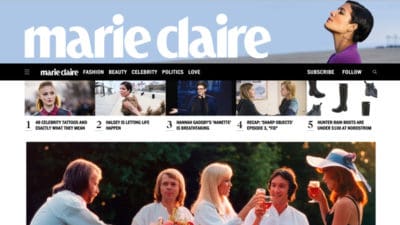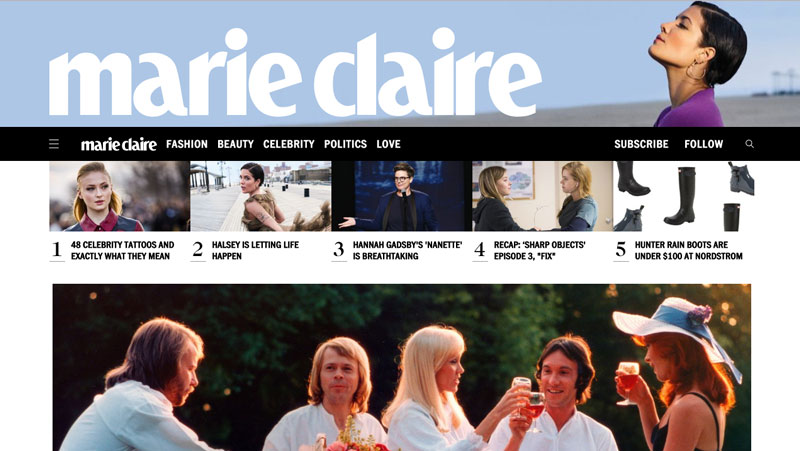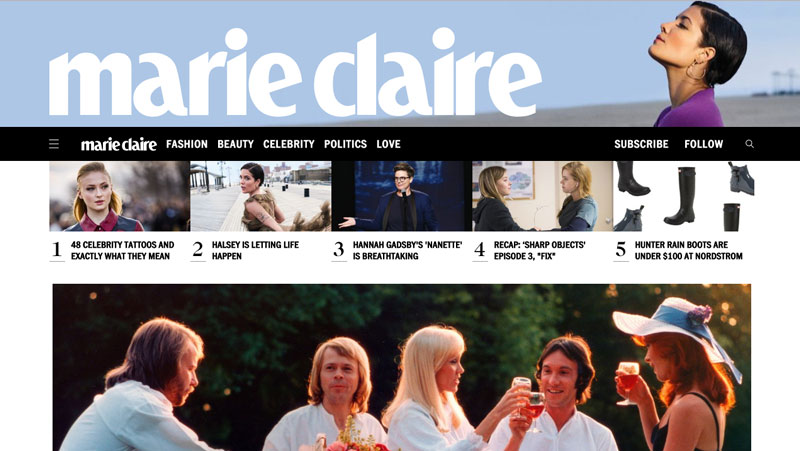 Monthly Unique Visitors: 7.6 million
Background: The digital counterpart to the print edition of Marie Claire magazine kicked off in 2009. It caters to women between the ages of 20-40 who are educated, career focused, care about politics and social justice issues, but are also "not above reading about the Kardashians or…Chrissy Teigen," says Danielle McNally, director, features and special projects. "We think of her as a really well-rounded woman who's smart and funny, and wants to have a good time."
The site's mission is to inform and entertain that reader, and the publication sets itself apart from other women's sites by providing accessible fashion and beauty coverage in addition to content that offers actionable steps to take when readers are fired up about a particular issue. "We really do think of ourselves as a women's service magazine," says McNally.
What to pitch: Freelancers are welcome to pitch to any section of the site—that includes fashion, culture, celebrity, beauty, politics, love & sex, career, health & fitness, food & cocktails, and travel. "We have such a slim staff that we definitely appreciate pitches from all across the board," says McNally. Editors are interested in receiving pitches for personal essays and reported pieces, as well as unique approaches to service stories. "Hot take" op-eds about newsworthy events or trends are also welcome, in addition to profiles about interesting people, such as politicians, writers, artists, and executives. Word counts for all sections are roughly 1,000-3,500.
Editors are also interested in receiving photo essays and mini documentaries about relevant topics (just keep them to about 3-5 minutes.)
What not to pitch: Breaking news articles are handled in-house.
What publicists should pitch—and when: Editors are always looking for new products that are relevant to their audience, as well as pitches about new movies, books or women who could be the subject of a profile article.
Lead time: trend pieces can be turned around the same day; product and feature pitches can be submitted a few months out.
Percentage of freelance-written content: 40%
Percentage of freelance pitches accepted: 10-20%
 Recent freelance stories pitched and published: The Perils of Having an Infamous Name Twin, What It's Like to Die Online, and Marriage and #MeToo were all pitched and penned by freelance writers.
Etiquette: An attention-grabbing headline in the subject of the email is the best way to get an editor's attention. The pitch should be about 1-3 paragraphs, and feel free to include links to clips or any photos that would help illustrate the story. Please do not send full stories. 
Lead time: Trend pieces can be turned around the same day; feature pitches can be submitted a few months out.
Pay rate: Essays start at $150; reported pieces start at $250.
Payment schedule: Upon publication
Kill fee: 25%
Rights purchased: All rights
Contact info:
MarieClaire.com
300 W. 57th Street
New York, NY 10019
www.marieclaire.com
Twitter handle: @marieclaire | Facebook

Direct all pitches to:
Deputy Editor Danielle McNally: DMCNALLY at HEARST dot COM