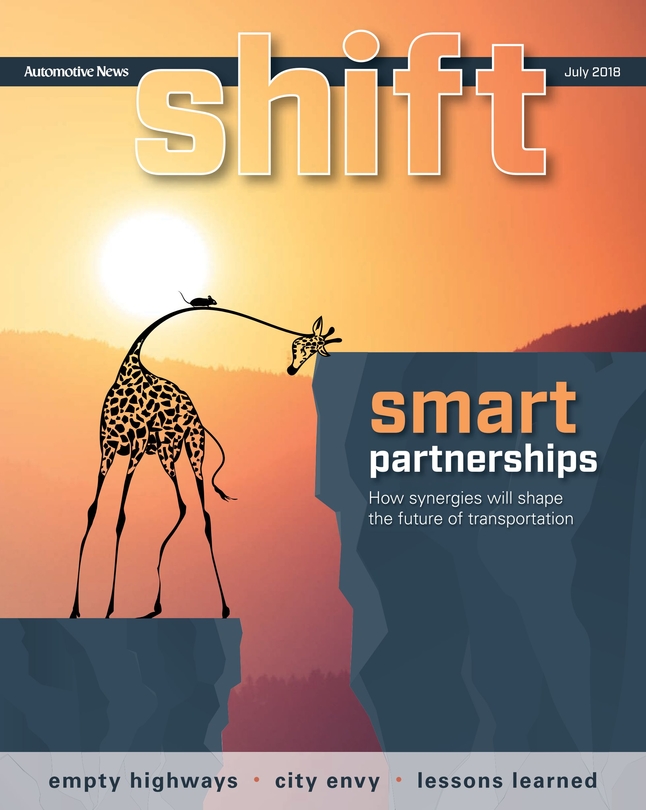 Circulation: Currently comes to subscribers of Automotive News, which has a circulation of 60,000
Frequency: 5x/year
Background: Shift debuted this year as an offshoot of Automotive News, the B-to-B publication that covers the automotive industry. And as the name implies, Shift is still covering that traditional market segment, but with a modern twist. "[We cover] everything that's happening with self-driving cars…mobility services, like Uber and Lyft,…bike sharing…electric scooters…and urban planning," says Sharon Carty, editor. The publication is targeted toward industry executives, but is attempting to bridge the gap between the world of traditional automakers/suppliers and the world of Silicon Valley start-ups.
A typical reader might be somebody who is attempting to obtain grant money, launch a start-up app or someone who is in the traditional auto industry and is struggling with planning for the upcoming changes to the industry, says Carty.
Other publications, like Wired and TechCrunch, do touch on these topics, but Shift separates itself from the pack by speaking directly to a B-to-B audience.
What to pitch: Editors are very open to receiving pitches from new writers, and one of the best places to aim your darts is the FOB news section. There are five or six write-ups in every issue that focus on the automotive world. Word count: 100-150 ea.
The Six Questions With… section is an excellent place to pitch if you have an "in" with an automotive executive who's willing to answer a few questions about the world of transportation and mobility. Word count: 250-300.
The Last Mile section focuses on new technologies and trends, while the Culture Shift section discusses how new technology modes appear in media and entertainment (e.g., Is that car hacking technique from the latest Fast and the Furious movie really possible?). Word count for both sections: 300-400.
What not to pitch: Editors have no objection to assigning feature articles to freelancers, but they would rather start them off on smaller assignments.
What publicists should pitch–and when: Editors aren't interested in receiving any product pitches, but if you have a client who might be worthy of a profile, then feel free to send a pitch. Lead time is 6-8 weeks.
Percentage of freelance-written content: 25-50%
Percentage of freelance pitches accepted: 20%
Recent freelance stories pitched and published: A freelance writer pitched Closed for Testing, which focuses on Israel's recent policies that allow companies to test self-driving cars on public roads. A freelancer also pitched a story about how automakers have learned to be more open with their business partners.
Online opportunities: The online segment of the publication is staffed with beat reporters, therefore freelancers are a lot less likely to see their pitches make it through the online gate. And the editors already have the big topics covered (Tesla, Uber, Lyft, etc…), so focus your pitches more toward interesting takes on industry news.
Etiquette: Editors are looking for pitches that grab their attention. And please avoid sending pitches that are too dense. Keep them short.
Lead time: 6-8 weeks
Pay rate: .75-1.25/word
Payment schedule: Invoice on acceptance
Kill fee: 75%
Rights purchased: All rights
Contact info:
Shift
1155 Gratiot Ave.
Detroit, MI 48207
Direct all pitches to: Editor Leslie J. Allen : LALLEN at CRAIN dot COM
*Shift editors will soon begin sending out email topic lists to freelancers. These lists will give writers an opportunity to pitch stories that editors are specifically interested in at any given time. So, if you'd like to be added to the list, please email Leslie K. Allen.