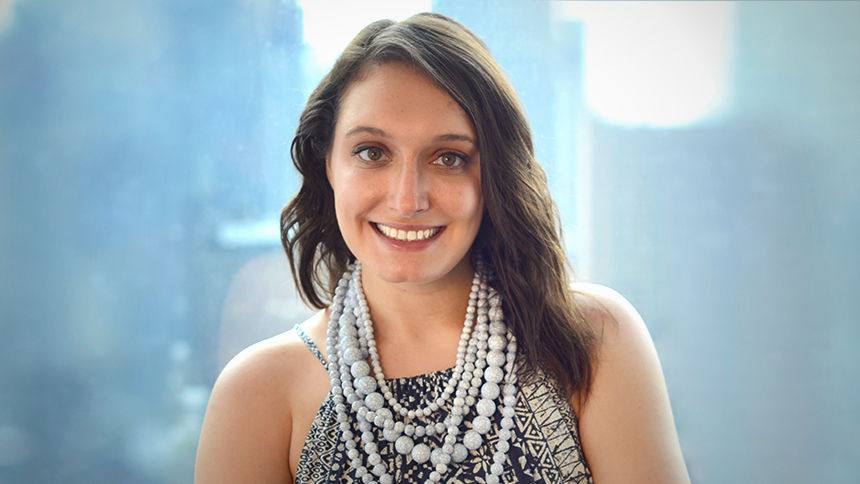 Getting your foot in the door and climbing the ladder in media is challenge: The industry is always changing, career paths are ambiguous and social media never sleeps.
To help you find your way, and learn by example, we're talking to media pros with a few years under their belts. Advice from the Pros gives you real-world insights and advice you can use in your job search, job interview, and, in your next gig, too.
When you're ready to take a look at what the current media landscape has for you, check out our job board.
UPDATE: Franny is now at SiriusXM working on social media strategy.
If you've found Mediabistro content through our Twitter presence or Facebook page, you're familiar with the work of Franny Goldberg. As Mediabistro's associate marketing manager, a position she's held for two years, the native New Yorker schedules tweets, posts and chats, and interacts with our online community in real time.
How'd she get in her current position, and how's she getting herself ready for the next stage of her career? Read on. (And look for her on Instagram and LinkedIn.)
What was your first job? And your first real job?
My first-ever job was as a camp counselor in Westchester. My first ever "real" job out of college was at tech startup in Manhattan, where I started as a marketing intern and was eventually promoted to a full-time producer/associate marketing manager—I wore many hats.
How did you land your current job?
The first stop on my job search was the Mediabistro job board. I was searching for marketing opportunities when I saw the opening for an online marketing associate position. I was so excited when a couple of days after I submitted my application I got a call from the head of HR, Carol Kramer.
After our phone call, she invited me to come to our New York City office, where I met with her, the senior marketing manager and another online marketing associate. I felt so comfortable in the office from the moment I stepped in, and my conversations with everyone felt natural.
I knew leaving the office that this was a job I really wanted, so I was thrilled when the next morning I got another call from Carol offering me the job!
Is this where you always thought you'd end up?
I'm embarrassed to say I didn't really consider my career trajectory until senior year at Muhlenberg College. Working on an English degree, I thought I could do anything or nothing, and I was passionate about literature, so I applied and was accepted to NYU's Summer Publishing Institute.

I attended the six-week program the summer after I graduated, and  through the program I found myself drawn to the digital and marketing side of the business. Since I had such little experience in either field, I figured that despite the fact that I had already graduated college I needed to intern to get experience in marketing before I could get a job in a specific industry.
What inspired you to break into this role?
I've always loved social media. I was one of the first of my friends to have a Facebook in high school because I had a friend in college who invited me, which at the time was necessary to join the platform if you weren't a college student.

I'm very much of the generation that grew up on computers and the Internet, and I've always been obsessed with media and pop culture.
What about your job gets you excited to jump out of bed every morning? What about the job makes you want to hide under the sheets?
Managing Mediabistro's social media profiles, I always get excited to see how the content I wrote and scheduled performs with our audience. It's scary to see your work published for hundreds of thousands of strangers to see, but it's also really gratifying when you've created content that resonates with and is appreciated by your audience.

But being in charge of a brand's social media accounts means you're also the person who has to deal with the trolls. I'm constantly checking our feed on my cell phone because I'm terrified a tweet had a typo or a post somehow offended someone.

You definitely have to have thick skin and be able to prioritize what is just noise, and what feedback actually needs to be addressed.
What's your favorite thing about working at your company?
The people! Mediabistro's marketing team is made up of extremely intelligent, creative, and fun people. Even outside of the marketing team, I genuinely enjoy working with everyone in this office and am constantly learning something new from the people I work with. Oh, and Bagel Mondays!
How do you stay on top of trends in your field?
I'm always plugged into Twitter and get a lot of my news and insight on trending topics from social media and tuning into what our audience and the industry is buzzing about.
What leaders or companies in your field do you follow on Twitter/Linkedin?
I follow Arianna Huffington, Joanna Coles and Eva Chen on all platforms. They're such intelligent and insightful professionals, and obviously huge role models as a woman in media.
What are you reading and watching right now?
I love anything Bravo—life goal is to meet Andy Cohen. I have so many books sitting on my bookshelf waiting to be read, but I'm currently making my way through Hanya Yanagihara's A Little Life. I also subscribe to a ton of magazines, so I always look forward to Cosmopolitan, The Food Network Magazine and InStyle landing in my mailbox.
What's the biggest misconception people have about your role?
A lot of people think of social media as a "fluffy" industry, but it takes real, hard work and strategy to be successful. Anyone can write a tweet or an e-mail, but to resonate with your audience and engage people, let alone sell them something, takes a real insight into your demographic's mindset and what they care about. This work is not easy!
What advice you would give to someone looking to break into this field?
You really need an analytical mindset, a creative perspective and thick skin.

Consume as much information as humanly possible! You have to not only know what's working now, but what will work in the future: new platforms, emerging trends, key influencers.

Also, intern: You'll learn skills you weren't taught in school, will make connections with people in the industry, and will have real-life experience to speak to when you're interviewing for a full-time job.
What tips do you have for those seek a mentor?
Be open and be appreciative. Everyone is busy, so if someone is willing to take the extra time to mentor and teach you, show them that you're grateful.

And take notes! One of my biggest pet peeves is when someone doesn't write things down when I'm showing them a new skill, or sharing new information. I am more than happy to teach anyone, anything, once, but no one wants to have to do it twice because you didn't write anything down.
Check out our job board for openings in digital media, marketing and social media.