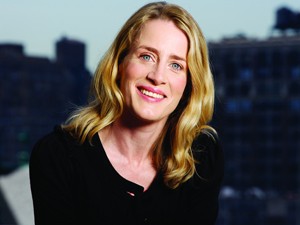 You don't need to be a member of the Upper East Side elite to know that Gossip Girl is a force to be reckoned with. With 11 books in the original series, prequels, a spinoff series, and a five-season TV show, Gossip Girl has firmly cemented its place as one of the most successful young adult franchises of our time.
Cecily Von Ziegesar certainly had no idea that Gossip Girl was going to be such a blockbuster when she began writing the series. An editor at book packaging company Alloy, it was von Ziegesar's job to help develop ideas for book series and then commission writers to see them through. Yet, while she always dreamed of writing herself, she never gave it serious thought until the inspiration for Gossip Girl came through an Alloy brainstorming session.
"We sent my proposal out to a bunch of publishers and Cindy Eagan, an editor at Little Brown Children's Books, was very enthusiastic," Ziegesar recalled. "When she came in for a first meeting to discuss it, she asked who'd written the proposal. I raised my hand, and she said, 'Well you have to write the books.' She was my champion."
---
Name: Cecily von Ziegesar
Position: Author
Resume: Started out as middle grade and young adult fiction series editor at Alloy Entertainment. Developed and wrote Gossip Girl as part of her job there and then quit to write full-time.
Birthday: June 27, 1970
Hometown: New York City
Education: BA in English from Colby College. Dropped out of MFA program in fiction writing at University of Arizona in Tucson after one year.
Marital status: Married with two children
Media Idol: Woody Allen
Favorite TV shows: Gossip Girl, Downton Abbey, Homeland and Mad Men
Guilty pleasure: Tweeting while watching Gossip Girl
Last book read: P.D. James' Death Comes to Pemberley
Twitter handle: @cesvonz
---
Were you writing Gossip Girl on the job, or just going home at night and doing a double shift?
Gossip Girl came out of a brainstorming meeting and I was assigned to the project. I wrote the proposal, coming up with the characters and the plot of the first book, as well as writing the first Gossip Girl column. We sent my proposal out to a bunch of publishers and Cindy Eagan, an editor at Little Brown Children's Books, was very enthusiastic.
When she came in for a first meeting to discuss it, she asked who'd written the proposal. I raised my hand, and she said, "Well you have to write the books." She was my champion, insisting that my name also be on the books, instead of a fake name, a method which the company tended to use in case the writer of a series changed.
I wrote the first two books on weekends and in the evening, but still kept a full workload. At the end of writing the second book, I'd just started maternity leave. After my baby was born, I decided to go freelance as an editor so I had more time to write, and after the third book hit the bestseller list I wound up just writing full-time.
Alloy owns the copyright to Gossip Girl. I didn't have an agent to start with, and I had the standard writer-for-hire deal with them that all our series authors had. But, after the second book came out, I hired an agent to renegotiate a better contract with them.
Do you still develop projects with Alloy, and what are your thoughts about those who accuse them of taking advantage of authors?
You know what you're getting into when you work with that packager. And so, if you wanted to just do something on your own, then you should go do it. I feel like it's dishonest to complain about the relationship when you knew what you were getting into in the first place.
Like any relationship, there are things that are difficult and things that are good about it. I think if you honestly looked at a lot of the series where the writers have worked with packagers, they just wouldn't have happened otherwise because it takes that many people to get something in that quantity out that quickly — to a certain quality, too, because it's a big endeavor. And they're able to make it all happen well and fast.
You've created some dynamic characters in your novels. What's your best tip for authors who may need help in character development?
I take a lot of material from my own life. So, I just think about people that I know. In order to kind of get them away from that specific person, then I might change their sex, make them a girl if the real person's a guy. I just think about the little details of their character, or their little idiosyncrasies, their little tics, the way that they talk. That helps in bringing your characters to life, but it's hard to tell people how to write.
Everybody has their own style, but I definitely feel like I always start with something that's real, an actual occurrence or somebody that I really know. Then, I change it so much that it's not that anymore. But that's always a kind of germ of where the person comes from.
I had a friend who was obsessed with Audrey Hepburn and, so, Blair is obsessed with Audrey Hepburn. But I just borrowed that characteristic from a friend. The rest of Blair's characteristics have nothing to do with that friend.
Your series has sparked a lot of debate among parents who say your characters promote bad examples for children. What do you say to them besides "Don't let your kids read Gossip Girl"?
I'm writing books that are appealing and entertaining. I think anybody who's sitting down to read my books knows that. I never once said that I was writing books with guidelines for how to live. I mean, they're fiction, and I think that's the role of fiction: to entertain. And I don't care whether it's for children or for adults. That's what fiction is about: escaping into another world.
I absolutely hate kids' books that have lessons telling kids how to behave. For me, that is not the role of fiction at all.
If my books are not the kind of books that these parents want their kids to read, then tell your kids not to read them. And they'll read them under the covers with the flashlights. I'm a parent, and I don't understand that sort of censorship, because everybody has a sort of taste for something different.
And you can't prevent somebody from reading something. I try to write the best books that I can write. And if they don't like them, then they don't have to read them.
A lot of authors battle writer's block. What are your tips for them?
Oh, God, I have the same problem, but for me reading is the best way. Everybody's different but I feel like reading inspires me. I go back to the books that I love where I really love the writing, and I reread them. Sometimes I just pick up from the middle or from just anywhere, and I'll just read a passage that I love. And that'll get me wanting to write again.
I also just like getting up and moving around. I run. And I feel like when I'm running, I'm thinking about writing. I'm thinking about what I want to write. I can't wait to get home. I'm running faster so I can write down the things that I thought of.
But the worst thing you can do is to just sit there in front of your computer trying to force the book out. It's just not going to happen. You have to be inspired. I feel like you shouldn't even sit down to write until you have that kind of "Oh, yes. Yes, I got it. I got to get this down." feeling, because just sitting there and plotting away is just making yourself do something. It's not going to be good. It's not going to be worth keeping.
How did you land the TV deal, and what can authors do before they put a word on the page to ensure a better chance of landing a TV or film deal?
It's funny because I think if you want to write something for TV or film, you should just go write a screenplay.
I really think it's to a book's detriment to think of it as, "Oh, this is going to be a great movie." It's hard! I think the best thing to do is write a book thinking no one's going to read it. It's certainly not going to be made into a movie, and I'm just doing this because I have to write this book, because I really want to write this book. I'm not writing this because it's going to be a huge hit.
The most successful books were not meant to be; they came out of nowhere. I don't really have that advice for someone, because it's something that I think happens just because something is good. And, obviously, having the right connections. That always helps.
What other projects are you developing?
All of the Gossip Girl-related series are finished. So, the show continues, but this might be the last season. Who knows? So far, it's been a really good season. I'm just starting to write two different books. One of them is sort of more of a YA book and one of them is an adult novel.
But I'm really in the very first pages. I don't have a publisher for them yet or anything. I'm not working with Alloy on this. It's just me.
This interview has been edited for length and clarity.