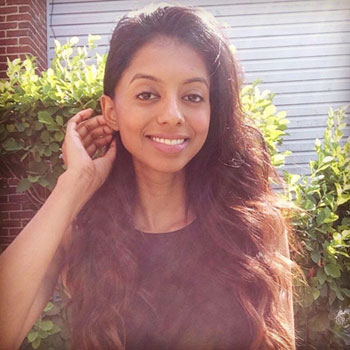 Getting your foot in the door and climbing the ladder in media can be a challenge: The industry is always changing, career paths can be ambiguous and social media never sleeps.
To help you find your way, we're talking to media pros with a few years under their belts. Our Advice From the Pros series gives you real-world insights and advice you can apply to your job search, job interview, and—when you land that next gig—your new job, too.
Then when you're ready, check out our job board.
If you've recently taken a Mediabistro course, you may have experienced a bit of Lindsey Varghese's handiwork. As manager of our professional development programs for the past year, she's in charge of developing online courses that address students' evolving needs in the ever-changing media landscape; recruiting and guiding instructors through the content creation process; and managing program partnerships.
She hails from Long Island, New York, and earned a bachelor's degree in English from Stony Brook University, and her master's in education from St. John's University.
So how'd she get her current job, and how's she getting ready for the next stage of her career? Read on. (And look for her on LinkedIn and Instagram.)
What was your first job? And your first job in your chosen career?
My first-ever job and first job in my chosen career were actually the same—when does that ever happen? I was a teaching assistant in a program that encouraged girls in junior high to enter STEM careers.
I distinctly remember teaching a class on programming and Photoshop and thinking, I can't believe I'm getting paid to do this, because I would probably do it for free.
How did you get your current job?
I reconnected with a former co-worker who let me know about the opening at Mediabistro—so it was thanks to networking, a little bit of luck and timing.
Is this where you always thought you'd end up?
I've always gravitated toward education, but spending a few years in the classroom helped me realize there were so many opportunities to expand on my teaching degree that didn't involve traditional, day-to-day instruction.
I knew I wanted to pursue my everyday interests—writing and technology—but with an education spin. Developing online content and connecting students with the skills they'll need to advance professionally seemed like a natural extension of my work experience.
What about your job gets you excited to jump out of bed every morning? What makes you want to hide under the sheets?
The positive aspect is seeing work translate into real life, like when a student lets us know, 'Hey, your freelance writing course helped me a land a job,' it's the best. Paperwork and anything admin-related is a necessary evil.
What's your favorite thing about working at your company?
Collaborating with other teams and contributing to projects outside of my traditional role. I recently connected with our marketing team and ended up drawing a few comics for our Instagram profile.
How do you stay on top of trends in your field?
There is way too much information out there to digest, so I use Feedly to keep up with news. It's a curated reading experience every time.
I also like Social Media Week for social media and technology news, DesignLoveFest for art and design inspiration, and The New York Times' Education section.
What are you reading and watching right now?
Currently reading Presence: Bringing Your Boldest Self to Your Biggest Challenges, by Amy Cuddy. And currently watching "Jane the Virgin," because I secretly wish real life was a telenovela.
What's the biggest misconception people have about your role?
That developing content for online versus in-person courses is somehow easier.
What skills should you have when applying for job as an education manager?
Project management skills, primarily. Also, knowing HTML/CSS and how to use Photoshop gives me a little bit more control in how content I work on is presented.
What advice would you give someone looking to break into this field?
If you think you don't have formal professional development training, reframe how you're thinking about your work history—because you probably do! For example, I used to create technology training guides for teachers in my district. At the time, I viewed it as just documenting and sharing knowledge, but it also qualifies as professional development experience.
What tips do you have for those seeking mentorships?
Redefine the traditional definition of "mentorship." It's easy to count someone out because they're younger than you or in another industry. Every person you come across in your career is a mentor—even if they're just an example of what not to do.
Check out our job board for openings in digital media, technology and marketing.