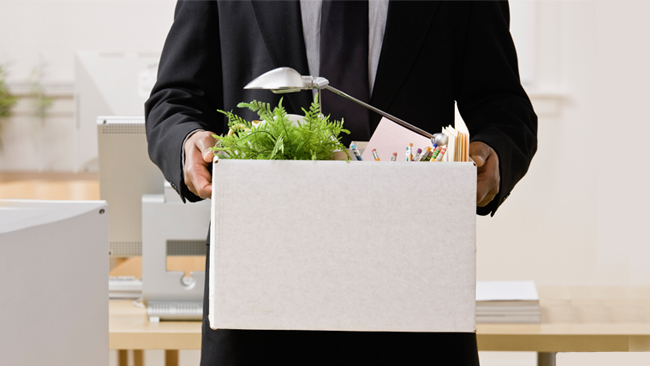 Whether you've taken another position or are leaving your job voluntarily, you want to go out on a positive note—even if you're not feeling so peachy about the company.
If you choose to send a goodbye email, what exactly should you say? Who should the recipients be? When should you send it?
Here are a few tips to make sure that if you do send a message, you can walk out with your head up:
DO: Write a professional message.
Sometimes saying nothing can leave just as sour of an image. Carrie Stack, a certified life coach and founder of the Say Yes Institute in Massachusetts, says saying goodbye and acknowledging your departure is imperative, as is doing so with class and grace.
"Send a goodbye email to recognize you are leaving, and appreciate the experience you had there and the relationships you built. People will remember that, and you never know who you will cross paths with again," Stack says. "Taking the high road always pays off."
DO: Gather contacts for future networking.
"Separate close professional relationships that you have nurtured from everything else and provide your forwarding information only to those in your professional relationship circle," Milan P. Yager, president and CEO of the National Association of Professional Employer Organizations in Virginia says.
For the coworkers you have built relationships with, make sure they last past your time at your company by emailing them separately with your personal contact information. Give them your personal email address or phone number, and stay up to date with their career path on LinkedIn. Just because you no longer work with them doesn't mean you can't have relationships outside of the office.
DO: Send the message at the right time.
"If you're the type who likes a clean, quick exit, send the email on your last day," says Douglas Hardy, former general manager and editor of Monster Careers. "If you want some handshakes and some hugs, send the email a few days before you leave."
Hardy says that a good rule of thumb is not to let a weekend pass between the notice and your departure.
DO: Make nice with your boss and peace with your experience.
Most people know that you don't always leave a job with the most positive experience. But what speaks volumes about your stature and professionalism—despite how you feel about your employer—is the way you go out.
"It is better to resist the temptation to use this last email message as a way to vent or to criticize," warns Dr. Janet Civitelli, a workplace psychologist based in Texas. "I recommend keeping the email positive and professional no matter what the circumstances surrounding the exit."
DON'T: Trash your company on social media.
Whether your experience was good or bad, always stay away from publicly discussing your job or company on social media. Everything you post online can follow you forever, and new companies and potential employers will not think highly of a candidate who uses the Internet as a platform to put down another employer.
Excited about starting a new job? Don't post about it online until you've given your two weeks' notice, and your company is well aware that you're leaving. Regardless of what note you're leaving on, you don't want to burn any bridges—especially on Twitter.
DON'T: Go into details.
In addition to being friendly, you do not want to include details on the reason you are leaving. Unless it is due to moving, which Donna Flagg, workplace expert and author of Surviving Dreaded Conversations, says is harmless. Otherwise, just leave it alone, she says.
DON'T: Violate your company's email policy.
Following your organization's rules about emailing within the office, for example, is key. Sandra E. Lamb, author of How to Write It, Personal Notes and Write the Right Words, says farewell emails should go to the recipient's personal email account. This will also help to ease any tension with the company because many organizations have strict email rules that can sometimes bite back.
Hardy recommends letting your supervisor know that you are going to tell your colleagues about your move, especially if you are going to use company email. "If there's any problem with company email policy about this, it's up to your manager to let you know," he notes.
The media world seems large, but it really is small. So no matter how you say farewell, or who you say it to, being professional is essential to ending on a positive note.
"The goal is to not sound petty, small or mean," explains Catharine Bramkamp, author of Don't Write Like You Talk; a Smart Girl's Guide to Writing and Editing. "You want to be the good guy, you want to be the confident one. You want the company to be really sorry they couldn't keep you around."