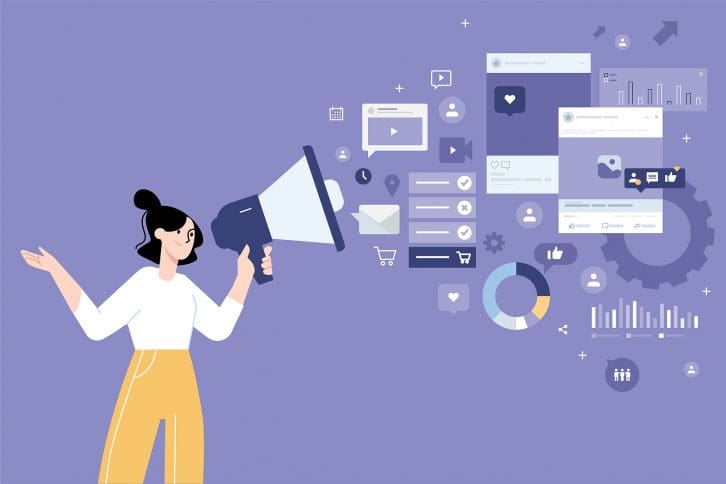 Marketing is an incredibly powerful tool, and it comes in all shapes and sizes, whether it's a Nike commercial that brings tears to your eyes, a memorable presidential campaign or a simple-yet-effective ad on Instagram that made you think, "I've got to buy that." Behind any great campaign or ad is a talented, dynamic team of marketers.
From graphic design to content writing to drilling down into website analytics, marketing has something for everyone. And, as we continue to evolve and find new ways to consume media – like TikTok, Clubhouse or Substack, for instance – marketing will continue to be in demand.
Through their creativity, marketers have a real opportunity to influence and impact the world for the better. So, whether you're looking to help a business drive sales or boost awareness for an impactful non-profit, below are five tips to help you kickstart a career in marketing.
Choose your area
Choosing a marketing path can be daunting – after all, there are hundreds of roles and opportunities available – but, it doesn't have to be. Start by identifying your interests. Maybe you spend a lot of time on Instagram and are looking to get into influencer marketing. Avid reader? Maybe content writing. Can't drive without a podcast in your ears? Maybe you'd enjoy pitching clients via public relations. Or, maybe your favorite class back in high school was film study, to which videography may be a good fit.
Now that you have your top interests identified, it's time to drill down even further and look for opportunities to build experience. Lucky for you, the building blocks are all around us (and usually free)!
Build your experience
One of the best ways to build your experience when you're just starting out is through personal projects and channels. For example, if you want to become a video marketer, you can start your own YouTube or TikTok channel, Grace Wells is a great example of this. If you want to be a content writer, you can launch your own blog. In addition to practicing the actual work, become engrained in your corner of the industry. Subscribe to newsletters with insights on film, attend writing workshops, listen to marketing-focused podcasts. There's nothing wrong with starting from where you are with what you have – yourself and your resources.
As you gain confidence in your area, you'll want to start looking for opportunities to bridge the gap between your desire to pursue marketing and the actual professional experience you bring to the table. This will help you to build your work portfolio.
Grow for free
Whether you work as a nurse, at a restaurant or in a bank, there will likely be opportunities available to help those businesses with their own marketing. Offer to take over the branch location's social media, citing the work you've done on your own channels. Offer to shoot a video promoting the restaurant for them to use on social media. While you may be doing these projects for free, you're building your working portfolio. In the event you aren't able to merge marketing with your current line of work, reach out to small, local businesses, offering to help support their marketing efforts for free in exchange for experience.
Turn your experience into a career
As you keep seeking out opportunities for experience, attending workshops and building your own expertise, you will continue to grow your skillset as a marketing professional. Now it's time to take that portfolio of work you've built and turn it into a career. Here's where the choice is yours again. Do you want to work for one brand, or multiple at once (in marketing we refer to this as working at an agency)? Or maybe you want to pick up freelance projects or even start your own marketing business. Take this one step further to think about what industry you would like to focus on. Did you enjoy creating content for restaurants? Perhaps you want to focus on that industry. If that's the case, there are plenty of agencies that work specifically in restaurant marketing as with most other industries.
Button up your resume, pull together a creative portfolio and start applying, leaning on your varied experience and passion to pursue marketing in interviews.
Expand your skillset
Now that you've established a career path, continue to look for ways to grow. Take on new projects, different roles and remember that every experience will help shape your skills and, best of all, your ideal career in marketing. This goes back to our first tip: Choose your area. Did you work your way into social media and realize you like writing or PR? Don't freak out just yet. As you'll come to learn, many marketing components relate closely to one another, especially when you start working on campaigns that integrate social media, PR, content and more. If you find your interests shifting, look for opportunities to take on new work to grow your expertise. Throughout my 13-year career, I grew from media relations to PR to Social Media to Influencer Marketing to Internal Communications to Brand & Marketing Director and to, now, the CEO of my own business. Your path is your own, so OWN it.
Marketing has the power to influence and inspire, which is why a career in marketing can be so rewarding. Taking the time to reflect on your interests will help you pinpoint what area of marketing you'd like to specialize in. And, merging a career with any passions you have in life will help you feel fulfilled. Remember, it's never too late to try something new and there's no better time to start than now.