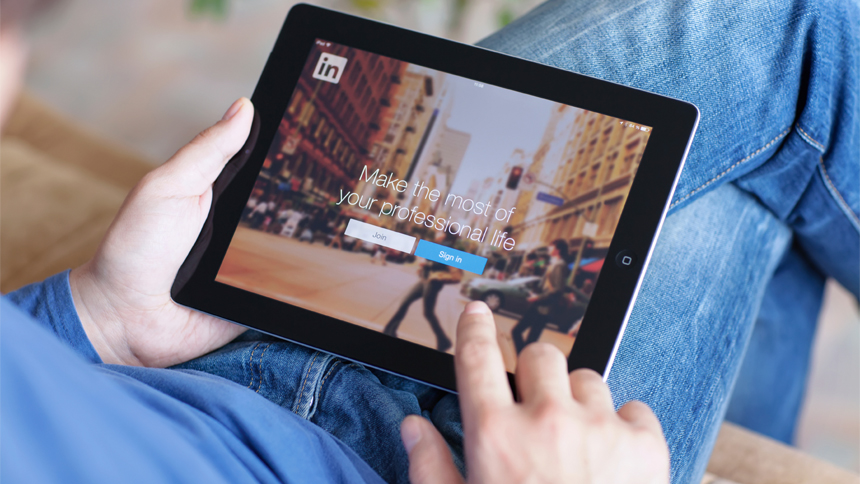 First impressions are everything, especially when you're in the market for a job. But making a good one isn't about planning the perfect power suit for the interview you're hoping to get. Creating a LinkedIn profile that piques recruiters' interest will help you land that coveted interview and make you far more memorable than even the best-tailored pair of pants ever could.
"Every recruiter I know is leveraging LinkedIn to source prospects and identify candidates beyond their existing relationships," says Jason Hanold of executive search firm Hanold Associates, who has placed senior leaders at companies such as Google and Amazon.
A LinkedIn profile is particularly important for those working in or looking for jobs in publishing, marketing, advertising and technology, industries built on conveying and shaping images, brands and content. "Their perceived effectiveness begins with how they convey their own image, personal brand and how the content and profile descriptors support that," says Hanold.
But with so many qualified applicants, employers won't waste time considering a candidate whose profile isn't up to par. Read on for how to create a profile that catches an employer's eye—and holds it there long enough to show her you're a contender.
1. Upload a Profile Photo
Start by putting your best face forward. Career experts estimate profiles with photos are seven times more likely to be viewed. The photo should be professional (headshots work well). A pic of you and your girl squad at karaoke night won't cut it. And don't even think about using a selfie. You want to look poised and polished à la Olivia Pope.
2. Beef Up Your Work Experience
Don't simply tell employers you work as a social media specialist. Tell them the platforms you use, what type of content you produce, how much traffic increased on your watch, etc. It's all about the details. "The more of them you offer, the more accessible you become for other opportunities," says Hanold. But be clear and concise. And proofread. No one's going to hire you for that copy editor job if your profile is riddled with typos.
3. Mention Extracurricular Activities
You should also include volunteer experience and the clubs you belong to. This isn't fluff: It helps you stand out. Employers want well-balanced, multidimensional employees, so if you spend your free time teaching inner-city kids HTML, mention it. Show employers you give back to the community. If you're a member of the Digital Marketing Association, say so. Your membership illustrates your interest and investment in the profession.
4. Monitor Links to Other Social Media
Including links to your blog, Twitter or other social media profiles on your LinkedIn page can give recruiters a good glimpse into your digital profile, but you need to ensure that all these platforms depict you in a favorable light. Employers use social media to vet potential hires, so steer clear of foul language, risqué photos, and religious or politically charged posts.
Remember, you only get one shot at a first impression, so make sure it's a slam dunk.
If you'd like to hone your social media skills even more, consider taking a class. Mediabistro's Online Social Media Courses teach you how to do everything from creating a killer LinkedIn profile to using social media for business.