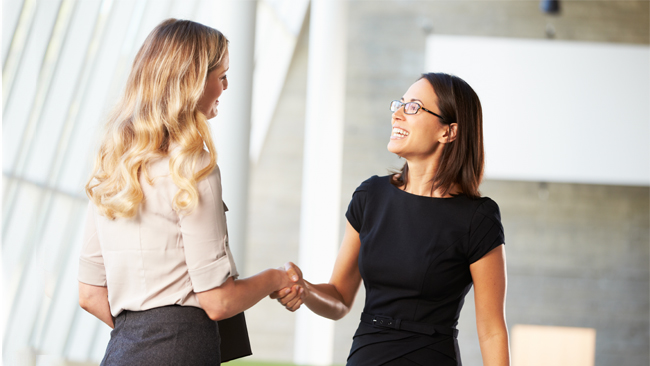 Tikeisha Harris isn't exactly what you would call an extrovert.
She's friendly (once you get to know her) and personable (once you get to know her). The challenge is—you guessed it—getting to know her. In her personal time, the Washington, D.C.-area blogger and writer is a social butterfly, but when it comes to networking events, she typically ends up noshing on free appetizers and people watching, rather than actually making professional contacts.
Sound like you? Here are a few ways to get over that new-people phobia and schmooze with the best of them no matter the scenario. "I get really shy, so events like happy hours and mixers when you're supposed to be out meeting new people scare me," she admits.
1. Manage your expectations.
Many writers (including the one penning this very article) find the prospect of standing in the open sprawl of a lounge or conference floor with a name tag on their lapels and the liquid security blanket of a cocktail in their hands intimidating.
That's because we go in with the wrong expectations, says Juli Monroe, author of The Enthusiastic Networker: Growing a Successful Business with Online and In-Person Connections.
"For one, lots of people think networking is too much like sales, and people hate to be seen as pushy, and secondly, networking takes time and if it's not done well, it can be a waste. Lots of freelancers prefer to spend their time working, otherwise known as 'hiding behind the computer,'" she explains, "because they're afraid that if they spend their time networking, they won't see enough of a return on investment to make it worth their while."
So, instead of looking at networking as a way to find new business or land a job—right now—think of professional events as simply a night out with, hopefully, good conversation. And we all know what the key to good conversation is, right?
2. Listen first.
Whether you bump into a former colleague or strike up friendly small talk with a potential client, the one hard and fast rule to remember is to listen more than you talk, says Monroe, who is also a coach at 1 to 1 Discovery, a Washington, D.C.-based networking and social media agency.
Listening also saves you the awkwardness of wondering 'what should I say next?' which in many cases, particularly those involving alcohol, can lead to embarrassing nonsense.
Better to listen than be talked about."If you listen first, then you know how to talk about yourself," she explains. "If you can address their needs, then you can pitch your services, but in a targeted and strategic way."
3. Find a need and offer help.
Now that you're actually paying attention to what the other person is saying, see if there's a way you can help him or her. Did that editor just mention that she's swamped handling social media duties for her mag? Now's the time to mention that your former colleague is a Twitter maven and looking for freelance work.
"Referrals build good will and give you a reason to follow up later. You want to know how the referral went, right? If you refer other people, they are more apt to refer you back," says Monroe.
Finding a way to help other people is a good icebreaker and a shoe-in for further contact, says Jim Sutton, distance learning mentor at Thomas Edison State College and master networker. It's much easier to help somebody else than to ask for work or a hook-up to it.
Break the ice instead with a simple, "'Hi Susie! What brings you to this event? Are you from the area? Do you like the cheese?'" he says. Making people laugh by saying something lighthearted and unexpected will put you at ease and (hopefully) make them laugh, but it will also help you stand out in their minds for the almighty follow-up.
"I think a lot of times, freelancers think about it like, 'I need clients. When I network, I have to get Susie as a client.' No, that's not necessarily true. What you need to do is see if there's even a connection there first. See what they need and offer to help. I think that's why people hate networking. They're thinking in order to connect with Susie, 'I need to tell Susie that I'm the best writer and she needs to buy my services right now.' That's not necessarily true."
4. Come prepared.
You're halfway across the country at the must-attend event for professionals in your industry (or at least that's how the marketing copy touted it).
Even though smartphones and scannable codes are making them seem passé, Monroe says good old fashioned business cards are a still a networking must-have. And lots of them.
"It's unprofessional to not have enough," she says. The conference break-out sessions are also a chance to not only learn something, but to find a great conversation starter for the rest of the conference. And, she adds, "set specific goals for the conference and schedule lots of time immediately afterwards for follow-up. A lot of times, people fill up their post-conference schedule too tightly and follow-up slips."
Sutton is a self-professed LinkedIn mastermind. With more than 3,600 direct connections, he advises networkers to find some common ground with a potential contact.
"Something like 'I notice we're both part of the same association or organization opens the door to more conversation," he says, adding that you should always erase the standard LinkedIn message and replace it with something more personable.
"By doing that, you'll connect on more than just a click-the-request level. You'll actually really connect."
5. Add to the social media conversation.
You've heard all of the warnings and admonitions about how to behave online, particularly as a professional. The key is content balance.
You're on Twitter or Pinterest to engage, not just promote yourself. So, if there's someone you admire in the biz, follow them. And instead of the #epicfail of a "Hey, are you hiring?" DM, just pay attention to his or her feed. Comment on those links that resonate with you and retweet or pin when necessary.
The more that influential person sees your handle and actually starts speaking to you, the easier it will be for you to form an offline relationship.
6. Break away from your friends.
Clubs, organizations, even religious institutions host small-scale soirees that can turn out to be networking bonanzas, but that's only if you actually speak to people who haven't known you since grade school.
So, pick a point in the night when you and your co-worker or friend split to meet new folks. If you're especially shy, try just five minutes apart and then reconvene at the bar to swap stories. Did your conversation end before your BFF's? Well, head on over and have her introduce you to her new contact. Chatting with a stranger can be much easier in groups of threes.
Ultimately, you get the most out of networking when you're strategic about which events you attend.
Just because that trade organization emailed you an invite to their latest panel discussion doesn't mean you have to attend. Going just to go will only make you wonder what your sofa and laptop are doing while you're stuck in the middle of yet another schmaltzfest.
"The only realistic goal from a networking event is to have a list of people to follow up and build relationships with: potential clients, potential referrals for your contacts and potential referral sources," stresses Monroe.
"The magic happens later, after the follow up."