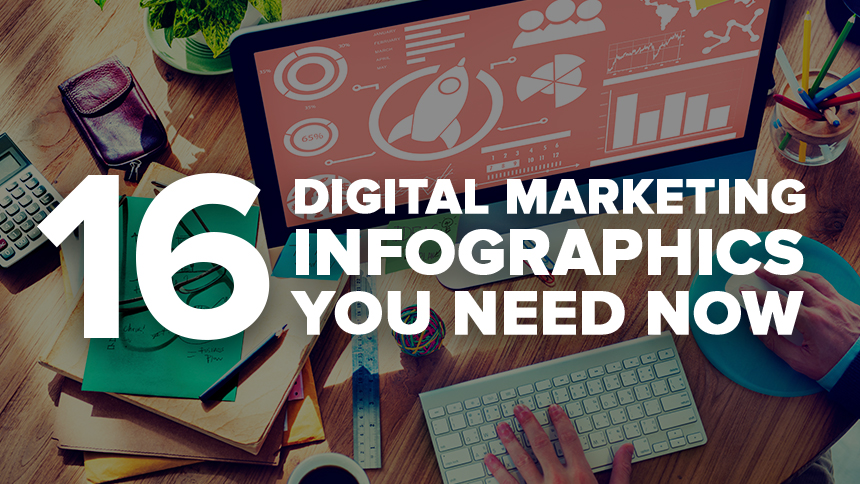 Spring's almost here and Q2 is right around the corner, but it's not too late to make sure your digital marketing plans are helping keep 2016 on track to be the most successful, and measurable, year ever. Below, are 16 links to super-useful infographics to help you stay on top of 2016's biggest trends—ones you won't want to miss out on over the next nine and a half months.
Don't let the chance to celebrate (and create related content for) National Grilled Cheese Day, Literacy Awareness Month or back-to-school season pass you by. This calendar from website developer Rebecca VanDenBerg keeps highly searched, topical times of the year front and center.
Content creators, get ready for content-generating algorithms, instant articles on Facebook, Snaphat going from fringe to mainstream and other game-changers predicted in this chart from Simplilearn.
Keep an eye on these tech devices Microsoft predicts will be front of mind, even game changing, including Oculus Rift, Hololens and wearables.
Mobile payments, personalization of ads and content marketing will only continue to grow, and become more mainstream, according to British firm WSI Internet Consultants.
Get graphic, easy-to-follow illustrations of how marketers will increase user tracking in mobile, ad-blocking will present even more challenges and more in this infographic from marketing firm Signal.
Content marketers, see how your colleagues plan to create, promote, measure and pay for their work now through December in this infographic from Zencontent.
Look for more live-streaming video, more social channels getting into commerce and more in this infographic from CJG Digital Marketing.
Expect videos to get shorter (five seconds!), privacy concerns to increase and marketing to become even more automated, according to this biggest-hits collection from Borenstein Digital Group.
The rise of mobile, the enduring importance of site optimization and the impossibility of denying the existence of live-streaming apps top Reachlocal's wrap-up of trends consumers love this year.
Bulldog Digital Media's infographic has friendly reminders of tools and techniques to use and update often, from keyword reviews, SEO audits, consumer research and more.
Never miss a chance to tie your efforts to what social media's talking about with Sprout Social's curated calendar of SM's favorite holidays (including—Cheers!—#nationalbeerday, April 7).
On Blast Blog's handy cheat sheet breaks down posts across all platforms, highlighting image sizes, word counts, peak activity times as well as quick tips and tricks.
Get easily digestible data on the rise of interactive opportunities, the Internet of things and the coming of age of social media with this printable from Digital Marketing Philippines.
Nonprofit marketing has its own challenges; Nonprofit Marketing Guide's infographic can help them balance conflict among communications, executive and development staff, all while engaging communities and donors.  
Optimizing content for SEO can be a grind; keep all the necessary steps front of mind with Midas Media's easy-to-follow (and easy-on-the-eyes) chart.
Inquest Marketing's infographic keeps email's current vital stats—they're most likely to be opened on mobile, and they have the highest ROI among digital efforts to prove ROI—front and center when designing your newsletter campaigns.