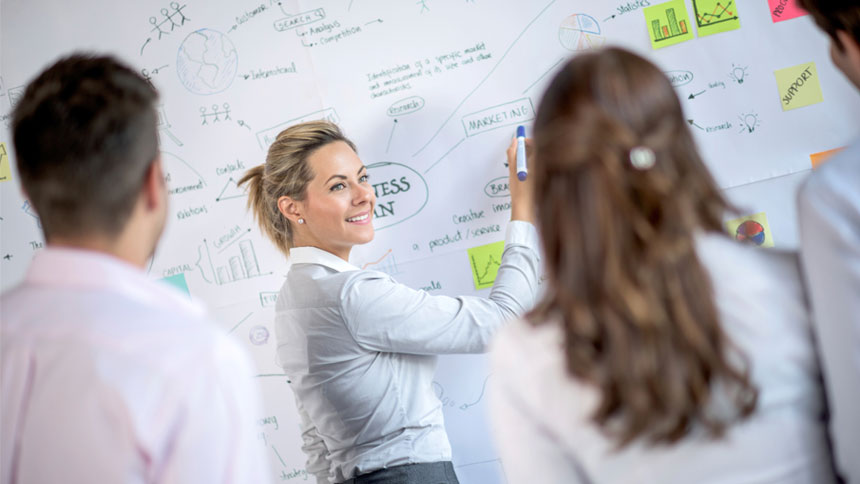 Part salesperson, part customer-service rep, an account manager is all about doing whatever it takes to get the job done. If putting a smile on someone else's face tickles your fancy, this may be the job for you. Read on to be sure.
What exactly does an account manager do?
An account manager is the liaison between an agency and its clients. She oversees the agency-client relationship, determining clients' needs—what they're looking to achieve short-term and long-term—and ensuring the agency delivers.
The primary responsibilities of account managers are to foster client relationships; work with sales and marketing teams to prepare presentations and sales pitches; design marketing strategies and media proposals; handle client communications and write client reports; and communicate client agendas to other staff members.
Monitoring budgets, spending and revenue, and explaining cost factors to clients are also part of the gig.
Some account managers are responsible for identifying new clients and potential business opportunities as well as upselling products and services.  
As senior publicist at Three Girls Media, a public relations and social media management agency in Yelm, Washington, Beth Adan's day consists of making sure the firm's clients are happy campers.
"I am responsible for making sure clients' needs are met and their voices are heard while coordinating with others and fulfilling the contractual day-to-day duties we've been hired to perform," says Adan, whose position includes account manager duties.
What skills are required?
An account manager should be a proactive self-starter who understands business in general, says Dave Di Maggio, president of Aqua Marketing & Communications, based in St. Petersburg, Florida.
He should also be a keen observer of society and trends, specifically among clients' target audience, and possess financial management skills, adds Dave, who heads up several of the company's accounts.  
Availability is crucial, says Adan. That includes evenings and weekends. "While your work-life balance is important, being available and timely with your communication is essential for building trust and keeping [a client's] account up to date," she says.
Attention to detail is also important. Being meticulous can help you avoid missing pieces of information vital to telling a client's story or misinterpreting what a client wants.
"The simple mistake of incorrectly translating Eastern Time to Pacific can make or break a deal for your client," says Adan.
Who is an account manager's boss?
In larger firms, an account manager typically reports to an account supervisor or vp of client services and supervises the account executives assisting her.
Are there other titles with similar responsibilities?
Depending on the company you work for, a publicist is a similar role, though the jobs aren't interchangeable.
"As a publicist, I am an account manager, but not all account managers are publicists," says Adan.
What do I need to get ahead in this position?
"Those with strong interpersonal skills—empathy, emotional intelligence, verbal skills, flexibility—tend to go far, even making up for having less strength in other skills," says Di Maggio. People want to do business with people they like, he adds.
How can I get my foot in the door?
Adan recommends having a strong personal brand. Strengthen your social media presence, personal website and professional profiles to show potential employers how well you can manage the public view of yourself in order to successfully represent a client.
"A college degree is a must," says Di Maggio. One in public relations, advertising, marketing or communications could give your career the jump-start it needs.
And don't thumb your nose at working for pennies—or free. Internships can turn into full-time jobs.